Articles
Summer: Time to Get Your Cornhole On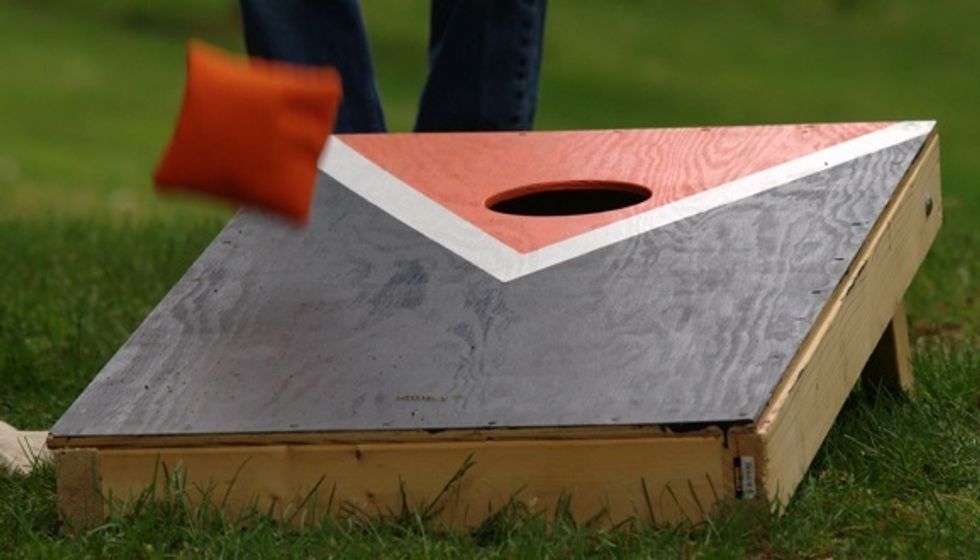 ---
\n
The recent simultaneous pile-up of Grade-A sporting spectacles—the World Cup, Wimbledon, the Tour de France, Major League Baseball's perpetual motion machine—makes for awesome remote jockeying and sofa beer drinking. But, listen. There has to be more to life, right? This is summer—your summer. You only get so many. It's time to seize your sporting life by the nape of the neck and order it to make something of itself.
There are many paths to DIY athletic glory (or something similar). I recently slapped down a passionate (and, just possibly, ridiculous) plea for homespun croquet leagues , which provide an excellent means to acquire grass stains and a judicious prosecco buzz. Today, however, I come to praise a different populist pastime that deserves to break big: cornhole .
[youtube]http://www.youtube.com/watch?v=QP8UtCdD6_I
As the game's proponents like to say with a knowing nudge-nudge leer: "It's not what you think." The above footage is from a new documentary that bears the amazing title Brotherhood of Bags —evidence, if any was needed, that a simple game built on a hazy combination of horseshoe rules and childhood bean-bag toss is on the verge of becoming an underground sports phenomenon.
[youtube]http://www.youtube.com/watch?v=bYF8RmaKaqc
There are at least a couple national cornhole " sanctioning bodies ," one of which even crowns a " King of Cornhole " via its nascent (as in, six events ) professional tour. In its brief existence as an organized sport, cornhole seems to have even spawned a living legend: dynastic champion Matt Guy.
[youtube]http://www.youtube.com/watch?v=j85qDbUEaNc
You've got to love a game that comes out of nowhere to bestow a tiny particle of immortality on some random dude from Kentucky. But even as cornhole attempts to become a "real sport," it retains a lovable, barbecue-friendly scruffiness. A couple of years ago, a friend of mine built his own cornhole sets, spending about $50 on materials. By virtue of his membership in the American Cornhole Association, he's certified to host competitive tournaments in his driveway. This sport is yours to conquer. You won't know if you're the next Matt Guy unless you give it a shot.
Photo ( CC ) via Flickr user thetorpedodog