Articles
Turn that outrage into action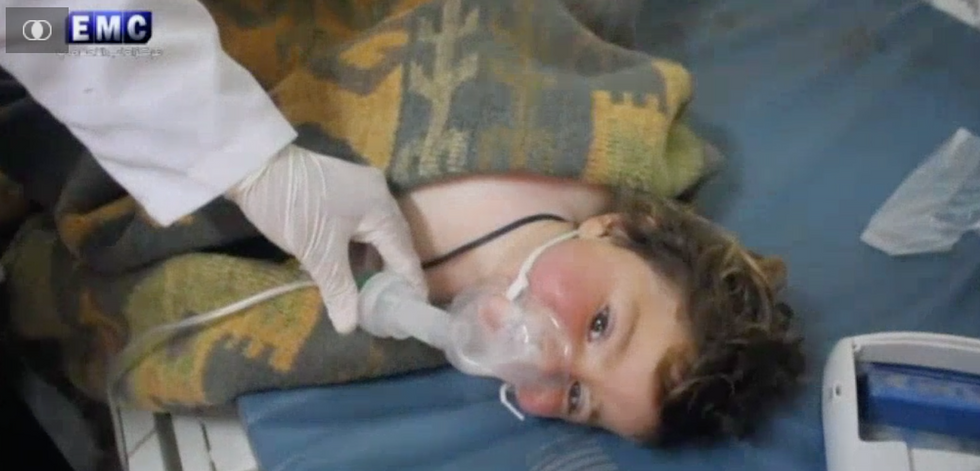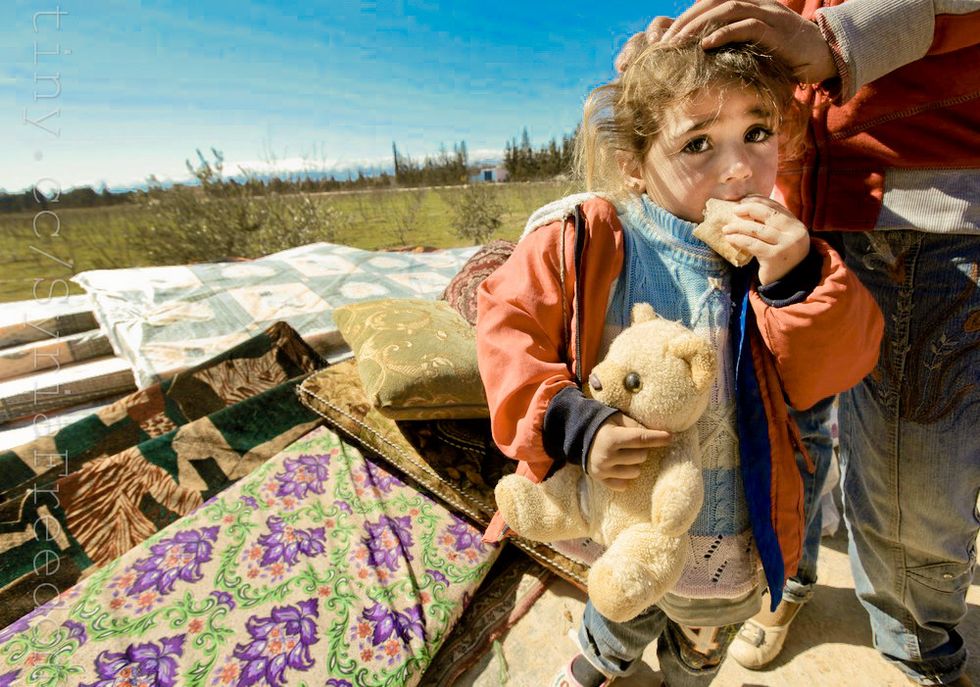 On Tuesday, one of the worst chemical bombings since the Syrian war began occurred in a northern rebel-held town, killing at least 72 people, including 10 children, according to reports. Russian officials have blamed terrorists, while activists and the British foreign secretary, Boris Johnson, suggested that Syrian President Bashar al-Assad was behind a "barbaric act."
---
Horrific reports of chemical weapons attack in #Idlib #Syria. Incident must be investigated & perpetrators held to account

— Boris Johnson (@Boris Johnson)1491307710.0
For his part, Assad blamed "insurgents" for the attack. In a statement, the Syrian army said it "categorically denies the use of chemical and poisonous material in Khan Sheikhoun." It added, "The Syrian army holds the terrorist groups and those supporting them responsible for the use of chemical and poisonous material and for the careless wasting of innocent civilians' lives to achieve their despicable goals and agendas."
Meanwhile, President Trump released a statement both condemning the attack while simultaneously blaming Barack Obama. Trump called the chemical attack "reprehensible" and added the "heinous actions by the Bashar al-Assad regime are a consequence of the past administration's weakness and irresolution." Trump then went on to add, "President Obama said in 2012 that he would establish a 'red line' against the use of chemical weapons and then did nothing. The United States stands with our allies across the globe to condemn this intolerable attack."
According to The New York Times, who spoke with witnesses, dozens of people died after breathing in poison dropped by warplanes that possibly contained a nerve agent or other banned chemicals.
In 2012, the Syrian regime acknowledged having chemical weapons, saying it would only use them against "external aggression." But in 2013, Syria agreed to allow outside forces to destroy its chemical weapons cache, but it appears to have only made a dent in its stockpile, as The Atlantic reported.
As the war continues, it's evident we can't rely on any particular government to amend this situation, so there's a real need for people to lend a hand. Eeman Abbasi, a human rights advocate and co-founder of Syrian refugee non-profit More Than 10,000, shared six steps to implementing action via Twitter: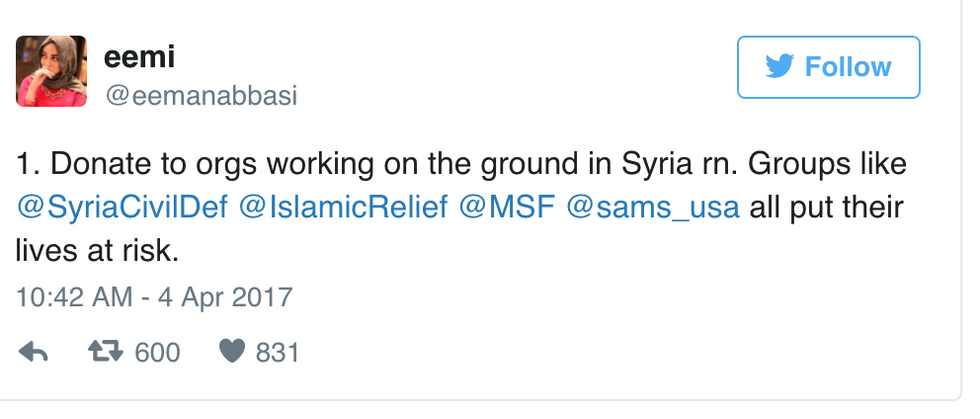 1. Donate to orgs working on the ground in Syria rn. Groups like @SyriaCivilDef @IslamicRelief @MSF @sams_usa all put their lives at risk.

— eemi (@eemi)1491327747.0
2. Donate to intl orgs working w Syrian refugees in camps. @karamfoundation @Sunrise_USA @ProjAmalouSalam @hands4Syr @medicalteams

— eemi (@eemi)1491328358.0
3. Support smaller local orgs who support ppl in camps and/or resettle refugees. @IRISCT @CT_Anchor @MoreThan10K @CWSGSO @HIASrefugees

— eemi (@eemi)1491328721.0
4. Put pressure on your leaders to lift the ban on Syrian refugees. Here's how to call your reps and what to say:… https://t.co/l7IUzjVcf8

— eemi (@eemi)1491329248.0
5. Educate yourself on the crisis so you know why you must advocate for refugees. Kinda outdated, but still good. https://t.co/nqNAJ6pYQy

— eemi (@eemi)1491329460.0
6. Money isn't the only way to help. If there are refugees resettled in your community: volunteer driving them, give English lessons, etc.

— eemi (@eemi)1491329647.0
7. Be a compassionate person. We live in a time of great divide, but never lose sight of our common humanity. You can make an impact. 💞🙏🏽

— eemi (@eemi)1491329741.0
There are plenty of ways to help, both big and small, and one of the most important ways is to simply not look away.