Articles
Talking to a Famous Person: Roy Choi
Once a rebellious scholar, Roy Choi is now known as the father of Los Angeles's taco truck revolution—though the...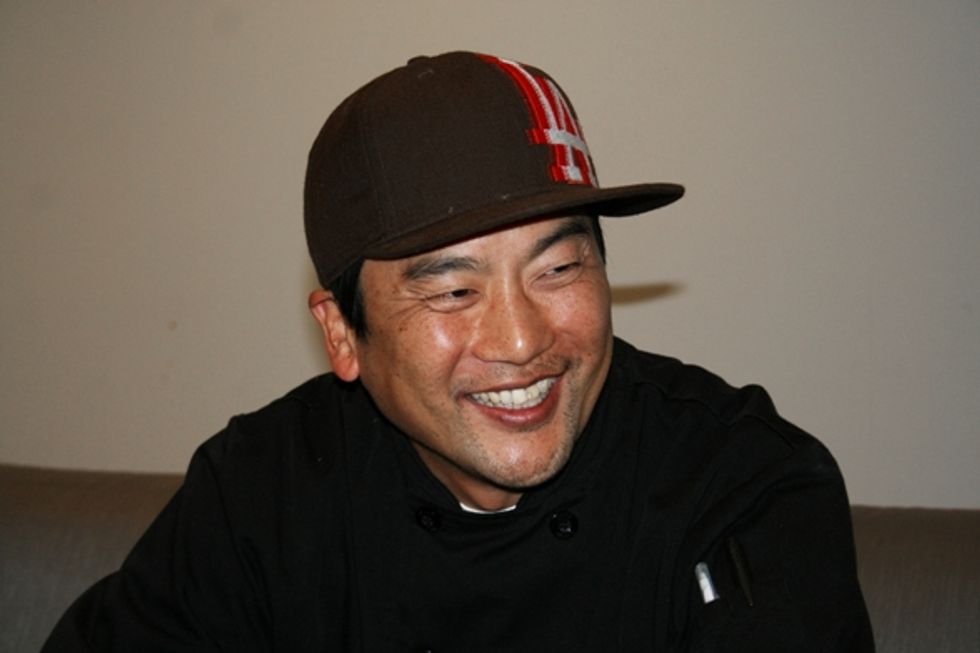 ---
Once a rebellious scholar, Roy Choi is now known as the father of Los Angeles's taco truck revolution—though the Tupac-quoting, sometimes foul-mouthed Choi is still pretty rebellious. After dropping out of law school and going through a bit of a dark period, Choi decided to take up the culinary arts after being inspired by Emeril Lagasse's Essence of Emeril cooking show. He went to culinary school and worked at a few restaurants before developing his signature Korean tacos and buying a fleet of trucks to reach the hungry people of Los Angeles. The rest, as they say, is history. Read on to learn more about the man behind Kogi trucks and how he feels about the food truck revolution.

GOOD: What's your favorite recipe to make at home?

ROY CHOI: I don't cook by recipes at home. I cook out of love and mood. There is a lot of flea market type digging through cupboards and refrigerators to create new dishes. Sometimes I buy a really great quality piece of something, then work from there.

G: An article in The Wall Street Journal described you as a "Tupac Shakur-quoting chef." Give us a taste. What's your favorite Tupac lyric?

RC: Tupac Shakur, my man. Not so much a lyric but a phrase he used, "let's get rich people to live like poor people and poor people to live like rich people and switch it up each day then we can see what's up" [or] "Peace? fuck peace! Not until you clean up the garbage that you put on us, not until we get a piece....fuck peace, are we headed for doom or peace? There can never be peace until we get a piece." Something like that.

G: As the food truck craze continues to grow and there are more trucks on the road, do you feel a sense of community developing among the other owners?

RC: I don't know about community amongst food truck owners. LA is my community. This is not a fraternity rush for me, I'm just trying to feed people and bring a little joy or anxiety to their day.

G: What has the response been to your newest restaurant, Chego!? What was the inspiration behind starting it?

RC: Chego has started off busy and created a lot of mixed emotions, but I like mixed emotions. We cook a certain way here at Kogi/Chego and if it confuses you, upsets you, enlightens you, then isn't that more fun than just satisfying you?

Chego came about 'cause we saved some money and had a spark creatively, found a cheap space, had a great idea, the team was spiritually ready for the challenge, and we wanted to create a place that was a shout out to our immigrant parents and how they created their own mark on America for us. It is a poem to the first generation from their children but in our language. That's whassup!

G: You and your business partner Mark Manguera are often credited with starting the food truck revolution. What about trucks make your Korean tacos taste better? How did you and Manguera come up with the idea?

RC: I don't talk about how the idea of our truck came about anymore. You can look that up anywhere online. We are different now and you can just think like we spawned from the shadows of LA and now we are here, it doesn't matter anymore why or how. But the truck is an oiled baseball mit, it holds so much spirit and history, just the existence of its existence makes the food taste better.

G: In the beginning, Kogi parked outside of nightclubs to attract customers and some trucks still show up near clubs. What is the best or worst part about catering to inebriated club-goers? Any fun stories to share?

RC: Our food is everyday food. It is food to fill your soul. We are not trying to make a statement with the food. When you are drunk or stoned you get hungry. You have limited choices (diners, fast food, dirty dogs, korean joints) we just wanted to add another flavor to your night. The first night to see people's faces was funny, drunk, horny, sweaty, hungry, full of energy creeping up on the truck and yelling to their friends "Yo, there are mutha fuckin' Asians in this truck cooking tacos?"
"You want one?"
"Yeah, sure, fuck it."
Then silence, and, "Can I get another?"

G: You've said that you decided to take up a career as a chef watching Essence of Emeril. What is it about Emeril that made you excited about working in the kitchen? What chefs currently inspire you?

RC: Emeril back in the mid-nineties was the man. He had his show that was very personal, low budget, and put some great food on the screen. I have never met him but that dude saved a hopeless twenty-something [and made] a connection. I hope I can do the same for some upside down youngsters out there. I have been very fortunate to meet a lot of the new breed of chefs out here in America, Dave Chang, Jeremy Fox, James Syhabout, Nate Appleman, David Meyers, Vinny and Jon from Animal, Daniel Holzman, Akira Back, Bill Kim, Neal Fraser, Octavio Becerra, Michael Voltaggio, Ilan Hall, Mary Sue Millikin and Susan Fenniger, Nancy Silverton, Michelle Bernstein, Norman Van Aken, Daniel Boulud, Rick Bayless, Mourad Lahlou, and more. They have all been cool as fuck to me and I truly appreciate that, because they didn't have to be. But, I am inspired by my team, they are young, fearless, and honest.

G: Initially, you used Twitter and Facebook to get the word out about the venture. How big a role does social media still play in Kogi?

RC: Social media is not my realm. I type with one finger and do not know how to cut, copy, or paste. Alice Shin is the Hall to my Oates the Garfunkel to my Simon the White to my Stripes. It is her infectiouswriting, our renegade nature, and the fact that we can broadcast that out to hundreds of thousands of people which defines the role of social media in my book.

G: Do you plan on introducing trucks in any other cities outside of Los Angeles?

RC: LA is my home. I don't know if we are ready for time shares or vacation homes yet. But I would love to get our food to other cities or countries. Just don't know how to do it without losing our soul, haven't figured that shit out yet. But stay tuned.

G: How do you approach developing a new creation? What's the first step?

RC: New creations have no first step. They are like melodies, they just happen and I try to catch them like butterflies.