Articles
Tesla Sues Top Gear for "Libel and Malicious Falsehood"
In 2008, the guys from Top Gear gave the Tesla Roadster a withering review. Elon Musk is taking them to court to set the record straight.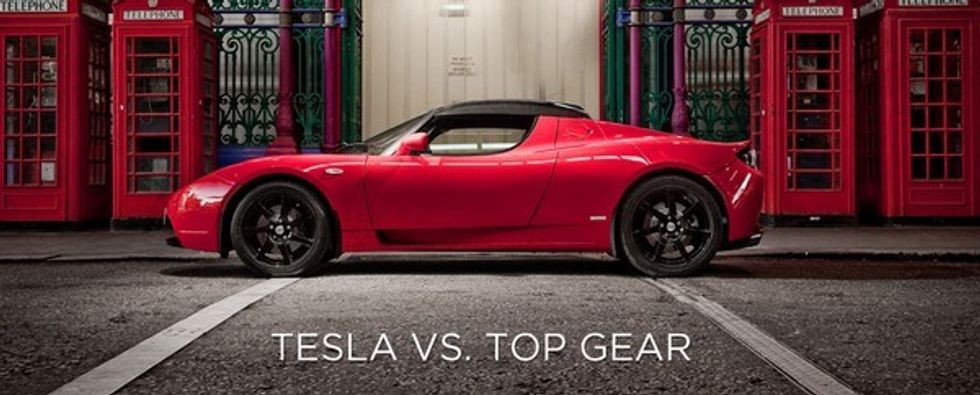 In a 2008 episode, the popular BBC car show
Top Gear
took two $100,000 all-electric Tesla Roadster sports cars for a handful of test drives. After praising the Roadster's quick acceleration and the economic advantages of filling up with electricity instead of gas, host Jeremy Clarkson (he's the droopy one) quickly soured on the car. He claimed that the Tesla's charge only lasted for 55 miles, causing it to die on the track, and complained that it would take 16 hours to fill it up from a wall outlet. He also griped about an overheating motor that rendered one of the Tesla's useless and faulty brakes in the other.
Now Tesla has filed a lawsuit (PDF) against the BBC for libel and malicious falsehood. Tesla is flatly claiming that "the breakdowns were staged and the statements are untrue." The company is saying that the silver Tesla didn't run out of charge, never had to be pushed into a hangar as it was on the show, and that its brakes didn't break. Tesla also claims that the second car didn't "become immobile as a result of overheating."
---
Tesla has been trying to get the BBC to stop rebroadcasting the show and "correct the record" but to no avail. And the BBC has now said it will be "vigorously defending" the episode.
[youtube]http://www.youtube.com/watch?v=8DfHyGD7_pM
Tesla has set up a whole "Tesla vs. Top Gear" website to address the BBC dispute, and the folks at Engadget think it's little more than a PR move.
That may be, but problems with the Tesla were clearly exaggerated on the show. To mention that its battery was depleted after 55 miles without acknowledging it would last a lot longer during normal driving is misleading at best. As is complaining about the 16-hour charge time without noting that many owners opt for a fast-charge outlet.
This isn't entirely surprising. Jeremey Clarkson has a well-documented antipathy towards alternative-fuel vehicles. One almost wonders if the show doesn't go overboard in its criticism of hybrids and electrics to preserve credibility with the motorheads who make up its core audience. Anyway, in libel cases in England, the burden of proof rests on the defendent, and I'd give Tesla good odds of winning this one. I'd kind of love to see an on-air correction from Clarkson.