Articles
The Amazing Adventures of the Traveling Advice Booth: Part Three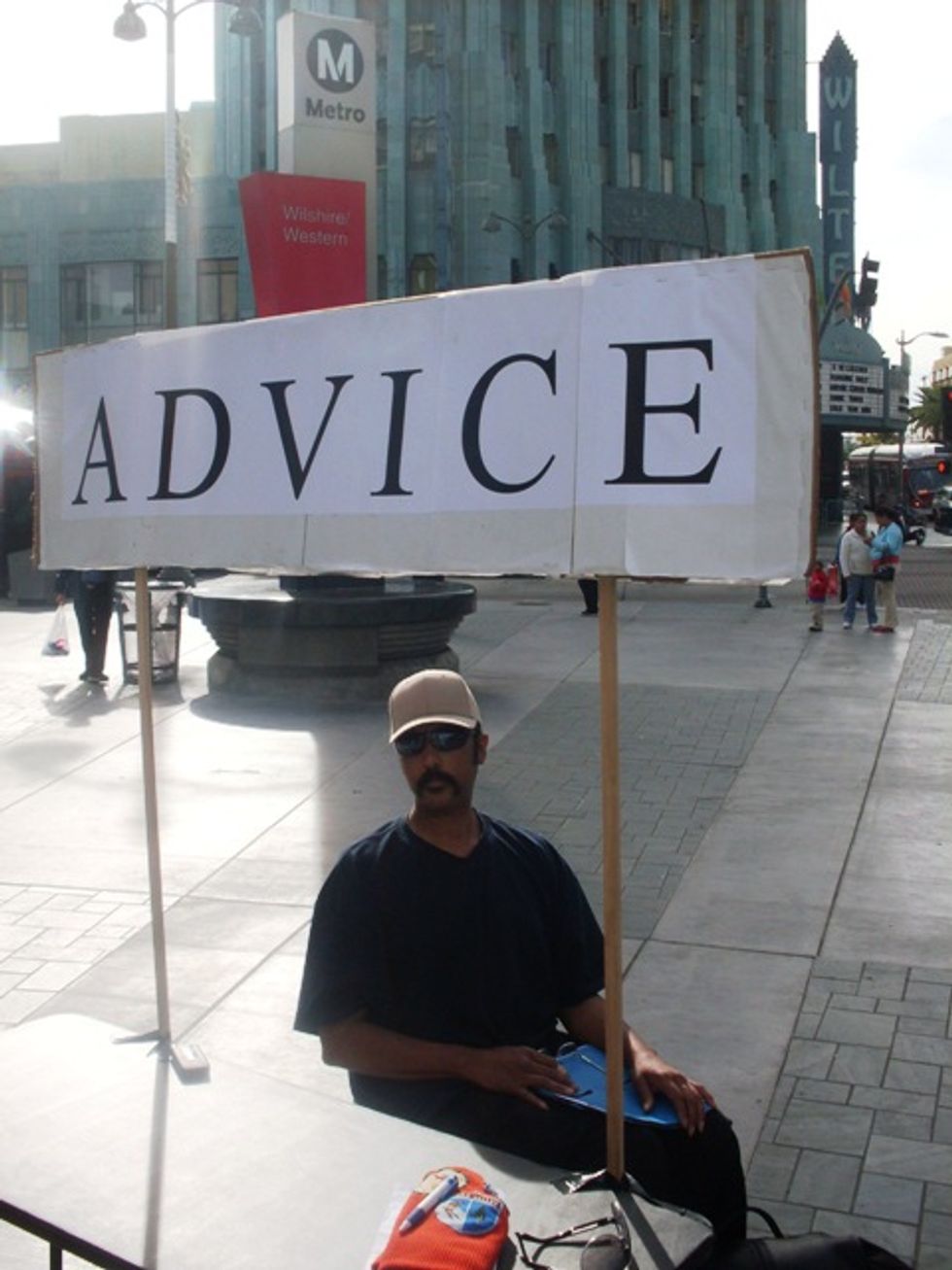 ---
This is part three of a three-part series in which Leon Logothetis, a global adventurer and the host of the National Geographic Channel's
Amazing Adventures Of A Nobody,
sits down at a makeshift advice booth in five neighborhoods around Los Angeles. If you haven't already, read part one and part two.
One of the highlights
of my time behind the advice booth was when I set up shop on the Miracle Mile. As I sat there waiting for my first interaction, an unshaven black man sat down opposite me. At first he didn't seem too different from many of the other people I had met. These included ex -football players, reformed drug addicts, active drug addicts, housewives, medical marijuana dealers, and many more. However, there was something different about this chap.
It turned out he was homeless, and was simply grateful to be talking with someone. He craved emotional connection and wanted to be listened to. I obliged. Sitting there, I listened to his story, a story of tragedy and woe; a story of missed opportunities and forgotten moments. Yet it was not these things that made this connection so moving. This man was a brilliant speaker; his words instilled in me a simple desire to sit and listen to his soothing prose. And as I listened, the reason for the advice booth crystallized: It was about two people connecting. It was the true nature of connection that I wanted to explore.
Here was a homeless man who felt alienated from his peers and society, and the fact that someone was willing to listen and give him kudos for his talents gave him strength. Here is a small excerpt of his writings, all of which related to his life struggles.

Perhaps when I return seven billion light years from now, we can consolidate all our tomorrows and buy back our stolen yesterdays.

That place where experience knows better, yet the hard head of stubbornness will cause the grief of a million burning tear drops to fall like rain. Again!

My ears will cry for sounds never heard or even imagined.





My time on the streets of Los Angeles was an eye opening experience. It showed me that the ability to truly connect with other human beings is something we should all cultivate. Too many of us (me included) have forgotten this crucial aspect of life. Our lives are taken over by the mundane and the unimportant, yet if we just stopped and spent time connecting with our fellows a new way of living would open itself up. A way of living that inspires connectivity and oneness. Why not listen to someone today? Why not connect with a fellow? Why not?