Articles
The Decade in Business
Ten years of changing the way we do business, for better and for worse. What do you call these last 10 years: Were they the two-thousands? The...
\n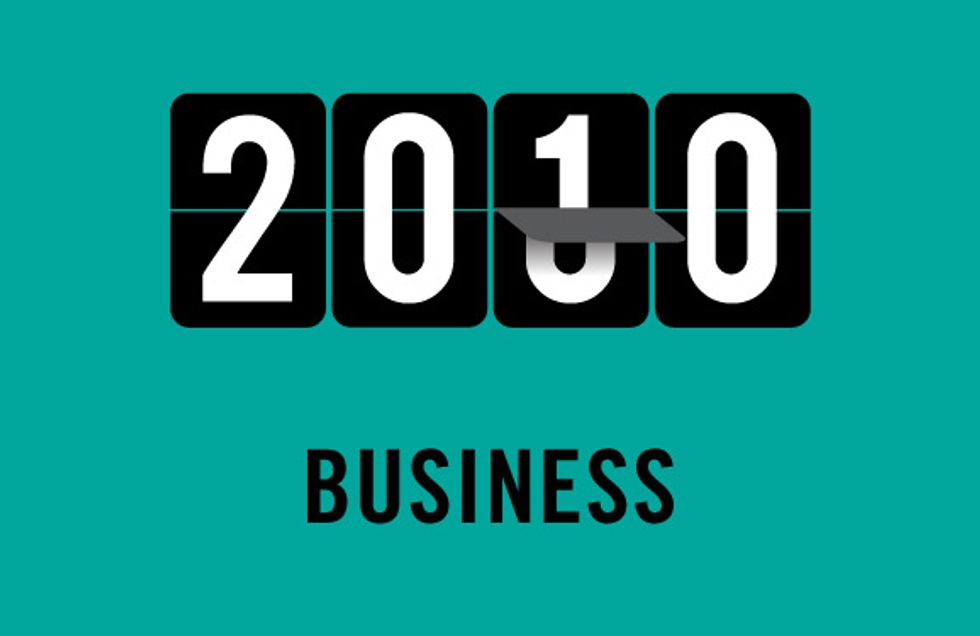 ---
Ten years of changing the way we do business, for better and for worse.What do you call these last 10 years: Were they the two-thousands? The ohs? Maybe the aughts? Regardless, it was, I think, the Decade of Good Business-the one where corporations suddenly cared about social responsibility-or some did. It's also the Decade Where You Got Sick of the Word Green. It's when some big businesses realized they could use their influence to do great things and when others were exposed for simply acting the part. It's when "Buy American" shifted to "locavore" and when "recycling" became "upcycling." Whatever they were called, they certainly left their mark. Here are some cardinal moments.
2000
Ben & Jerry's is purchased by Unilever, making the transition from hippie start-up to full-on corporate force.Oil giant BP rebrands itself as "Beyond Petrolium." The company debuts a new yellow and green sunburst logo and follows up with the "It's a start" campaign, leading many to
call shenanigans
.Responding to the lack of adequate supplies in public schools, Charles Best launches Donor's Choose.
2001
The second-generation Prius is released in the U.S. (the 1st was restricted to Japan). It has since become the world's best-selling hybrid, with more than one million sold.Eric Ryan and Adam Lowry found
Method
and ignite a revolution in cleaning up cleaning products. In only five years, they're the 7th fastest-growing private company in the country.Outdoor apparel specialist Patagonia launches a campaign to
confront the dangers of genetic engineering
.
2002
Burt's Bee's founder, Roxanne Quimby uses company-earned profits to preserve 185,000 acres of Maine forestland. This begins a longstanding relationship with the Nature Conservancy.Healthy-image granola company Bear Naked is founded. Just five years later, it sells for $122M to Kashi (which is, itself, a division of Kellogg's).
2003
Groupe Danone (owner of Evian and Dannon, and the largest dairy producer in the world) more than doubles it stake in organic yogurt maker Stonyfield Farms. Danone now owns around 85% of the company.Eric Reynolds gets the idea for a clothing line built on sustainability. This idea becomes Nau,
a success, failure, and rebirth tale
that
continues today
.
2004
By getting its plant food available on the Home Depot website,
Terracycle
puts itself-and the concept of upcycling-on the map. Whole Foods, Wal-Mart, and others soon follow in carrying the brand.One of the 500 fastest growing private companies in the country, Honest Tea gains full USDA organic certification, becoming the only tea company to offer an entire line of organic bottles and bags.
2005
Perhaps trying to improve its troubled image, Wal-Mart's announces its intent to be a "good steward for the environment." The company's goals include increasing its trucks fuel efficiency, reducing stores' energy use, and cutting greenhouse gas emissions.Ethos, a bottled water company dedicated to helping provide clean water to children, is purchased by Starbucks for $8M.
2006
Blake Mycoskie creates a new kind of mission-fueled business: TOMS Shoes. For every pair purchased, a pair is given to a child in need. To date, more than 300,000 pairs have been given away.Muhammad Younus and the Grameen Bank are awarded the Nobel Peace Prize, catapaulting microcredit into the mainstream consciousness.Tom's of Maine is purchased by Colgate-Palmolive for $100 million. The terms of the purchase ensure that the company's socially responsible policies continue.
2007
At the North American International Auto Show, America gets its first look at the
Chevy Volt
, a plug-in electric vehicle offering 40 miles per charge. It will debut in 2010 and hopes to bring a reputation of innovation back to Detroit.NBC hops on the "green" bandwagon, establishing "green week" is order to draw attention to
mixed reviews
.The world's most popular search engine, Google, decides to
use its muscle for good
, announcing an effort to make renewable energy cheaper than coal.
2008
Economic woes dominate the headlines and the public consciousness. However, some studies show that green businesses
might be recession-proof
.The arrest of Bernie Madoff proves damaging to not only the super rich, but
also to the nonprofit world
. Charities shutter, donors stop giving-bad times all around.
2009
Food Inc.
hits theaters in the U.S., delivering an agribusiness exposé guaranteed to leave a rotten taste in your mouth.President Obama requests $50 million from Congress to establish a
Social Innovation Fund
, hopefully jumpstarting the next decade of good business.