Articles
The Decade in Literature
Ten years of literary innovation, fudged memoirs, and digital reading. The Aughts saw the birth of readerly social networking, a...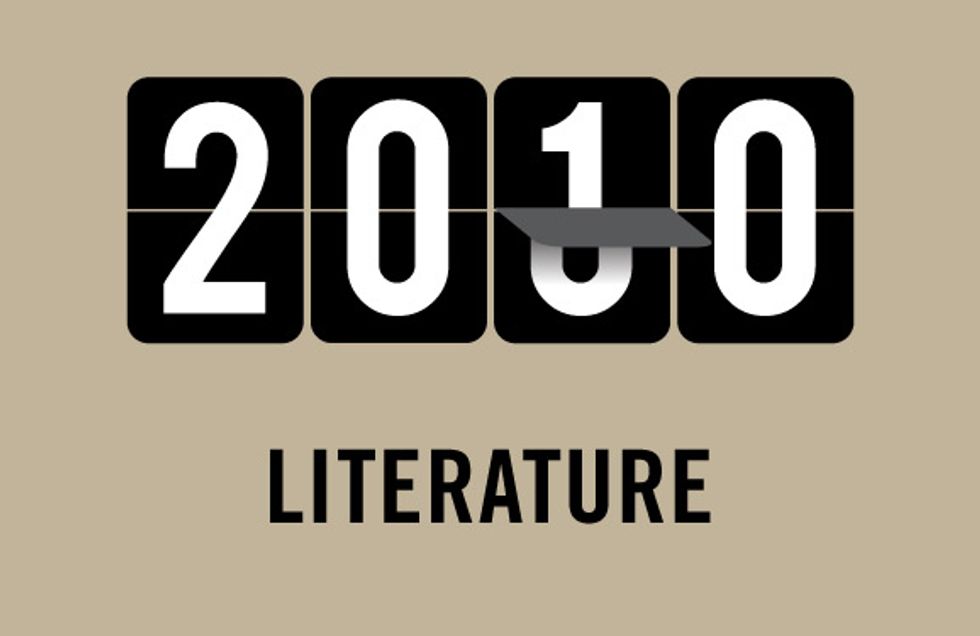 ---
Ten years of literary innovation, fudged memoirs, and digital reading.
The Aughts
saw the birth of readerly social networking, a flowering of graphic novels, and a bunch of faked memoirs. Books about health and food contributed to larger policy and behavioral changes for many Americans, and foreigners writing experimental fiction sold a surprising number of copies. It is has been a strange fragmented decade in literature, suitable for these multitasking years.I have tried to tell a little story about these trends with the list below, which aims to be both a snapshot and wholly idiosyncratic. I imagine it will give us a good laugh in 2019, but I hope it gives you something to think about-and something good to read-during these waning days of the twenty-first century's first decade.
2000
Stephen King's
Riding the Bullet
comes out digitally, flummoxing many who do not understand why they can only read it on a computer.Chris Ware's gloriously beautiful
Jimmy Corrigan: The Smartest Kid On Earth
is published, becoming one of the first critically acclaimed graphic novels.Micheal Chabon's
The Amazing Adventures of Kavalier and Clay
is published. One of the best novels of the decade, it also taps into what would become a decade-long interest in cartooning, comic books, and superheroes.
2001
W.G. Sebald's
Austerlitz
blows away everybody within the select group of "serious" readers who enjoy experimental fiction.Jonathan Franzen refuses to go on Oprah when she picks his novel,
The Corrections
, for her book club. The ensuing controversy wounds people and makes clear that the gap between "serious" readers and the general reading public has shifted.Billy Collins is appointed Poet Laureate, and a poet who writes in a breezy, accessible style is giving the nation's highest literary honor.In
Fast Food Nation: The Dark Side of the American Meal,
Eric Schlosser taps into a growing discontent with fast foods. The foodie revolution will only grow as the decade progresses.
2002
Atul Gawande
publishes Complications: A Surgeon's Notes On An Imperfect Science
. The book, a brilliant series of essays, displays the healthy state of narrative non-fiction in American prose, as well as the unhealthy state of the health care system.Suzan Lori-Parks wins the Pulitzer Prize for Playwriting, and is rightfully honored as the nation's most important playwright.
2003
Dan Brown's
The Da Vinci Code
is published and sells so many copies that anyone who has recently claimed no one reads books anymore has to eat their words.The success of Jonathan Lethem's
The Fortress of Solitude
(2003) proves that there is also a home for lengthy, complex fiction in the United States.Litblogging becomes an exciting, robust, and energetic new way for readers to interact with books. This year sees the founding of several litblogs that continue, today, to be influential and salutary voices in the literary world. Beatrice.com, Bookslut.com, MaudNewton.com, TheElegantVariation.com, and TheMillions.com all launch.
2004
The 9/11 Commission Report: Final Report of the National Commission on Terrorist Attacks upon the United States-Authorized Edition
is a National Book Award finalist.Barack Obama delivers a rousing 2004 Democratic Convention keynote address that displays stunning oratorical skills to a national audience.Jeff Smith's monumental ten-volume graphic novel,
Bone
, is completed.
2005
Stephanie Meyer's
Twilight
becomes a surprising bestseller.Joan Didion's sparse and harrowing
Year of Magical Thinking
introduces our finest non-fiction stylist to a new generation of readers.
2006
Sony launches
Sony Reader
.
Eats, Shoots & Leaves: The Zero Tolerance Approach to Punctuation
becomes a sensation, proving there is an audience for books about commas.Cormac McCarthy's
The Road
publishes, and becomes a literary darling.Goodreads.com launches, offering readers a place to share their thoughts about books they have read and suggest titles to their friends. Books and social networking get along very well.
2007
Amazon launches the
Kindle
reader in the United States.Roberto Bolano's
The Savage Detectives
is published in the United States, and he becomes another literary darling.J.K. Rowling finally releases her seventh Harry Potter novel,
Harry Potter and the Deathly Hallows
2008
Margaret B. Jones' memoir about growing up with gangbangers,
Love and Consequences
, is revealed to be a fabrication, the latest in a decade-long series of faked or fudged memoirs."Black Wednesday" is coined to describe what happened on December 3 when the three biggest publishing houses, Random House, Houghton Mifflin Harcourt, and Simon & Shuster-announced severe lay-offs and cut backs.David Foster Wallace, the most inventive voice of Generation X, commits suicide.
2009
Publishers Weekly
publishes an all-male "Best Books of 2009" list
, sparking controversy over the continued devaluation of books written by women.Twitter becomes popular with authors, reviewers, editors and publishers. As of December 14, Neil Gaiman (
@neilhimself
) has 1,366,502 followers.McSweeney's, the lavishly produced print journal, launches an iPhone app.