Articles
The People's Priest
The decade from 1988 to 1998 was one of the deadliest in Los Angeles history. Dolores Mission, a church in LA's Boyle Heights...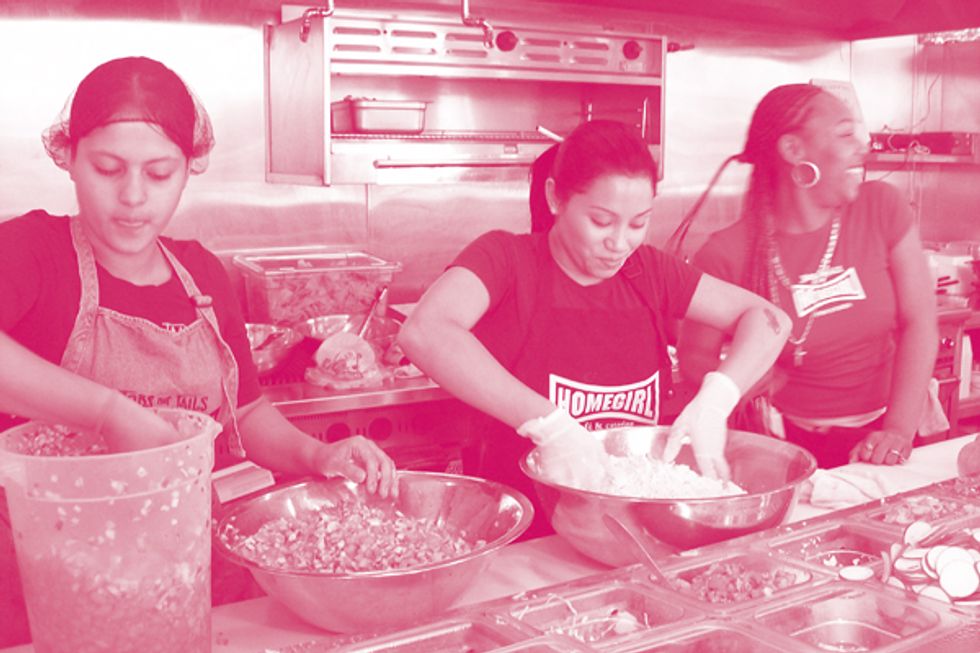 ---
The decade from
1988 to 1998 was one of the deadliest in Los Angeles history. Dolores Mission, a church in LA's Boyle Heights neighborhood, is situated between two public housing complexes, home to several rival gangs- ground zero for an ugly and relentless urban war. It was the "decade of death" says Father Greg Boyle of
Homeboy Industries
, a nationally recognized gang rehabilitation program. "I've buried 168 human beings because of gang violence."Boyle, then a priest at Dolores Mission, was unable to keep his head down and stick to his parochial duties. He felt called to work with this "sub grouping of the poor." In 1988 he started
Jobs For a Future
, a training program where former gang members could learn both hard (how to use a computer) and soft (work ethic) job skills. It was the beginning of what would become Homeboy Industries– a five business, 400 staff-strong operation with a 10 million dollar annual budget located in downtown LA.Boyle, no longer at Dolores Mission, is still at the helm of the operation, recruiting former gang members from detention centers, juvenile halls and probation camps. "The detention centers where I say mass are mainly my church," he says. Shayna Welcher, the lead waitress at the
Homegirl Cafe
, encountered the organization while she and her mother were both incarcerated for drug related charges. After their release, the Welchers both landed jobs through Homeboy Industries. Shayna, now 22, was skeptical at first. After a lapse back into drug use, Homeboy supported her through anger management classes and Narcotics Anonymous instead of firing her. "I didn't think people would give gang members or people with felonies a chance but once I had been there for a while I knew it was legit," she says. "I could see the sincerity in everyone here."Homegirl Cafe is one of the most successful arms of the extraordinarily successful Homeboy Industries, which includes merchandising, silk-screening, a bakery, and landscaping service all under the same roof. While Homegirl is focused exclusively on women, it requires- like all the programs- that every employee leave the gang life behind and be willing to work side by side with former gang rivals. "Some people just aren't ready," says Homegirl Café Manager Shannon Smith. "It's definitely frustrating at times. You're investing in something where you don't see immediate results but you also realize that anything is possible and anyone can turn their lives around."Alice Waters recently visited Homegirl Café and inspired the staff to start an organic garden to grow their own food and an exchange program is in the works that will allow some of the young women to work in Ms. Waters' famous kitchen. Homeboy continues to bring their expertise to other cities like Prichard, Alabama where poverty and gangs are pervasive.Boyle's quieter contribution may be his most enduring. In the early days, working out of Boyle Heights, he says he received hate mail and death threats. That has mostly subsided. And though gang homicides are half of what they were in 1992, Homeboy Industries now serves every zip code in LA County. "Demonizing is always wrong," say Boyle. "Not just because it is morally bankrupt but because it is untruthful. It is a lie."
This post originally appeared on www.refresheverything.com, as part of GOOD's collaboration with the Pepsi Refresh Project, a catalyst for world-changing ideas.
Find out more
about the Refresh campaign, or to
submit your own idea
today.