Articles
Thin Books for a Finite Summer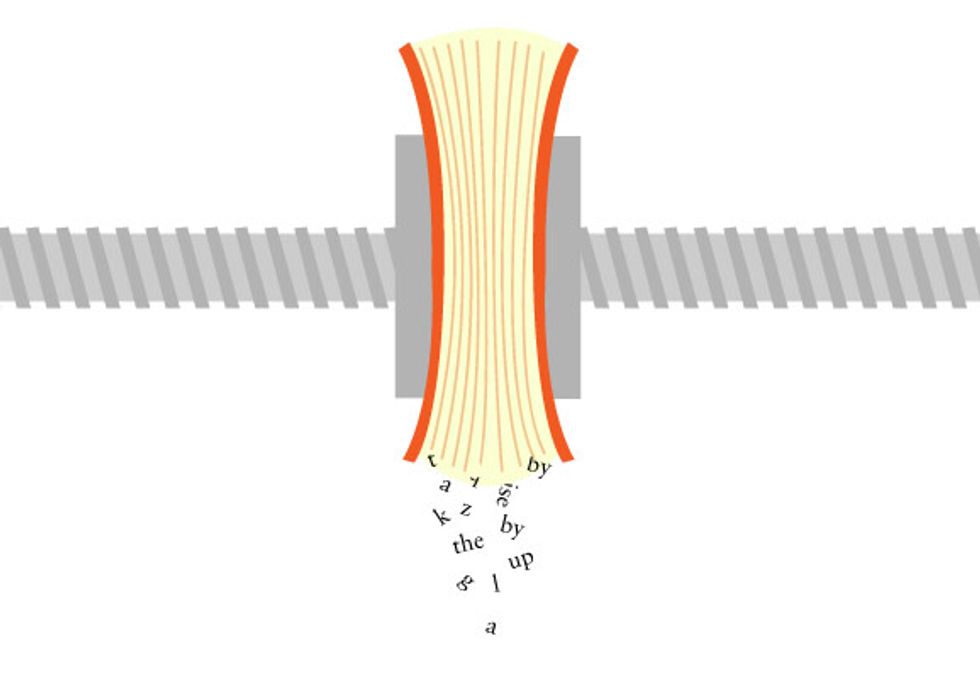 ---
Don't have time to read David Foster Wallace's 1,000-page Infinite Jest? Here's a list of worthwhile summer reading you can finish.
In her wonderful
Los Angeles Times
books blog
Jacket Copy
, Carolyn Kellogg has created a zany list of
61 essential post-modern reads
.The list is annotated, and Kellogg ingeniously marries postmodernism with fun symbols. If a book "blurs reality and fiction" it gets a wavy squiggle. If it "plays with language" it gets a sideways "a". If it "includes historical falsehoods" it gets an old-timey arm pointing backwards.The list includes some proto-post-modern titles, like
Hamlet
,
Tristram Shandy
and Vladimir Nabokov's
Pale Fire
, as well as some of very recent vintage, such as Colson Whitehead's
John Henry Days
and Tom McCarthy's
Remainder
. So you may have checked off some titles on your way through school, and might check off others in your book club next year.But what if you want to slash more titles off your life list during the last half of this drowsy summer? What if you need something other than beer and yoga to get through unemployed days, but large complicated fictional worlds seem too, well, hard? Or perhaps you really did meant to join in the popular
Infinite Summer reading group
, which helps "endurance bibliophiles from around the world" join together to read David Foster Wallace's 1,000-page
Infinite Jest
?All you need do is run your eyes down Kellogg's list to find her handiest symbols:
THIN
and
FAT
. Save Roberto Bolano's
FAT
2666
for next year, and read instead Nicholson Baker's
THIN
144-page
The Mezzanine
(which "disprupts/plays with form" and "comments on its own bookishness"). Kafka's
Metamorphosis
(a "postmodern progenitor" which also "disrupts/plays with form," and "plays with language") is another postmodern quickie.And what about those of us who desire simply to knock out a few titles before Labor Day, because, well, we thought we would have read more by mid-July… and maybe that po-mo part is not so central? I am here to help, with a few great
THIN
titles published in the past year. Read all four, let me know what you thought, and I'll send you a free copy of Vikram Seth's 1,488 page
A Suitable Boy.
FOUR THIN BOOKS FOR AUGUST 2009
Colm Tóibín,
Brooklyn
. Usually, immigrant tales written by masterful prose stylists tend to digress, becoming too fat to put in your beach bag. Tóibín's
Brooklyn
reduces this genre into a shortish, sweet tale of an Irish girl's journey across the ocean to New York.
(272 pages)
Elizabeth Strout,
Olive Kitteridge
. Strout picked up the Pulitzer prize and pretty much ran the awards of 2008 for this collection of linked short stories about a middle-school math teacher in rural Maine. The writing lifts the book above the sedate-sounding plot.
(304 pages)
Aleksander Hemon's
Love and Other Obstacles
. Another book of linked short stories by the charming, MacArthur-winning-smart Hemon (National Book Award Finalist for 2008's
The Lazarus Project
). Hemon, who is Yugoslavian and accidently immigrated to the United States when the war broke out, writes about communism, Balkanization, and adolescence in these stories.
(224 pages)
Brenda Shaughnessy's
Human Dark With Sugar
. How about some poetry? Poems offer an excellent words per book ratio. National Book Critic's Ciricle nominee Shaugnessy is quirky and brilliant (do we smell a bit of po-mo cred here, too?) and, as the magazine
Exquisite Corpse
perfectly put it: "writes like the love-child of Mina Loy and Frank O'Hara." "Three Summers Mark Only Two Years" contains lines like this: "aren't they long and dayful/with traintrips to the sea edge/and free legs?" to keep you enamored and thoughtful.
(96 Pages)