Articles
Woman fights back against cop harassing her 12-year-old nephew for selling his rap CD at the mall
"You're 12? You're about to go to jail."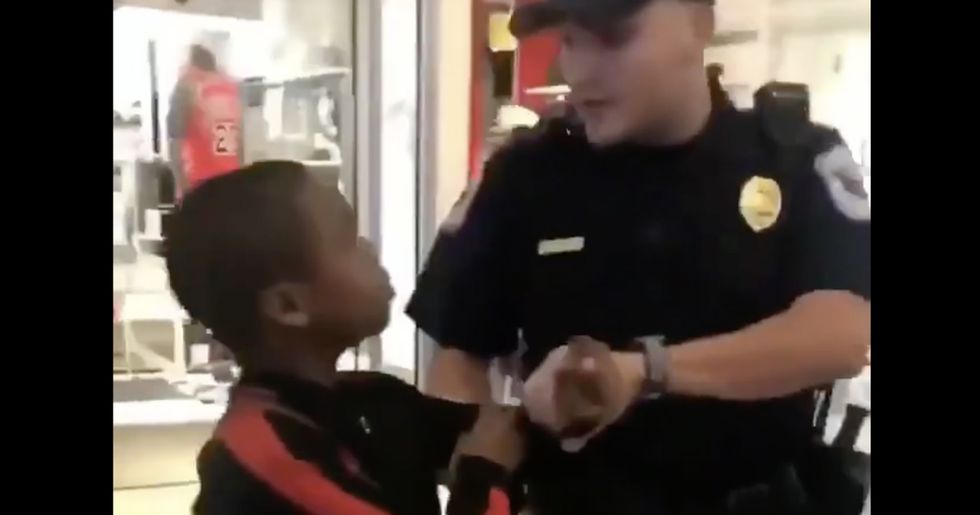 Twelve-year-old Corey "Lil C-Note" Jackson has already made a name for himself in the hip-hop world. He's sold over 250,000 albums and he appeared on The Ellen DeGeneres Show last year to show off his amazing sales technique.
Jackson is also a philanthropist. At ten he started the "If I Can Do It, You Can, Too" foundation where he gives away toys to disenfranchised children. He also tours as a motivational speaker.
---
But now, Jackson may acquire another title: felon.
A few days ago Jackson was selling CDs with his aunt at the Cumberland Mall in Atlanta, Georgia, when he was detained by a police officer who threatened him with jail time. "You're 12? You're about to go to jail," the officer warned. "You're going to go to a youth detention center."
Jackson's aunt called the boy's father, but the officer refused to speak with him. After repeatedly asking the officer to let go of her preteen nephew, she attempted to free him from the officer's grasp and was tackled to the ground.
12 yo entrepreneur selling his rap CD at the mall was detained by a cop who said, "You're 12? You're about 2 go to jail. You're going to go to a youth detention center."

Auntie wasn't having it and who can blame her when cops are mutdering our children?
pic.twitter.com/djlgYlujR3



— Bishop Talbert Swan (@TalbertSwan) October 17, 2018\n
Police charged Jackson with one count of felony obstruction as well as misdemeanor charges for criminal trespass and disorderly conduct. His aunt was charged with felony obstruction and misdemeanor criminal trespass, disorderly conduct, and providing a false name to law enforcement.
Police Chief Michael Register defended the officer's actions to local reporters. "He was within his rights," Register said of the officer.
Here's Corey "Lil C-Note" Jackson in a much happier video: