Articles
Using Discarded Bottles as the Foundation of Education
A new school in the Philippines takes the 'reduce, reuse, recycle' mantra to the extreme, making whole buildings out of discarded bottles.

Illac Diaz, Executive Director of MyShelter Foundation, and a host of volunteers have taken the 'reduce, reuse, recycle' mantra to heart with a new school built from discarded bottles in San Pablo, south of Manila, Philippines. The bottles are filled with adobe, made from local mud which sets like concrete, and layered within a steel frame. The resulting wall, Diaz claims, is three times stronger than one built with traditional materials (wood, bamboo, and straw)—which is no small thing in a country regularly hit by typhoons.
---
The bottles were collected at a community center, volunteers provided the labor, and the land was donated by the local government. Of course, the novelty factor helped to win support—although San Pablo isn't the world's first case of 'bottle build.'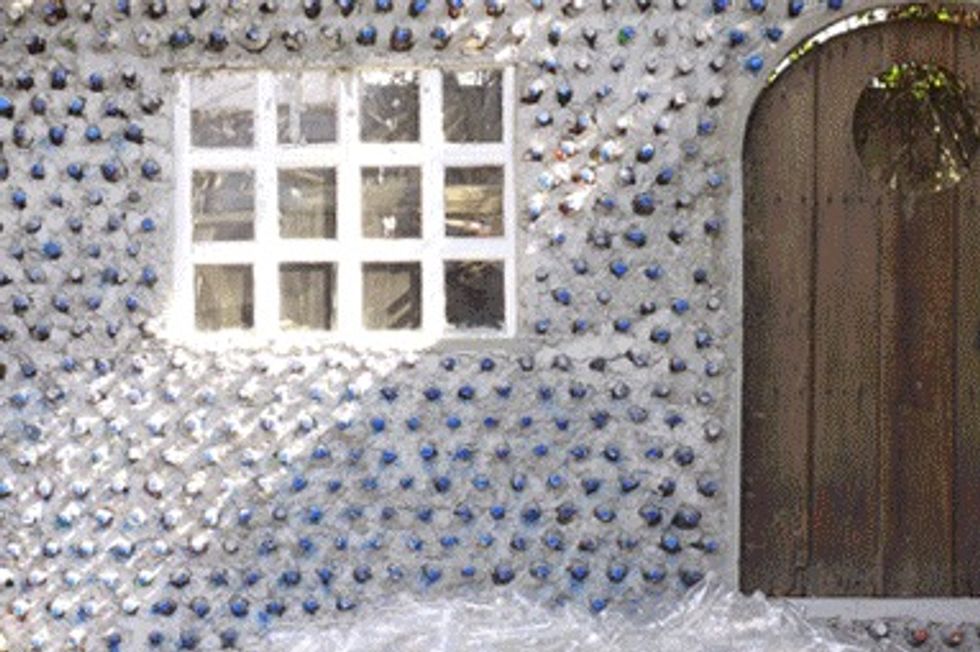 In 1907, a saloon owner in Nevada built a house from beer, whiskey, and soda vessels when lumber was scarce. It's still standing.
But the most impressive example is arguably the Wat Pa Maha Chedi Kaew temple in Thailand's Sisaket province, a labor of love by Buddhist Monks using a million old Heineken and Chang beer bottles.
On a more prosaic scale, any visitor to Namibia's Damaraland will be familiar with the holding pens for livetock made from discarded cans.
Projects like these "demonstrate resourcefulness and an innovative way of thinking that many more mainstream designers, builders and communities need to adopt if we are to cope with resource scarcity," says Martin Hunt, Head of Built Environment at Forum for the Future.
MyShelter Foundation, which also builds schools and homes from bamboo and earth, is looking to repeat the project on the Philippines island of Cebu.
A version of this article, by Sam Jones, appears in Green Futures.