Articles
Walking for Walking In Los Angeles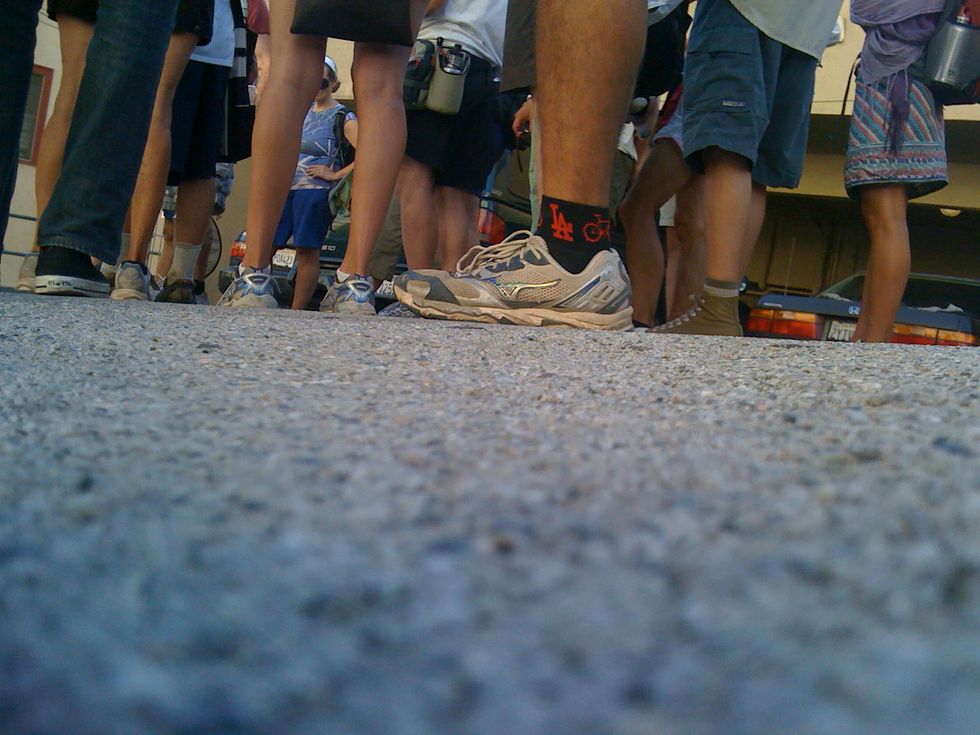 "Walking in L.A." is a pretty decent 1982 song that's more famous than it deserves to be. This is due to a signature lyric which has become somewhat of a call-and-response whenever anyone mentions Los Angeles and walking. What's that, you're going for a walk?
Nobody walks in L.A.
That statement is, of course, categorically untrue: Every day, millions of people in this city use some combination of mass transit and their own two feet, the same people who probably have also never heard of the band Missing Persons (or what I think is their far superior song, "Words";
compare/contrast yourself
). But as much as I want to believe that walking is an acceptable, perhaps even enjoyable activity in this city, as I walked with a group of people from downtown to Hollywood last weekend, the number one question asked by anyone as they rolled past us-yes, usually in a car-was this: "What are you walking for?"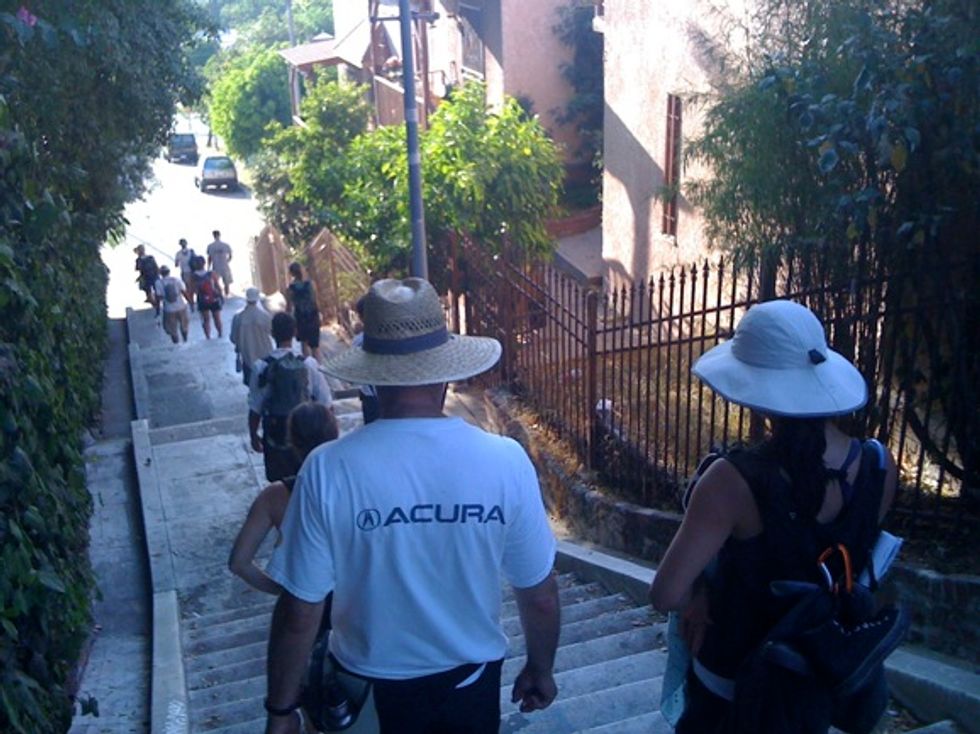 ---
"What are you walking for?" or, sometimes, "What are you walking
for
?" As if any pedestrian effort was such a huge imposition it
had
to be for charity. We're just walking, I thought. Isn't that enough?
Despite the fact that there are plenty of walkers in Los Angeles, there might be a trend of extreme walking in Los Angeles right now. For the last three years
The Great Los Angeles Walk
has famously traveled a boulevard from downtown to the Pacific Ocean, ranging anywhere from 12 to 18 miles in a day. There's
Mathieu Young's Walkabout
, four-day, 20-mile L.A. stroll with a strobe light, featured on this very site. And there are individuals like
Walking in LA
, whose anonymous author has been documenting long walks in town since 2002 (recently walking our
Metro Gold Line extension
, opening any day now). It's almost as if the act of extreme walking might will the rest of the city to fall in step behind you. "The point of our event is to show that Los Angeles can be walked," agrees Dan Koeppel (below, pointing skyward) an outdoor journalist who organized the two-day, 40-mile, 100+ stairway event last weekend, named
The Big Parade
. "This is one city that can be walked, and enjoyed, as an outdoor, urban, and cultural experience."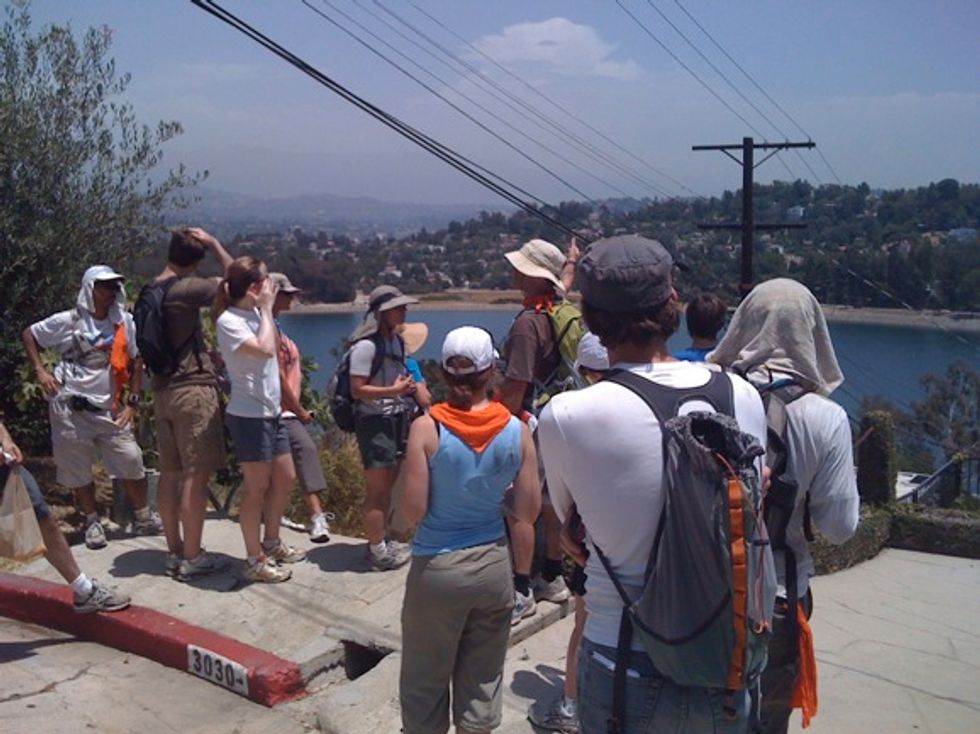 It was diverse, enlightening terrain. Our very first stairway paralleled the
Angels Flight Railway
, which shuttled passengers to the top of downtown's
Bunker Hill
beginning in 1901 (and will creak back into operation soon). The walk ended just below the
Hollywood sign
, on the hiking paths that were carved into
Griffith Park
starting in 1896, when Griffith J. Griffith bequeathed the land what would become one of the largest and most rugged urban parks in the country (and then might have shot his wife in the head, but that's a story for another time). We walked by Modernist mansions and cinderblock apartments. Ate tamales and sushi. We saw guerrilla gardens and makeshift mosaics and graffiti galleries, and not
one
, but
two
, houses painted in Lakers colors. And a
dog with dreadlocks
. And an
armless mannequin
who looked like a backup singer for Duran Duran.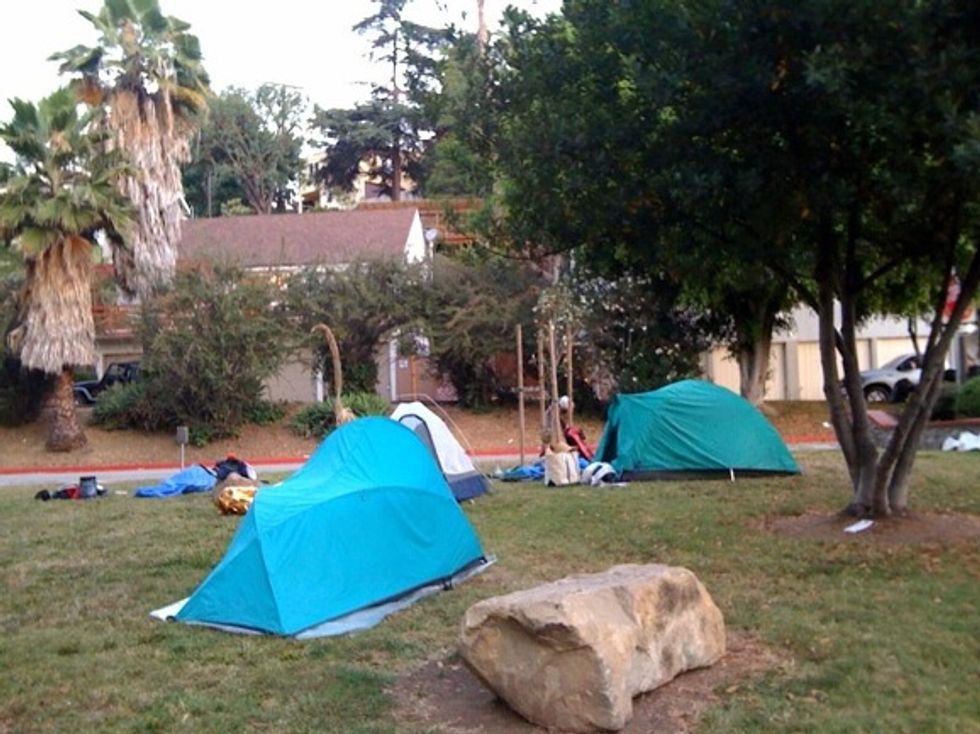 Our route ventured into 10 urban parks, and may have made history in one of them. Thanks to sympathetic powers in City Hall and the Department of Recreation and Parks, we received special permission to camp-10 of us-in the city park at the foot of the most famous stairway in the city, the Music Box Steps, named for the 1936
Laurel & Hardy film
made there (you can watch it at that link). And if you think that people give you weird looks when you're walking, you should see the faces of early morning dog walkers as they watched us climbing out of mummy bags and tents. Actually, I think they just assumed we were homeless but had
really
nice gear.
At every meeting place on the route-every single one-our fellow walkers appeared out of the shade. Over 250 people joined us at various points along the way; at one point, 50 people were waiting for us at a single location. And I shall never forget the kindness of strangers. Someone along the route threw open a cooler full of beer on his driveway. One woman was waiting for us at her house with
ice-cold watermelon
.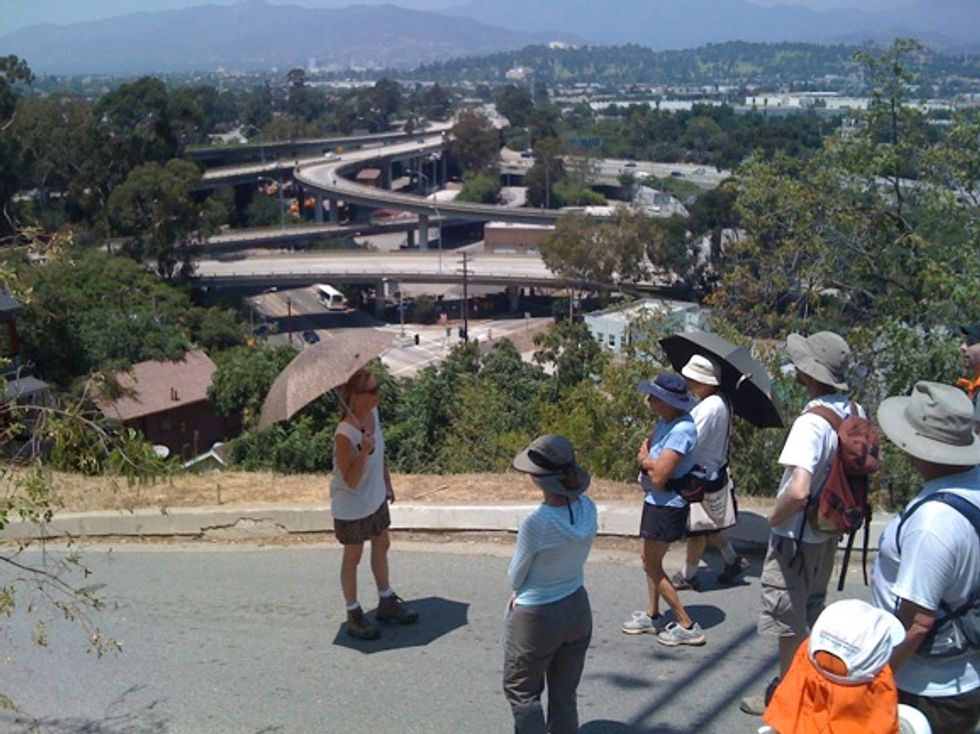 All along the trail we were following-the reason the stairs all existed-was the echo of the streetcars that zipped passengers around the city pre-freeway. (Although how those passengers huffed up all 236 of the
Baxter Steps
in their lace-up boots and petticoats, I do not know.) Just west of downtown we zig-zagged down steps that the neighborhood used to access a
now filled-in Red Car tunnel
that went to Hollywood. 10 miles later we visited the
Corralitas Red Car site
, where we were guided by resident Diane Edwardson, who has documented the history of the former right-of-way as well as the plight of developers to get their hands on the hilly real estate. Some places you could squint and see the how the rows of bungalows gently sloped down to a soft grassy canyon where tracks used to be.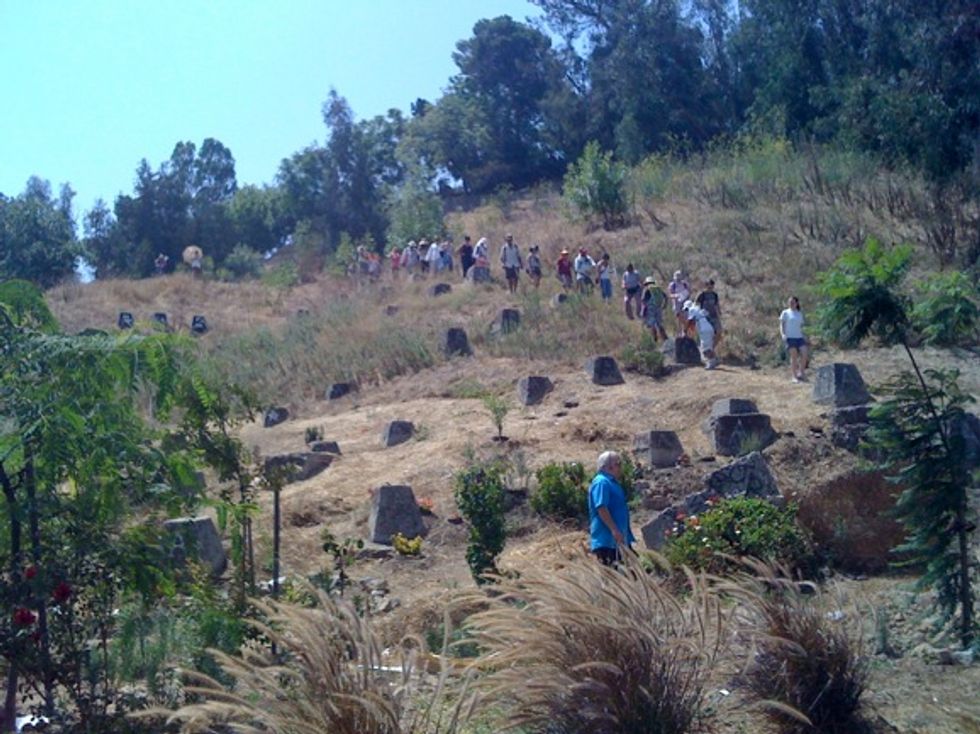 And suddenly, as we rolled over a 710-foot summit in the Echo Park neighborhood into a former spiritual retreat, 60 of us marching single-file down the brick and stone steps custom-built by the first homeowners, I realized that we actually were walking for something. Sidewalks are one thing, but the hundreds of public stairways in L.A. are a unique infrastructural element in that they were made
only
for people. By drawing attention to them physically-the
sweeping civic staircases
, the
dark secret passageways
, the
trampled dusty cut-throughs
-and also symbolically-the
published-in-books maps
, the
hand-drawn neighborhood maps
, the
GPS-enabled Google maps
-we might create enough awareness to show that Los Angeles is not only great for pedestrians, but actually
built
for pedestrians.
As it turns out-and quite unintentionally-our unofficial walk for walking did exactly that. "I've been contacted by several branches of the city government who'd like to work with us on pedestrian access issues and permanent routes," says Koeppel, who notes that he has also received related requests from the city council and the parks department. "Pedestrian advocates from Beverly Hills and the South Bay have also asked for information on what we've done and how we did it."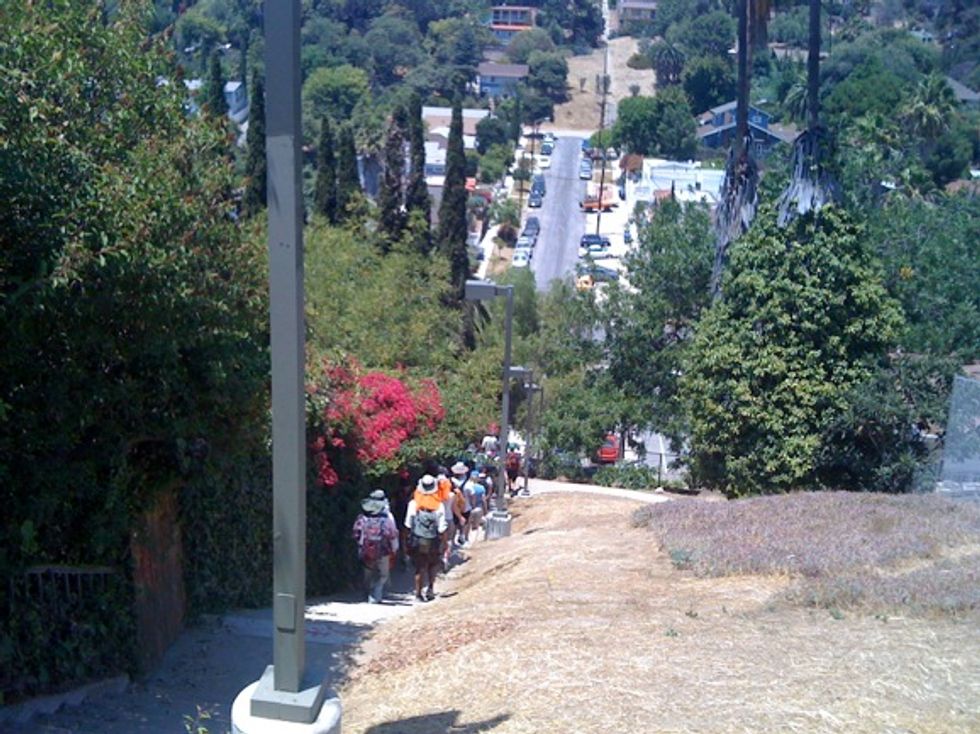 And there's also talk within L.A.'s City Hall about a neighborhood trails system, a series of "best routes" for walking, hiking and biking inspired by cycling advocacy group C.I.C.L.E'.s list of
L.A.'s bike routes
and a
signage system
by designer Joseph Prichard. As our walk proved, no new sidewalks or bike paths need to be built to make this work. It's just a matter of knowing which way to walk. And of course, knowing what you're walking for.
Camping photo by Lisa Anne Auerbach, more photos by myself, Steve Matsuda and
Larry Gassan
.