Articles
What a Startup—And Their Immigrant Parents—Can Teach You About Sacrifice
You make sacrifices for the things you care about, whether that's a business or your family.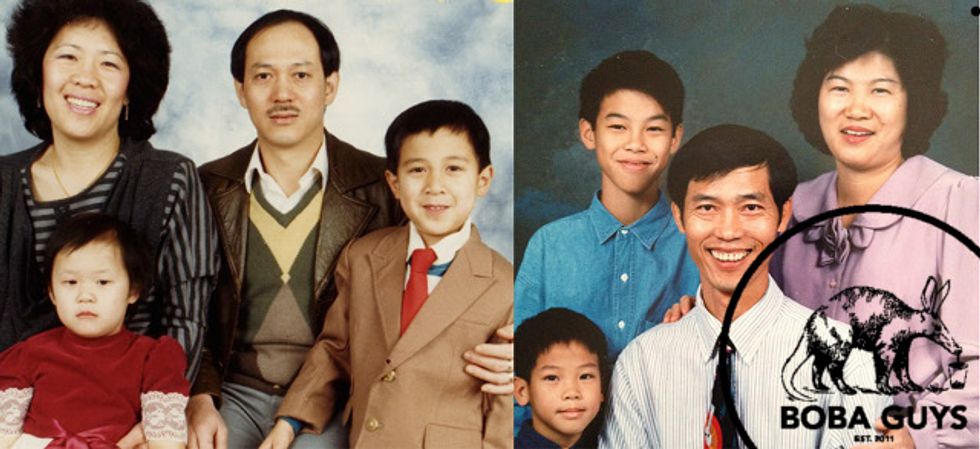 Personal sacrifices are the hardest part of business. Quite frankly, they caught us off guard.
Sure, our hands are now the "working hands" of our parents (requiring an immense amounts of lotion after all the dishwashing) but the missed birthdays, ski trips, and date nights are irreplaceable. We think this is the biggest deterrent for anyone launching a startup. The hours are long, especially if you have a day job like us, and there is no higher authority to hold you accountable. After the honeymoon phase of launching a startup has passed, all you have left as fuel is the passion for your business.
---
As sons of immigrants, we experienced the labor of love firsthand through our parents. Bin spent many a days as a teenager helping his father out in the family's plastics plant while Andrew spent long nights and weekends folding wontons and peeling string beans in his family's restaurant. Despite growing up in different states, we had parallel lives, inheriting our parents' values of work ethic and sacrifice. The word "sacrifice" has a particularly special meaning for us—without our parents' willingness to put their children's' needs before their own, we would not be here. Boba Guys would still be a pipe dream.
We discover a newfound appreciation for our parents whenever we talk or go home to see them. They did not have the same flexibility in their lives that we do. Andrew's parents came to the United States with nothing, and the only skill they could offer was in the service or food industry. Andrew's dad, now a San Francisco Muni bus driver, has hands as coarse as sandpaper—that's what 30 years in the restaurant business does to you. Bin's parents gave up their stable lives in Taiwan to provide their children a better life in the United States—or "mei guo," which means "beautiful country" in Mandarin. Boba Guys came out of pure passion—we would be running it very differently if it came out of necessity.
Candidly, we did not know if Boba Guys was going to be around for more than a couple of months. After getting our hands dirty and establishing some stability in the business, the biggest challenge we faced was keeping up with the momentum. Could we endure the long hours, physical labor, and personal sacrifices to really scale our business? Were we prepared to make the necessary sacrifices to keep it going?
If you are thinking about creating a passion project or startup of any kind, we hope you consider what you are compromising in order to chase your dreams. People will be surprised by the number of sacrifices you have to make when you start a business. When is it worth pursuing your dream and when is it not? For us, it is an exercise in priorities to be squared away before momentum carries you into the wrong direction.
This post is dedicated to our parents who sacrificed so much for us and for our significant others (Andrew's wife and Bin's girlfriend) and friends who put up with our insane lifestyle and incessant infatuation with bubble tea.
The Boba Guys share their adventures in food enterprise every Monday.