Articles
What's In Your Soap? More Than You Know
How deep do you want to delve into your soap's ingredients list?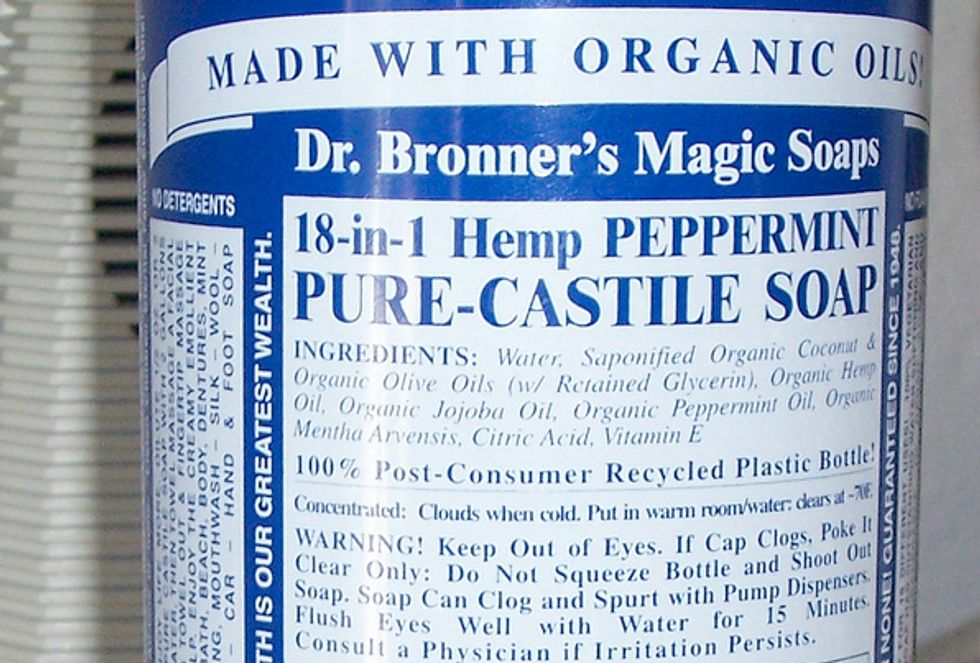 Organically-inclined shoppers know
Dr. Bronner's Magic Soaps
by its simple, transparent packaging that reads like a blueprint for its cleaning product. Dr. Bronner's rose liquid soap, for example,
lists just nine ingredients
in a prominent space on the front of the label, right above the soap's intended use, dangers, and recycling status. If the
Safe Cosmetics Act of 2011
is successful, the ingredients disclosure would take up even more real estate on Dr. Bronner's packaging: The rose soap's ingredients list would inflate from nine to 22.
Under the proposed legislative overhaul of cosmetics producers, every soap, lotion, or powder sold in the U.S. would be forced to disclose the components in its components—including the complex formulas that make up "natural fragrances." What Dr. Bronner's now calls simply "Natural Rose Fragrance" technically consists of 14 separate ingredients—Grapefruit Oil, Orange Oil, Glycerin, Geranium Oil, Davana Oil, Rosa Damanscena (Rose Distillate), Rosemary Oil, Eucalyptus Oil, Juniper Berries Oil, Caprylic/Capric Triglyceride, Ethanol, Ionone, Ethyl Butyrate, and Phenylacetic Acid—all of which would get a nod were the retooled ingredients rules to go into effect.
---
The shift is "not a big deal as we aren't hiding any synthetic petrochemicals, but we would have to make room on the label," Dr. Bronner's Magic Soaps president David Bronner told me of the prospect of digging deeper into his soaps' ingredients. "On the one hand its inconvenient, but on the other, 'fragrance' often hides ingredients of concern for customers."
For curious consumers, Dr. Bronner's already discloses every little bit of its soaps on the Environmental Working Group's Skin Deep cosmetics database, including the 14 components of its rose fragrance. But for those soap users who can't bother to give the ingredients list more than a passing glance, the proposed change has practical as well as aesthetic implications: "Rose fragrance" is a lot simpler for the average consumer to parse than its underlying constellation of triglycerides, oils, and acids. "Hopefully we can say 'Natural Rose Fragrance' and then list components in parentheses," Bronner says. "If not, oh well. They'll just make up the end of the ingredients list."