Articles
When Is Public Art Not Public? When It Stars in a Movie
A Los Angeles museum charged the recent Natalie Portman-Ashton Kutcher film a fee to shoot under a famous public artwork by Chris Burden.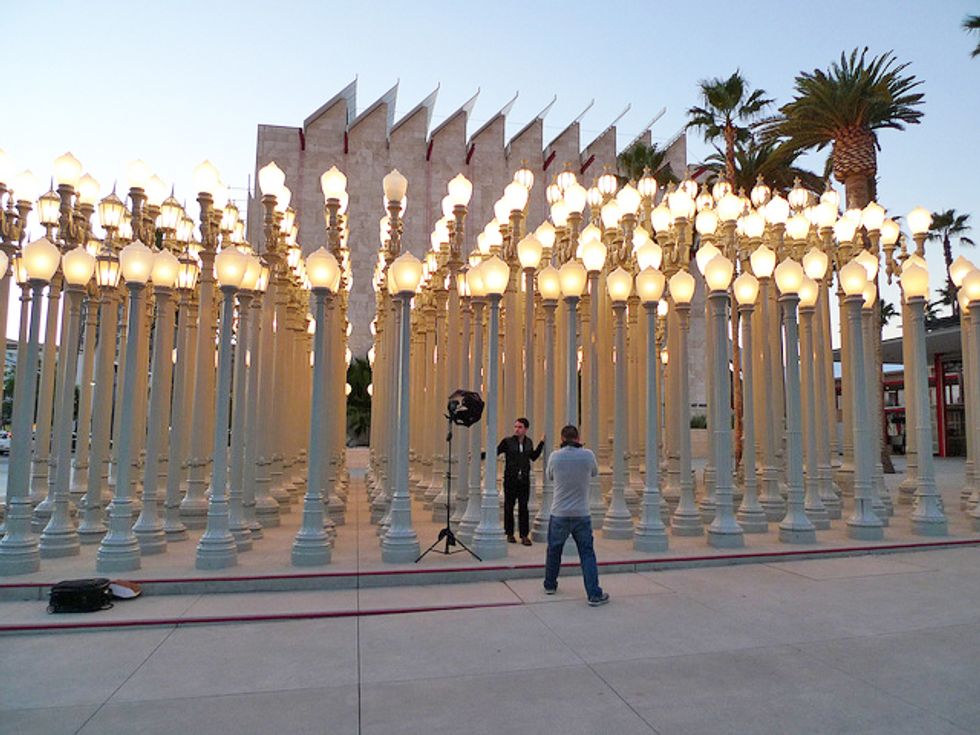 The cinematic quality of Los Angeles's iconic public artwork Urban Lightis undisputed. Chris Burden's forest of streetlamps, positioned in front of the Los Angeles County Museum of Art, is so often photographed that LACMA turned user-submitted photos into a book and exhibition. Access to the lights is never restricted, and at all hours of the day you'll see people using the warm, soft light as a backdrop for wedding photos, music videos, headshots (this is L.A.), and student films. In fact, when I was there the other day, I saw this scene playing out just as the lights flicked on for the evening. How cool that the museum lets this kind of filming go on, I thought. It's like a little public theater on Wilshire Boulevard.
---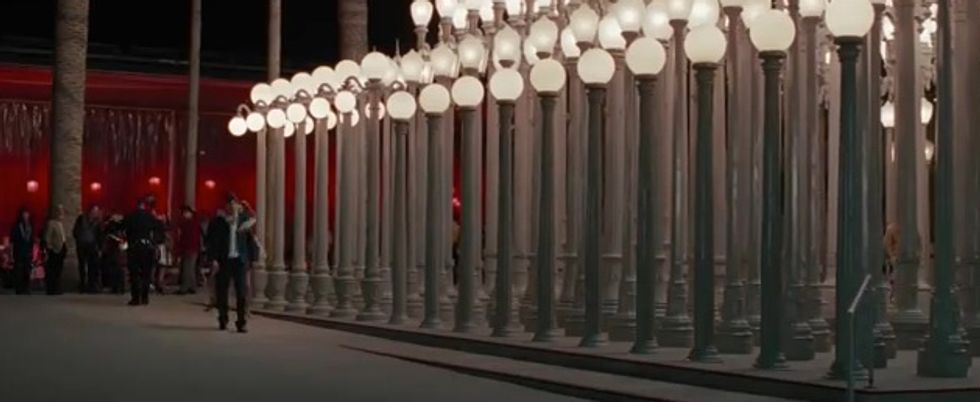 Well, not exactly. Here's a still from the film No Strings Attached, the Natalie Portman-Ashton Kutcher rom-com that has the duo romping through Burden's piece during a pivotal plot point. According to Modern Art Notes, the museum not only charged for the use of the artwork, they actually had say over what Portman and Kutcher would be cooing to each other under those 202 vintage lights:
A museum spokesperson told MAN that the amount varies depending on the length of time the crew is on site, how much LACMA staff has to monitor the shoot so as to protect the artwork and so on. Naturally, rights are cleared by LACMA through Burden's studio and the museum reviews the script and makes sure the museum comes out looking more Isabella than Lohan. A LACMA spokesperson said that in the end, the museum's site fee typically ends up in the $10-25,000 range (which does not include Burden's own site fee).

\n
Of course, that's not much compared to location fees for pretty much any business or institution that allows filming on their premises. And working with Hollywood producers isn't a bad revenue stream for LACMA (or for Burden). Maybe we'll see more museums offering up their art for starring roles—a win-win for both movies and artists. Or perhaps the price to pay for public art will turn location scouts off.