Articles
Why Women's Sports Should Be Charities, Not Businesses
U.S. Soccer is being crucified by advocates for women's sports for trying to treat the women's pro league like a functioning business.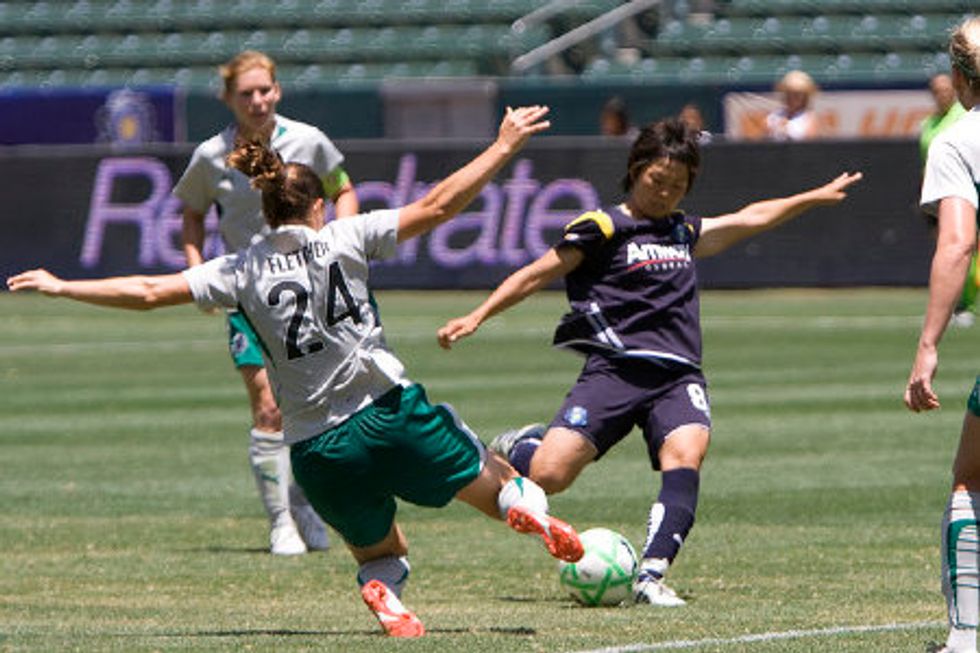 Sometime in the next few days, the governing body for American soccer will decide whether to allow Women's Professional Soccer to continue operating at the highest pro level. U.S. Soccer executives are almost certainly damned if they do and damned if they don't: They're forced either to strike yet another blow to the beleaguered state of women's pro sports, or to lessen their standards to nearly meaningless level.
---
The debate is over whether to grant a waiver to allow WPS to operate with only five teams, three less than the official requirement. Since the league was founded in 2009, it has never fielded the eight teams required by the statute, and six clubs have folded within two seasons. The Florida-based MagicJack club, an expansion team at the start of the 2011 season, was terminated by WPS executives after one year because its owner refused to comply with basic tenets of the league (maintaining a team website, for example). Though WPS leaders have spoken glowingly about how the league is on an upswing and is bound to expand in the next several years, their enthusiasm belies the evidence that the league is profoundly unpopular.
The latest round of uncertainty underscores the unpalatable dilemma facing women's professional sports leagues: They can operate as charitable causes for the corresponding men's leagues, or as real businesses. That sounds like an easy choice—what member of a women's venture wants to exist only by the grace of male overlords?—until you consider the divergent fates of the WPS and the WNBA. The years-long failure to create a viable women's pro soccer league underscores the fact that women's leagues are not yet sustainable businesses, making the charitable model the only option.
Women's professional basketball would have gone bankrupt years ago if not for David Stern's commitment to propping it up. Though he insists that many WNBA teams break even, Stern has steadfastly refused to publicize numbers for the women's league as a whole—no league with an average attendance of less than 8,000 people per game [PDF] in NBA-capacity arenas can turn a profit. And in negotiating TV rights for NBA games, he has made rights to WNBA games a condition of any deal, which is literally the only reason you can find an Indiana Fever-Tulsa Shock game on television.
In other words, the WNBA isn't a viable business, so the NBA operates it at a loss because executives there believe that paying women to play sports sends a valuable message—even if few people want to pay to watch them on TV or in person. Stern may be a shrew in every other possible way, and he may not have made the right choice for the long-term health of the WNBA, but his commitment to the women's game is admirable.
Meanwhile, U.S. Soccer has been roundly criticized by advocates for women's sports for trying to treat the women's pro league like a functioning business. Six teams have folded since the league was founded, more than half the total number of teams that have played. Despite the excitement over the Women's World Cup last summer, WPS attendance fell to an average of 3,518 per game last season, the lowest in the its three-year existence.
That women's basketball and soccer are more popular than ever in international competition while their corresponding professional leagues struggle to survive is the irony underpinning every discussion of the future of women's sports. After 13.5 million people watched the World Cup championship match between the U.S. and Japan last summer, a flurry of news stories predicted a huge bump for WPS attendance. If that narrative sounds familiar, it is: Just 12 years ago, the buzz over the U.S. team's World Cup win (an event that drew even bigger TV ratings than the 2011 final) led to the creation of the Women's United Soccer Association, which featured eight teams and plenty of near-household names like Brandi Chastain, Mia Hamm, and Julie Foudy. The league debuted to much fanfare but never lived up to attendance or TV rating projections and blew through $100 million in three years before folding in 2003.
Capitalizing on that Olympic and World Cup success (and the lesser but still significant ratings for the women's NCAA basketball tournament) would require extending two weeks of fan attention over the course of an entire season, which has never happened in women's sports. There are plenty of reasons for this—society's prejudice against female athletes, poor marketing efforts, and the fact that the vast majority of pro players aren't nearly as good as the ones who make the World Cup team—that no one has figured out how to solve. Unless a business genius comes along with a plan to radically remake the way women's sports operate, leagues like the WPS will never be financially viable.
But perhaps that's ok. While it's tremendously uncomfortable for female athletes and executives to rely on their male counterparts, it is reassuring that male team owners believe women's sports are a valuable pursuit. Of course, some sports are better situated than others to support a women's league—U.S. men's soccer makes a lot less money than the NBA does, and its player salaries under a nonprofit scheme could be so trivial as to be insulting. To succeed, a women's soccer league would also need to solicit donations from like-minded people who want to see women's sports succeed, even if they can't always make it into the stands.
More than 45,000 people have signed a petition urging U.S. Soccer to grant the WPS the waiver to play with five teams. Strikingly, the letter never claims that the league has a viable business model, instead playing to readers' heartstrings. "To see Women's Professional Soccer fail twice would surely mean the end," pro player Alexandra Sahlen wrote in starting the petition. "The opportunity for the millions of young girls that dream of being the next Hope Solo or Alex Morgan will never get the chance."
That's not true, of course—the World Cup team will continue regardless of whether a pro league does—but paying women to play sports does send a critical message. Sending that message requires sacrificing dreams of making women's sports big business—a painful trade-off, to be sure, but one worth making.
Photo via (cc) Flickr user JMR_Photography