Articles
Winner: 'Create Your Ideal Workspace' Project
We challenged you to design your ideal workspace from scratch. Here's the winner.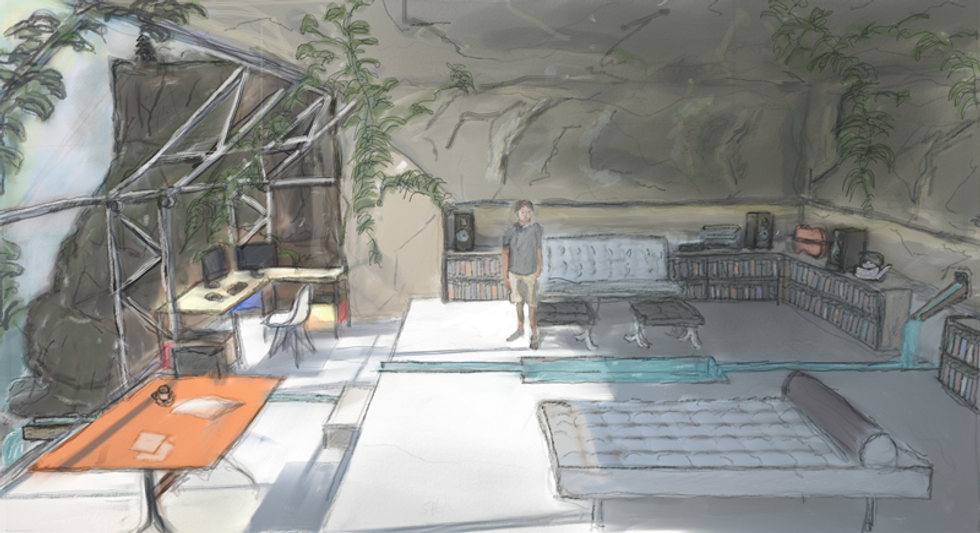 For our latest challenge, we asked you to
create your ideal workspace
showing us what makes for optimal productivity. From graphic design artists to elementary school principals, our readers convinced us that the ideal workspace would be anywhere other than a conventional room. We received so many creative submissions that we couldn't decide for ourselves, so we turned to our GOOD community to
vote on the final winner
.
Our winner is Logan Hendricks, whose workspace embedded on an oceanside cliff is a reminder that the ideal work environment is an area we spend most of our time but more importantly, a space which we should enjoy. Hendricks describes his ideal workspace this way:
---
My ideal workspace brings the outside in. The space is embedded in the side of a steep ocean cliff. Most of the space is within the cliff face, with the rest cantilevering out over the ocean. The bright sunny side of the space is for working on and assembling my ideas, while the cool shady side is for thinking and napping on my day bed. The bright side would have my computer and large work table, while the back would have a couch for reading and thinking and a day bed for napping. The walls of the space have all the odds and ends I need to keep me going, and keep me thinking: Rows of books, a stereo, coffee pot, my cello, etc. Fresh water pours from a spout in the back wall and runs through the space into the ocean below, pausing for a second in a small reflecting pool in the middle of the room. I could get a drink or wash up in the reflecting pool whenever I need to feel a little fresher. This would be my Shangri-la, my Perfect work space.

\n
Logan will receive a GOOD t-shirt and a year's subscription to the magazine. Thank you to the GOOD community for bringing your talent and creativity to our projects. Keep it up readers—you guys are great!