Politics
Arizona Republican governor literally muted Trump's phone call to certify Biden's win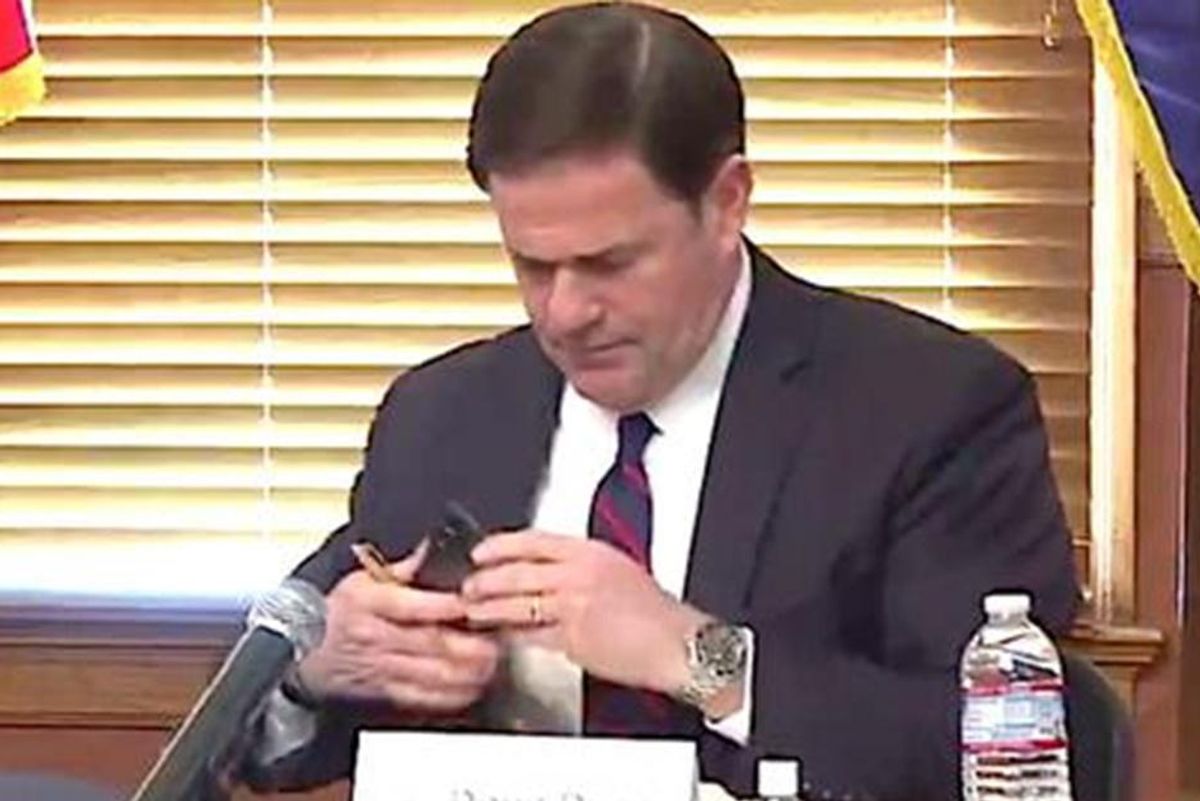 Arizona's Republican Governor Doug Ducey received what's believed to be a phone call from the White House while certifying the state's election for Joe Biden on Monday.

But he didn't pick it up.
Video shows Ducey taking his phone from his pocket and silencing it during the signing. The ringtone that was silenced was "Hail to the Chief."
Ducey said he changed the White House's ringtone to the song so he'd never miss a call from President Trump or Vice President Michael Pence. If that's the case, then he hung up on the White House as he handed his state's 11 electoral votes to president-elect Joe Biden.
---
Arizona Gov. Doug Ducey appeared to ignore a call from President Donald Trump as he certified the state's election… https://t.co/QJ0aD0nli6

— HuffPost Politics (@HuffPost Politics) 1606839660.0
Back in July, Ducey bragged to the press about his close connection to the White House. Critics suggest Trump's fawning over Ducey was mostly to do with his need to win the state in the election.

"We've had so much outreach, personally from the president and the vice president that I had to change the ringtone on my phone. And it rings 'Hail to the Chief' because I didn't want to miss another call directly from the White House," Ducey said.
Doug Ducey said the president calls so much he made Trump's personal ring tone hail to the chief. Hail to the chi… https://t.co/xrzbEpCJXr

— Jaymesgiving (@Jaymesgiving) 1606842252.0
For many, Ducey's apparent snub of the White House as he sealed the president's fate is the perfect symbol of the waning days of the Trump presidency. Trump has been pressuring Republican leaders not to certify Biden's victory claiming there has been widespread voter fraud in the election.

This time, Ducey wasn't listening.
After dozens of failed lawsuits and a recount in Wisconsin, there has been no evidence of significant voter fraud. This hard truth was punctuated on Tuesday when Trump loyalist Attorney General Bill Barr confirmed the truth to the Associated Press. "To date, we have not seen fraud on a scale that could have affected a different outcome in the election," Barr said.
Before Ducey certified the election on Monday, Trump called into an Arizona hearing-style event on election fraud and bashed him.
LET'S GIVE THEM SOME SPACE Is the Ducey-Trump bromance over? This is a really bad public breakup. https://t.co/nn3C3cxK3p

— Brahm Resnik (@Brahm Resnik) 1606783452.0
"The 2020 election was rigged it was a scam and the whole world is watching and they're laughing at our country," Trump said, phoning into the event.

'We got 74 million [votes] and we didn't win. But I know that we won Arizona and we won Michigan and we won Georgia and we won Pennsylvania and we won Wisconsin. But what they did is they played games," he said.
"This is the greatest scam ever perpetrated on our country," Trump continued.
As Trump's loss sets in he'll soon realize fewer people are going to pick up the phone when he calls. Power centers in Washington are fickle and move quickly. With Biden's election now certain, the soon-to-be ex-president should get used to the silent treatment.