Articles
Barnes & Noble's NOOKstudy Tackles E-textbooks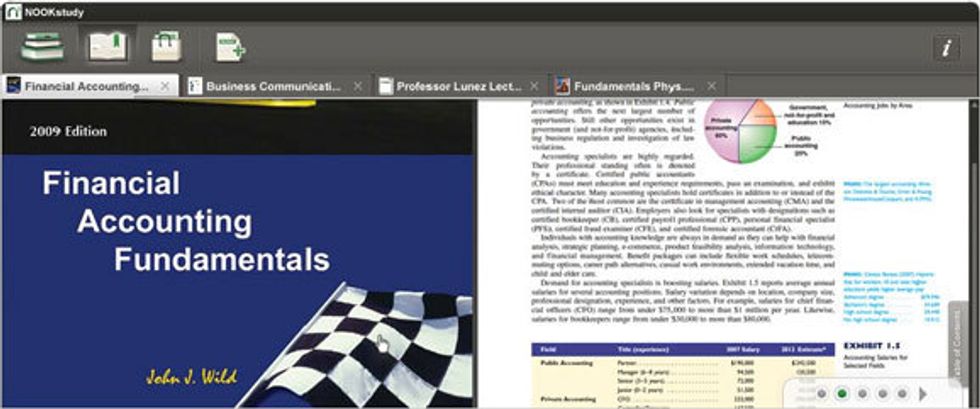 ---
\n
Barnes & Noble took the plunge into the
e-textbook
wars this week with the wide release of its
NOOKstudy app
, which runs on both Windows and Apple machines. It allows students to download all their textbooks, browse through them, and annotate them (and even search their annotations), among other functionalities.
It's a free download, and according to a post on Engadget, students can get their hands on virtual textbooks for roughly 60 percent of the cost of traditional bound ones. Coeds at Penn State, UNLV, and Rochester Institute of Technology have already been using the system. Now it's available to everyone.
From the press release:
NOOKstudy is a revolutionary, easy-to-use study tool that offers instant downloads of a large, versatile selection of eTextbooks and academic and trade titles. Among the innovative features developed with extensive feedback from college students, professors and administrators, NOOKstudy lets students view multiple books and sources at once and offers access to complementary content (e.g. toolsets, reference materials, etc.), as well as the unprecedented ability to highlight and take notes that are searchable and customizable. This comprehensive software solution also provides students access to all of their materials – eTextbooks, lecture notes, syllabi, slides, images, trade books and other course-related documents – all in one place, so their digital library goes wherever they go.

\n
With access to a service like this, campus bookstores may need to worry about losing some important revenue sources. Do you think this app will catch on with today's college students?
Photo via