Articles
A Fair-Trade, Handmade Foodie Mecca Opens in a Santa Monica Mall
Yep, you read that right. The most exciting new local food experience in Los Angeles can be found in a mall. This ain't no food court.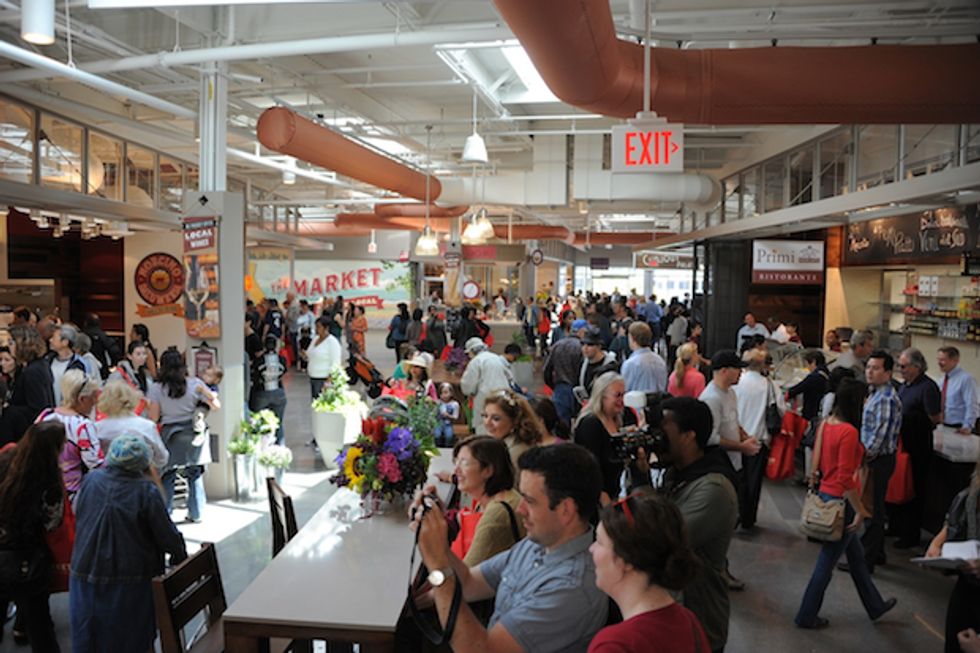 Los Angeles is full of food paradoxes: The best sushi is found in strip malls, the best tacos are in parking lots. So you probably won't be too surprised to hear that the most exciting new food experience in Los Angeles can be found in a mall. The massive foodie emporium
The Market
opened this weekend on the Dining Deck of
Santa Monica Place
, where you can watch local chefs sculpt organic gnocchi, eat hand-crafted chocolates, or head to a culinary school where you can learn to do it all yourself.
The Market focuses on goods from hyperlocal purveyors: Gelato from N'Ice Cream and pretzel breads from Rockenwagner Bakery are made just blocks away. There are also smart partnerships with local restaurateurs: Piero Selvaggio of the Santa Monica Italian institution Valentino oversees two of the sit-down restaurants in the Market, a charcuterie and cheese bar (where they make their own mozzarella) and a trattoria. And you'll want to save room for the charming pop-up shop curated by the wildly popular Artisanal LA show, where a rotating roster of local vendors sell their homemade goodies in three-day stints.
---
Among the ready-to-eat edibles, you'll find a permanent outpost of Gourmandise, the cooking school known for its residency at kitchen supply store Surfa's. In addition to providing classes (learn how to make handpie!) it will also lend its space to worthy causes, providing a test kitchen for Santa Monica Farmers' Market farmers and chefs, and hosting job training workshops for the homeless. Add in Gourmandise's focus on local and fair-trade ingredients, and really, what better place is there to learn how to make creme brulée?
Live in Los Angeles? Sign up for our one-good-L.A.-thing-a-day email and become a member of GOOD LA. You can also follow GOOD LA on Facebook and Twitter.