Articles
Cycle of Life: Biking for Land Preservation
Reinventing the Outdoors contest: Sonoran Desert Mountain Bicyclists director Brian Vance talks about how mountain biking should coexist with nature.
UPDATED! Launched on Monday April 4, GOOD and the 2011 Ford Explorer will be devoting six weeks to the Reinventing the Outdoors Contest, which showcases amazing organizations like this one that are redefining the way we live, work, and play outside. Check in every day for a new story about the people, celebrities, and programs behind each organization. Help your favorite group win the $50,000 grand prize by voting for them starting Monday, May 16 through Friday, May 20.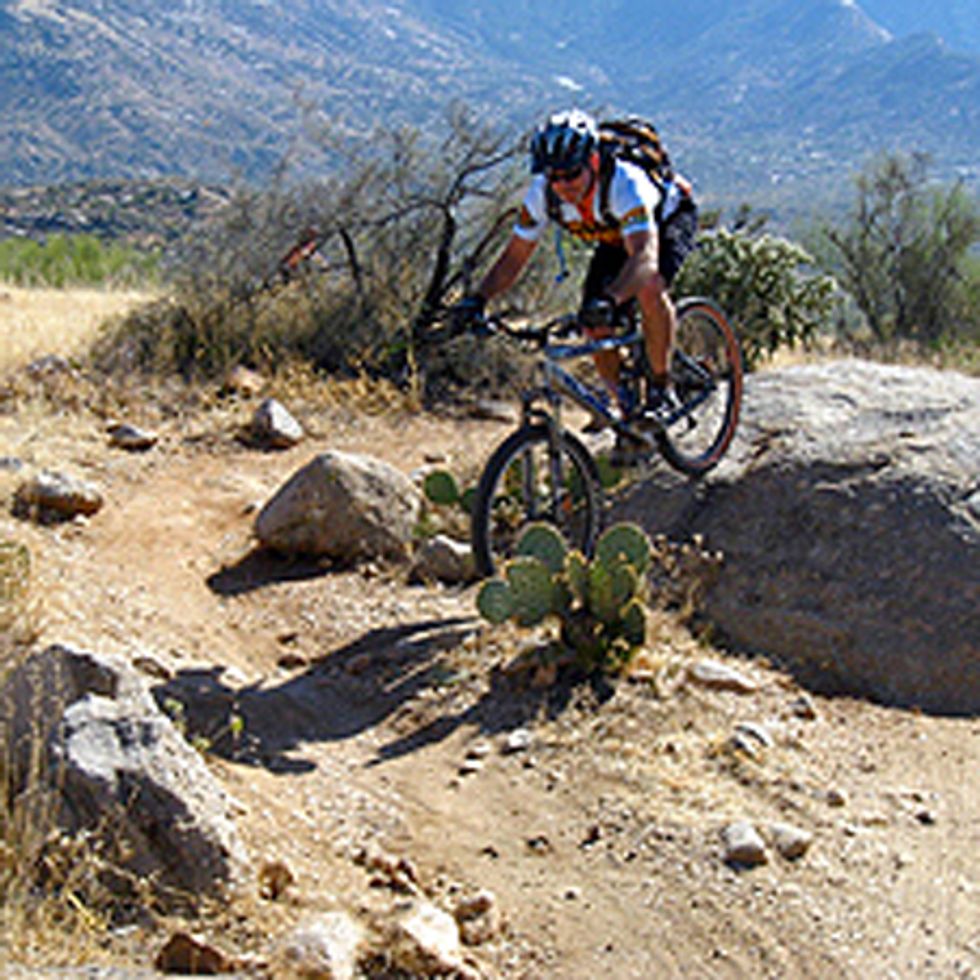 ---
Application engineer by day, avid mountain biker every other possible moment, Brian Vance (pictured above, doing what he loves best) is an integral part of
Sonoran Desert Mountain Bikers
(SDMB). He's been on the board of the organization for the past four years, and this year, he's the president—as well as the founder and owner of TucsonMTB.com, the social networking sister site of SDMB.
GOOD
:
Why is building good trails so important?
BV
: It's wide-open land here, and you can see forty miles out. So when you build a trail, it's an eyesore if it's not done right. Plus, when it rains here, it's like a bucket of water dumped on the ground, and dirt and rock are washed away. In other states where there are lots of trees, leaves fall and the land can heal itself. Here, you cut a trail wrong, and it's a scar on the land for decades.
G
:
What would happen if SDMB weren't around?
BV
: If we were all just riding our bikes, keeping our heads down, it would be chaos. There would be total gridlock between land managers and trail users—plus houses and shopping centers would be built instead of trails. We attend public meetings any time an area is slated for development. We work with the county and developers to either leave land as is or move the development over a little to leave a nice natural area alone. We've helped save Sweetwater, Star Pass, and Fantasy Island trails.
G
:
Describe one of SDMB's recent achievements.
BV
: There are three miles of massive backwoods trails up on Samaniego Ridge on Mount Lemmon that were really overgrown and the Forest Service didn't have the funds to maintain it. So a group of SDMB volunteers piled loppers, pickaxes, and saws on our bikes and cleared all the overgrown briars and reshaped the dirt. People camped out there, and it took us 46 days to do it. It was a big accomplishment and the trail is open again—but now we need new tools!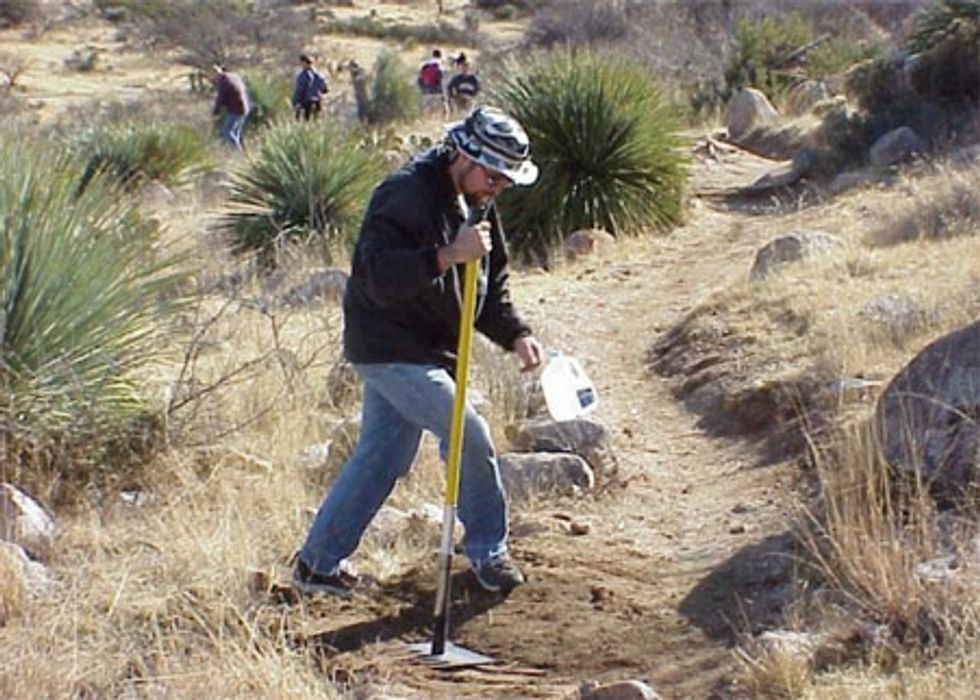 G
:
What do you like best about biking?
BV
: Biking gets you off the couch and onto the trail to see things like waterfalls in the middle of the desert and the view of the valley from the top of a mountain. It's good exercise and it's beautiful.
G
:
Any long-term goals for SDMB?
BV
: We want to be aware of the next generation of riders and their needs. We volunteer with Trips for Kids, a local nonprofit, to take underprivileged kids on 10-mile bike rides several times a year, and we maintain their donated bikes. These are kids who have never been on bikes and rarely spend time outdoors. I want to make sure my 5-year old son has opportunities to go mountain biking by ensuring that the land isn't taken away so that he has trails that are great to ride.
G
:
If SDMB won the contest, what would the money be used for?
BV
: We have plans for a world-class bike park right in town. We have a site—a trashed piece of land in a repressed neighborhood that's just sitting there and can't be built on. We would reclaim it, put in a pump track, a skills area, tabletop jumps, a four-cross competitive course, and courses around the perimeter. We'd have picnic tables and restrooms, and a kids' area where little ones can ride since they're often too intimidated to get out in the desert, with all the cacti and rocks. It would be amazing.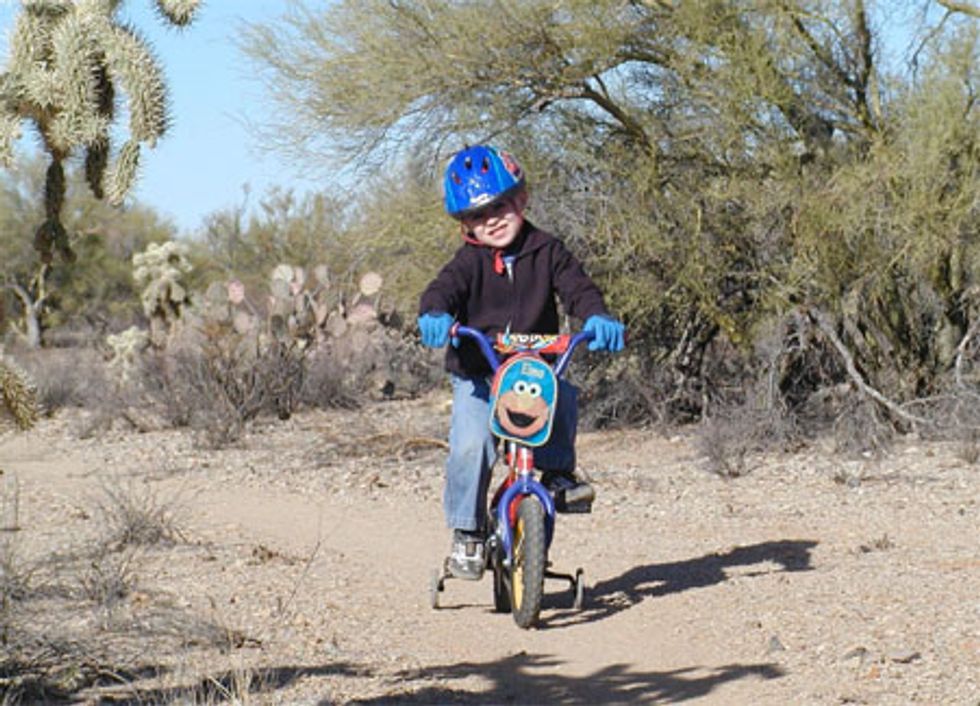 Images from SDMB