Articles
Social media is on fire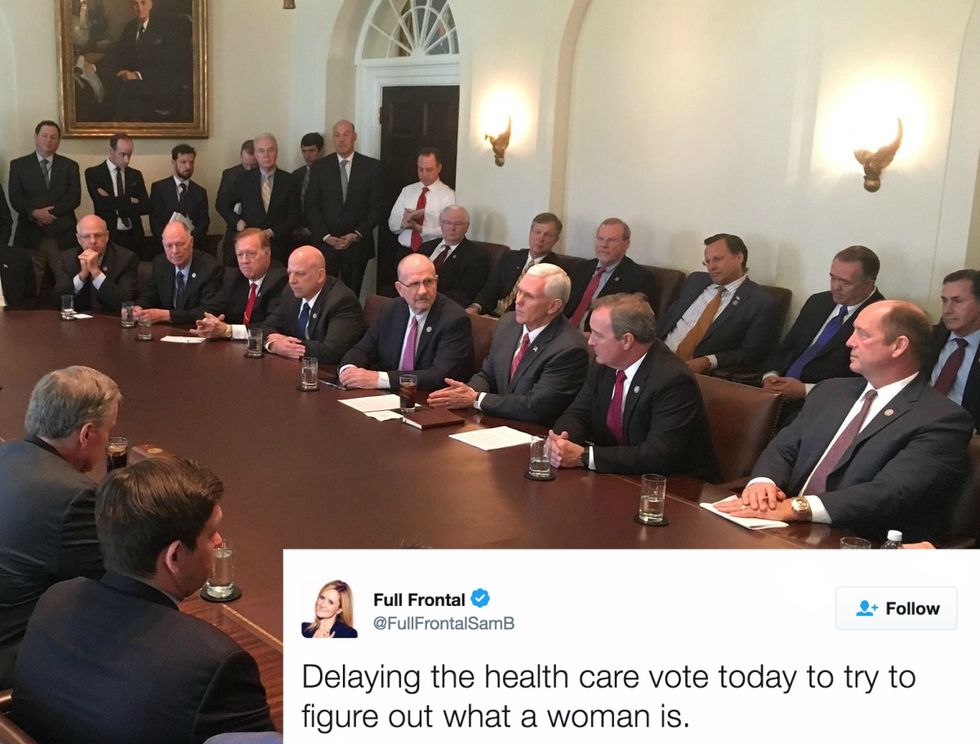 Most politicians aren't known for being funny—the public vs. politician relationship is usually more "laughing at you" not "laughing with you." Even comedian Patton Oswalt, who can make a 1970s breakfast cookie hilarious, totally bombed while reading Mike Huckabee's Twitter "jokes" out loud.
Breaking news from Hollywood! Sen. Chuck Schumer cast in lead role for remake of "Boys Don't Cry."

— Gov. Mike Huckabee (@Gov. Mike Huckabee)1486254653.0
---
As you might expect, it only took a few seconds for Twitter to light up over the news about the failed bill to repeal the Affordable Care Act, and replace it with its "keep your legs closed" as the sum total strategy for women's healthcare, and a roll of duct tape for just about everything else.
And this time, a few politicians managed to pull off some zingers.
Give it up for Senator Bob Menendez from New Jersey:
Hey Republicans, don't worry, that burn is covered under the Affordable Care Act

— Senator Bob Menendez (@Senator Bob Menendez)1490385223.0
Put your hands together for Representative Ted Lieu of Southern California:
Views of my constituents on #Trumpcare: Opposed: 700,000 Not sure: 3 Support: 1 person named Guccifer

— Ted Lieu (@Ted Lieu)1490383874.0
And, of course, actual comedic professionals weighed in with the socia media mot juste:
"We campaign in racist poetry, we govern in the shitty, incomprehensible prose of a Chinese appliance manual." --Paul Ryan

— Ken Jennings (@Ken Jennings)1490386794.0
Health bill was close to passing they just had to clean up a few things like making sure nobody ever got help for anything.

— Albert Brooks (@Albert Brooks)1490303103.0
Delaying the health care vote today to try to figure out what a woman is. https://t.co/ezu5p4r40A

— Full Frontal (@Full Frontal)1490299868.0
And, of course, Patton Oswalt tops them all:
Ayn Rand's ghost materializes in @SpeakerRyan's office. Stretches her labia like pup tent. "Into the death-bag with you." Ryan submits.

— Patton Oswalt (@Patton Oswalt)1490387955.0
Least funny, but most important, is this tweet from Representative Keith Ellison, reminding us that this whole thing is anything but a joke.
Don't gloat; get ready for round 2. Organize!

— Keith Ellison (@Keith Ellison)1490386245.0
But, for now, let's enjoy the moment.