Articles
It seems that women in commercials just can't get enough of men who buy things.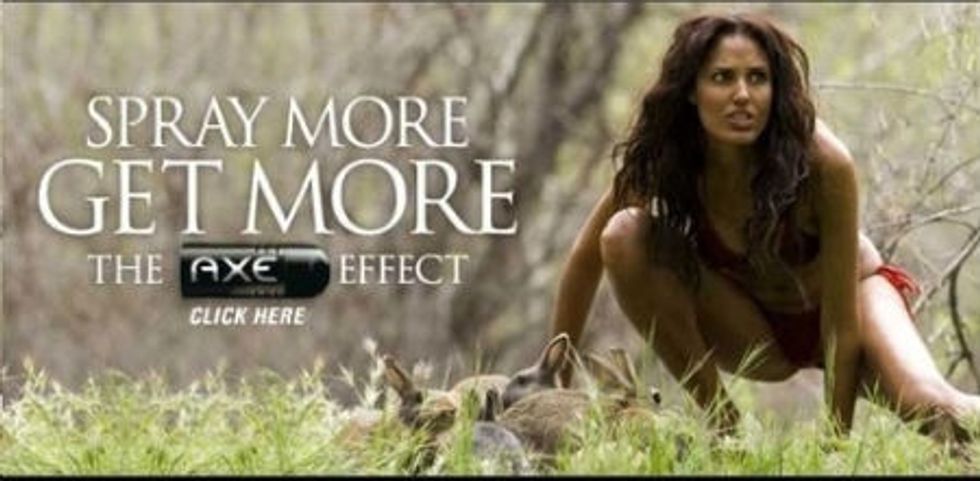 A simple BoingBoing post titled "
Chicks Dig Vespas
" today served as a reminder that chicks dig a lot of things if advertising is to be believed. That expensive cars are a catalyst for sex with women is almost a chiché at this point, unfortunately. But who knew that gum, cigarettes, candy bars, and even blind dates to McDonald's are all also stellar ways to bed ladies? From at least the 1950s to present day, it seems as if it's not sex that sells, but the male desperation to have sex in the easiest way possible: by buying things.
These ads are different from ones that simply highlight scantily clad women, as they don't just present women as standard objects; instead they present women as a group of individuals easily manipulated by common things.
---
I tried to think of the opposite—ads in which women are thronged by men because of their loyalty to a specific product—and nothing memorable came to mind. What I did recall was an ad in which a group of women gather together in their office building in order to watch a shirtless male construction worker drink a Diet Coke. Once again, the man and his product had dazzled the fairer sex—this time without him even knowing it.
[youtube]http://www.youtube.com/watch?v=tpVRLS6VHi0
[youtube]http://www.youtube.com/watch?v=o6F4GtyRfto
[youtube]http://www.youtube.com/watch?v=TH3Ya2rpsdY
These next two are almost identical:
[youtube]http://www.youtube.com/watch?v=tSBmqGlTROY
[youtube]http://www.youtube.com/watch?v=rbMt9ytjEmo
[youtube]http://www.youtube.com/watch?v=WJlnAugXSRk
[youtube]http://www.youtube.com/watch?v=21sgNdymWTY
[youtube]http://www.youtube.com/watch?v=uFSbEfWg5Rg
[youtube]http://www.youtube.com/watch?v=nY1MK4PK4eE
[youtube]http://www.youtube.com/watch?v=dQJ2SegGWyc
[youtube]http://www.youtube.com/watch?v=GE1Zu9fq0QQ
[youtube]http://www.youtube.com/watch?v=MjULpc8DsN4
[youtube]http://www.youtube.com/watch?v=eywEivi13b4
[youtube]http://www.youtube.com/watch?v=xDLtL8IOXFU
[youtube]http://www.youtube.com/watch?v=sIa_EXXgEMg
[youtube]http://www.youtube.com/watch?v=1bXWDJo516U
[youtube]http://www.youtube.com/watch?v=FzyVWqbkkhE
[youtube]http://www.youtube.com/watch?v=CxOvxRUwwmE
[youtube]http://www.youtube.com/watch?v=KscChA1DxAk
[youtube]http://www.youtube.com/watch?v=3FgOWgarPuE&NR=1
[youtube]http://www.youtube.com/watch?v=d1CuZRPM0Aw
[youtube]http://www.youtube.com/watch?v=LCk9yvEpvtc&feature=related