Articles
Apple Needs a New Visionary: Which Innovator Should Succeed Steve Jobs?
Apple quickly found a new CEO. But where will it find a new visionary?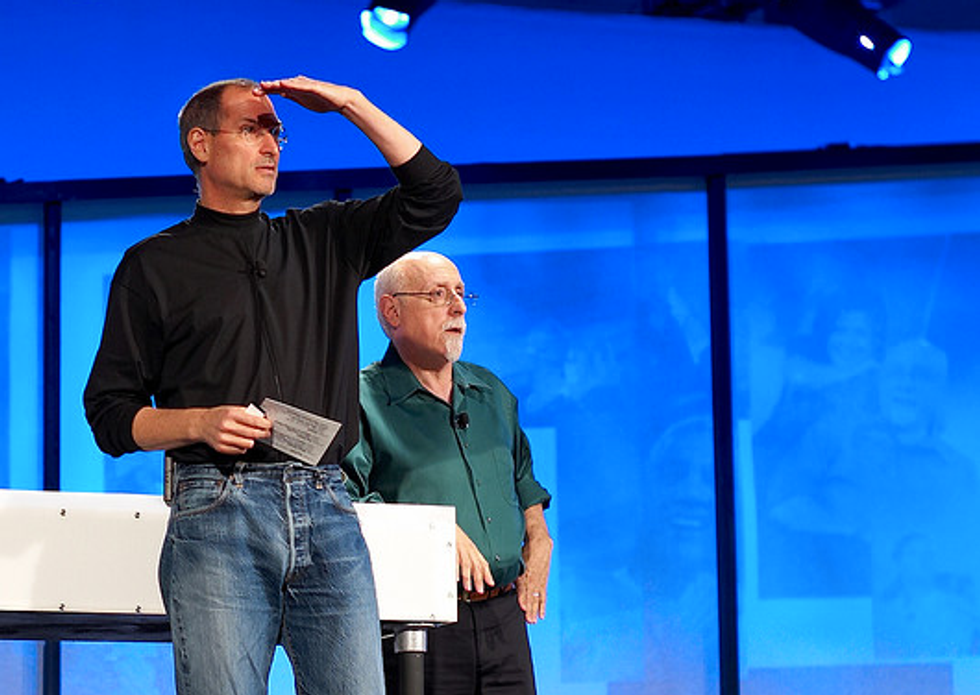 This piece was originally published in August, when Jobs announced his retirement as Apple's CEO. See all coverage of Steve Jobs' life and death.
---
With the news that Apple's founder and CEO Steve Jobs is stepping down from his management role after a years-long battle with health problems, every iPhone-carrying, iTunes-listening, iPad-tapping person in the world is wondering: Can Apple thrive without Jobs' vision?
The answer is yes, in the near term. The long term might be a different story.
We know what Apple looks like without Jobs: In 1985, he was ousted from the company he co-founded. The firm continued successfully for several years, rolling out the Powerbook and capitalizing on the success of the Macintosh you played Oregon Trail on in elementary school.
But the firm was unable to come up with its next big product, a problem symbolized by the failure of the Newton PDA, a device that should have been groundbreaking—it was the precursor to today's tablets—but only gained notoriety for its buggy software and flagging sales. Two years after the Newton's launch, Jobs was invited to return to the failing company and soon took over as CEO.
In Jobs' second stint in control of Apple, he earned his place in the pantheon of American innovators with iconic products like the iMac, the iPod, the iPhone, and the iPad. He developed a global production system to build the company's products cheaply and at high quality. iTunes revived the music industry, while the App Store created a whole new software market. Apple became one of the most profitable firms in the world.
By all accounts, Jobs' successor as CEO, former COO Tim Cook, is a masterful operations manager and skilled executive who is well-positioned to roll out planned product lines and make enough milled aluminum i-gadgets to keep us buying for the next several years. But what happens when it's time to find the next big thing? Jobs' engineering standards and manufacturing improvements have been institutionalized, but it's much harder to instill a business with innovative vision. Investors have noticed, with Apple losing $18 billion in market capitalization following Jobs' announcement.
It's worth asking if Cook's real job is to manage a multi-year transition. To lead the company until a truly visionary successor is found, and then return to his role as COO. After all, Apple needs a CEO who doesn't just raise standards and see ideas to fruition, but who can intuit our need for new electronics products before we can articulate them ourselves. (I, for one, blustered about the uselessness of the iPad—until I got one, and promptly fell in love.)
One man for the job might be Jonathan Ive, the senior vice president of industrial design at Apple. Ive has led the company's design corps since 1996. His role in creating best-selling products like the iPod and devices that followed has led his name to be offered as a potential successor with creative vision.
In the broader tech sector, the kind of talent that combines vision and execution is hard to find. And when you find these folks, they're usually already busy. Jeff Bezos, the founder of groundbreaking e-tailer Amazon—whose Kindle is one of the main challengers to the iPad—combines those qualities. But he's got his own empire to run.
Another name worth floating is Jack Dorsey, the eccentric entrepreneur behind Twitter and now the electronic payment firm Square, which promises to revolutionize the way we buy. Square's marketing already depicts its miniature credit card scanner plugged into an iPhone. And Dorsey, like Jobs, is equally obsessed with aesthetics, innovation, and functionality.
Apple has plenty of time to make this transition, with or without Jobs, who has left a magnificent foundation for the company to build on and will be sticking around as chairman. Nonetheless, a company that's been all about the next big thing since it created one of the first personal computers in 1976 will need a new big thing eventually. Otherwise, Apple's very identity is at risk.