Articles
Are School Lunches Less Safe than Fast Food?
Pop quiz: Which dining facility serves lower quality meat, Jack in the Box or your local public school's cafeteria? If you guessed the latter,...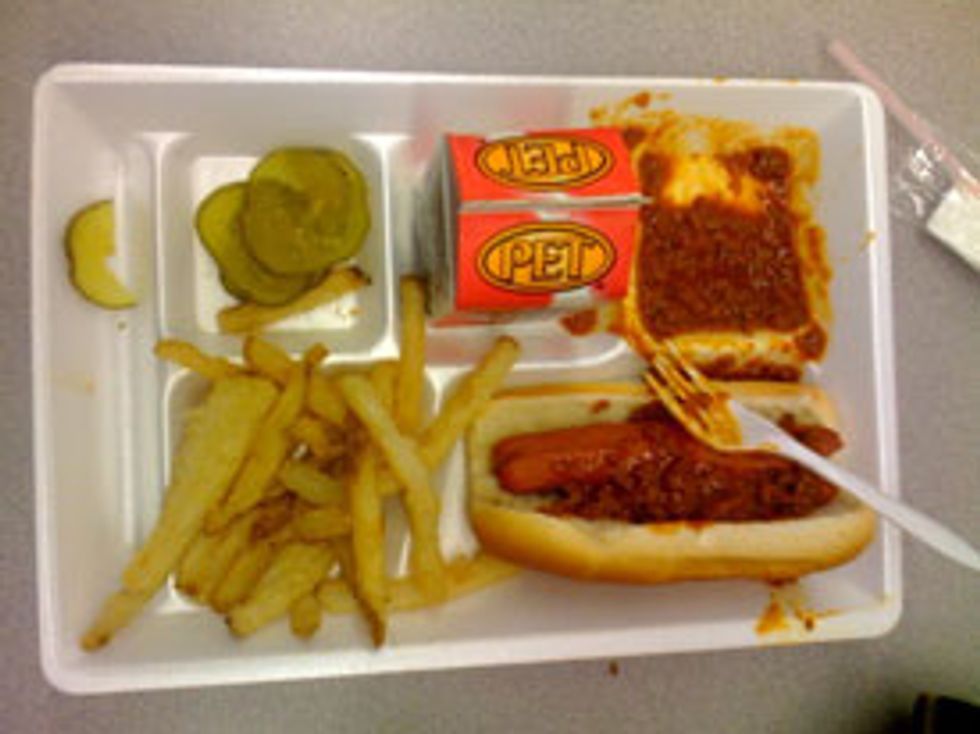 ---
Pop quiz: Which dining facility serves lower quality meat, Jack in the Box or your local public school's cafeteria? If you guessed the latter, you'd be right,
according to a disturbing story in USA Today
.In a speech earlier this year,
President Obama called school lunches "the most nutritious meal"
that many school children have in a day. If they're wolfing down a Big Mac in the evening though, that might not be the case, as testing and sampling procedures for assuring that quality beef is getting into our schools are a lot more lax than those required by the fast food industry-by up to an order of magnitude. (The standards in schools are still higher than USDA standards for what hits a grocer's shelf-though the businesses have a financial stake in assuring the safety of their inventory.)The fast food industry's tackling of the meat safety issue arose out of an
E. coli 0157:H7 outbreak in several Jack in the Box restaurants in 1993
. (Full disclosure: My father was an epidemiologist on the team that investigated the outbreak.) Jack in the Box then took the lead in developing strict requirements for the meat it buys, how often it draw samples for testing and the levels of bacteria it deems acceptable. The standards have since been adopted by most of the fast food industry and high-end grocery chains.The Agricultural Marketing Service (an arm of the USDA) procures meat for schools by the usual standards of government contracts: lowest acceptable bid wins. That means there are cases where it will purchase product that fast food restaurants will not. This is surprising for myriad reasons, among them, that young children do not have immune systems that are as robust as adults to fight off Listeria, salmonella, E. coli 0157:H7, or whatever else could be lurking in their meat.The
USA Today
piece quotes a former AMS employee who says that the raising meat standards "'wouldn't cost much,' and it would help combat perceptions that the school lunch program is 'a market of last resort' for meat that can't pass muster with commercial buyers." The architect of Jack in the Box's safety protocol says that raising standards would likely cost less than a penny per pound of meat. An AMS administrator notes that with its current procedures, it's been "extremely successful in protecting against foodborne pathogens."As far as I know, that claim is not unfounded, especially given all the recent attention that various foodborne illnesses have received, from pet food contamination to the huge beef recall from 2007. That said, if we want to live up to President Obama's claim, shouldn't the AMS be setting the standard for commercial industry and not vice versa?
Photo by Flickr user bookgrl