Articles
Bike Sharing Thrives, Even in Mexico City's Chaotic Streets
Five years ago, it would have taken a brave soul to ride a bike in downtown Mexico City. Not anymore, thanks to a wildly popular bike share system.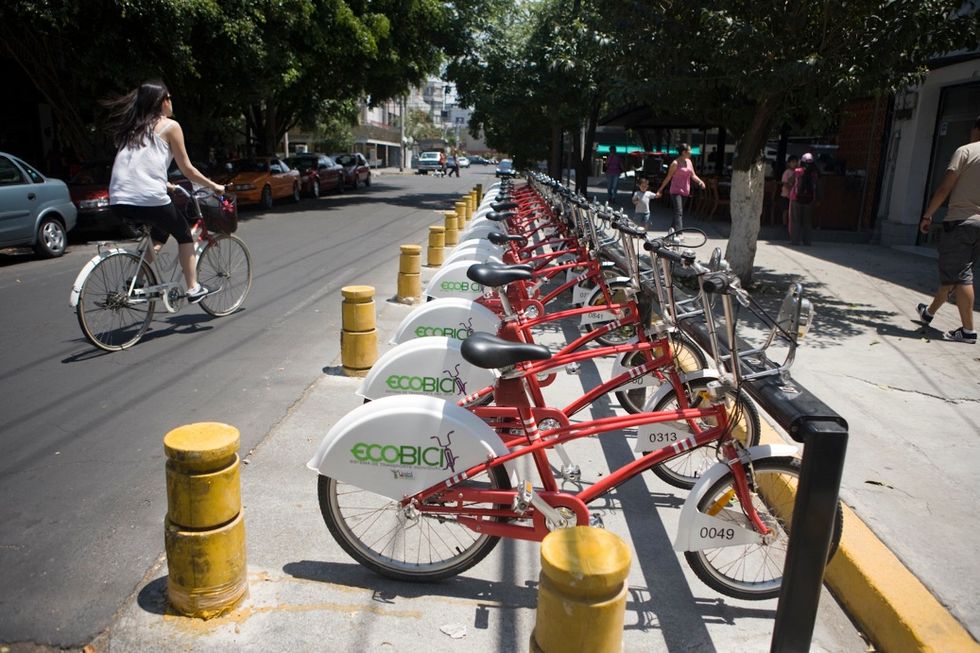 Five years ago, it would have taken a brave soul to ride a bike in downtown Mexico City, a place often associated with nightmarish traffic (the average commute is one and three-quarter hours each day) and poor air quality. But the city has made dramatic strides to promote cycling, from Muévete en Bici, street closures on Sunday mornings that attract more 15,000 cyclists each week, to a commitment to build 100 miles of bike paths by 2012, to the launch of a world-class bike share system, ECOBICI.
---
ECOBICI, which started with 1,200 bikes, is small compared to other big city bike-sharing systems. Montreal, a much smaller city, launched with 5,000 bikes with 400 stations, and London started this year with 6,000 bikes and 400 stations. Still, the system is double the size of Melbourne's and on par with Washingon, D.C.'s Capital Bike Share. And now, Mexico City has plans to expand.
ECOBICI was first installed in six central city neighborhoods that flank Reforma and Insurgentes, Mexico City's two grandest avenues. Travel along these avenues accounts for 40 percent of the city's daily work trips. ECOBICI makes it easier to get to and from work, as well as to the Metro and Metrobús stations along the corridors.
There are currently 30,000 registered ECOBICI users. The system has reached capacity and there's now a waiting list to sign up. ECOBICI riders take an average of 9,000 trips each day. So far, the system has recorded 1.6 million trips. And despite having a reputation as a tough town for cycling, Mexico City has only had three reported accidents requiring hospital assistance since ECOBICI began.
And people like it, "ECOBICI shows us that significant changes can be made, that we can modify our quality of life and that we can have an equitable and supportive community. That's what we're building with this bike share program," said Mexico City's Mayor, Marcelo Ebrard, on ECOBICI's first anniversary.
The government plans to increase the number of bikes to 3,960 by the end of this year, installing new stations in lower-income neighborhoods around the capital's historic downtown.
These improvements are transforming the way that people get around Mexico City. It is now not uncommon to see business people jumping on an ECOBICI bike during rush hour or at lunchtime. ECOBICI is also making cycling more attractive and accessible to women. Thirty percent of subscribers are women, more than double the percentage of women who ride bikes in Mexico on a regular basis according to the city's bike counts.
Even more encouraging, ECOBICI has spawned more ridership of private bikes in the neighborhoods where the stations are installed. Use of private bikes increased 50 percent from 2009 (pre-ECOBICI) to 2010, as measured by these same counts.
Mexico City is proving that bike share can work even in cities where the car has long been king. And that residents are hungry for a different, more efficient, way to get around.