Articles
Blind Man Drives Car Independently at Daytona Speedway
Do you need sight to drive? A blind man used 3D laser censors, vibrating gloves and other "non-visual" technology to pass a road test this weekend.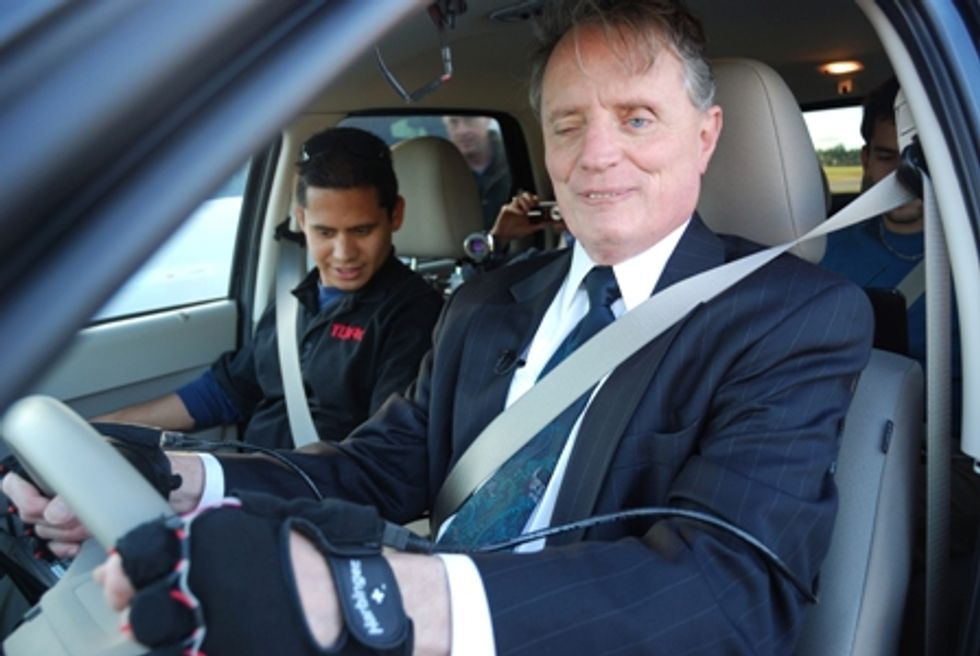 We've reported on great leaps in technology allowing
cars to drive themselves
, but it's even more complicated to create a car that the blind could drive. According to the
National Federation for the Blind
, it exists. This past weekend a man
successfully navigated a 1.5 mile road course
section at the Daytona International Speedway.
The test drive involved making several turns, avoiding obstacles, some stationary, and some dropped at random by a van traveling in front of the car, as well as passing the van without collision.
---
The intrepid driver was Mark Anthony Riccobono, a blind executive who directs technology, research, and education programs for the NFB. He piloted a special car made in collaboration between the NFB and Virginia Tech: a Ford Escape hybrid that uses non-visual technology to convey spacial information to the driver, according to a statement.
The Ford Escape was equipped with laser range-finding sensors that conveyed information to a computer inside the vehicle, allowing it to create and constantly update a three-dimensional map of the road environment. The computer sent directions to vibrating gloves on the driver's hands, indicating which way to steer, and to a vibrating strip on which he was seated, indicating when to speed up, slow down, or stop.

\n
This is part of The Blind Driver Challenge sponsored by the NFB. "We have to build, inside the machine, a piece of technology that will help us perceive the exterior world," said Mark Maurer, head of the NFB (pictured above). The goal is not to create cars that can drive blind people, but to empower the blind through technology, by creating new kinds of interfaces for cars so that blind people can drive themselves. It's about autonomy and independence—and of course constrained by road safety requirements. The Challenge website declares:
"The "Challenge" is to develop a non-visual interface for a car that can convey real-time information about driving conditions to the blind so that we can use our own capacity to think and react to interpret these data and maneuver a car safely."

\n
Expect to see more blind driving advances in the years to come, but don't expect it to be an easy political path towards legalizing blind drivers on public roads.
To get a sense of how it works, here's a video of teenagers driving the protoype of the car used by Riccobono at Daytona.
Image: via NFB of Dr. Marc Maurer, President of the NFB, driving the Ford Escape equipped with nonvisual interface technology.