Articles
Can a Denim Kilt Fight Climate Change?
A chemist and a fashion scholar team up to fight air pollution through apparel.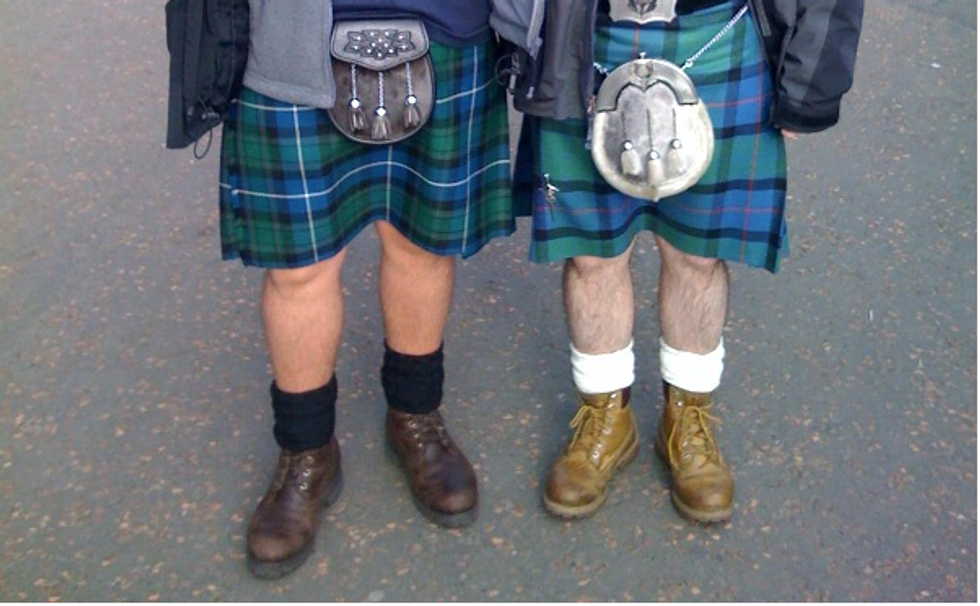 Clothing made from organic cotton or other eco-friendly materials may lessen an outfit's environmental impact. But what about garments that benefit the air by sucking up pollutants? A futuristic collaboration between a nanotechnologist and fashion designer is raising the bar for environmentally friendly fashion with concept line Catalytic Clothing.
---
More of an academic conversation piece than a marketable brand for the moment, the designs are the work of chemist Tony Ryan at the University of Sheffield in England and professor Helen Storey of London College of Fashion. The duo premiered the project last summer with installations of air-purifying textiles, including a "field of jeans" that used photocatalysts to fight air pollution. On BBC today, Ryan and Storey announced that Catalytic Clothing will return this spring when the two attend Edinburgh International Science Festival bedecked in nitrous oxide-absorbing nanotechnology. According to Storey, Ryan will don a "catalyzed denim kilt complete with sporran (that external pouch that dangles around a kilt) and special socks, and I hopefully am going to be wearing an air purifying Vivienne Westwood top and fall frock."
According to Ryan, the denim's coating of catalyst particles reacts with light and air to produce bleach to neutralize nitric oxide—a gas that contributes to both climate change and asthma attacks—in the air. If everyone in the city of Sheffield wore the catalytically enabled clothes, Ryan says they could remove enough nitric oxide to keep the city's air at a safe limit. To encourage mass action, future plans include a "pop-up laundry" where people could bring their clothes to get catalyzed.
A past collaboration between Storey and Ryan yielded dresses that dissolved in water, presented at a shopping mall to make a statement to consumers about dwindling resources and wasteful consumption. While fashion and science may seem like an unlikely marriage, "using fashion as a Trojan Horse to get people interested in a scientific issue—waste—was something that worked for us very very quickly," Ryan told BBC. Storey agrees "I don't think Tony's afraid of a frock," she said.
via SmartPlanet; Image via (cc) Flickr user zoonabar