Articles
Can the CellScope Cell Phone Microscope Revolutionize Rural Health Care?
This snappy device turns a cell phone into a microscope. But it will take more than technology to revolutionize rural health.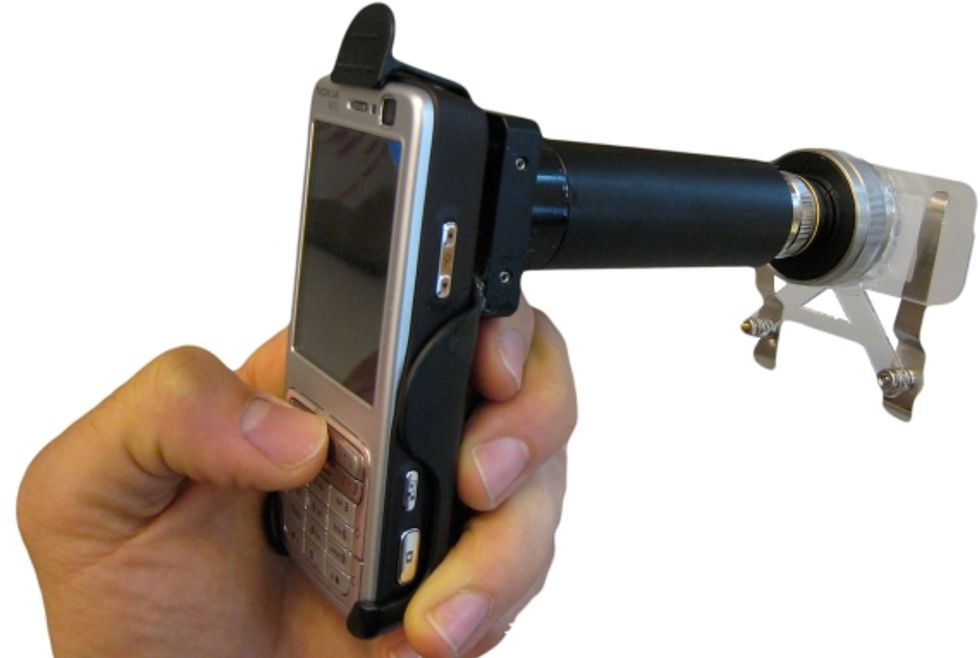 Much has been written about the CellScope, a device that turns your cell phone into a microscope, thereby enabling all manner of enhanced diagnosis for rural and poor communities around the world. And for good reason. The idea has all the hallmarks of hopeful innovation: New technology applied simply, it tackles a serious social problem, and boy does it have potential for scale. So what now? The team behind the tech is at a phase where they have to innovate in areas other than science if they want a real impact.
---
"We're getting this out of the lab and into people's hands," says Dan Fletcher, professor of bioengineering at University of California at Berkeley and principal investigator for the CellScope project, a part of the Sustainable Products and Solutions Program at U.C. Berkeley.
Fletcher knows his device works in the lab. Now he needs to know if a rural entrepreneur who starts a tele-medicine kiosk can be trained to use the CellScope for simple blood tests and malaria or even tuberculosis diagnoses and then instantly send that information to a big city doctor for real-time evaluation. "We see this mobile microscope, this CellScope, as one of the tools to bring high quality health care to rural communities," he says.
But he adds he wants to be sure he's meeting the right need with the right solution. "This really has to be valuable to rural clinics. We want to make sure that the kinds of tests that can be run really are of value" to patients and to the local entrepreneurs.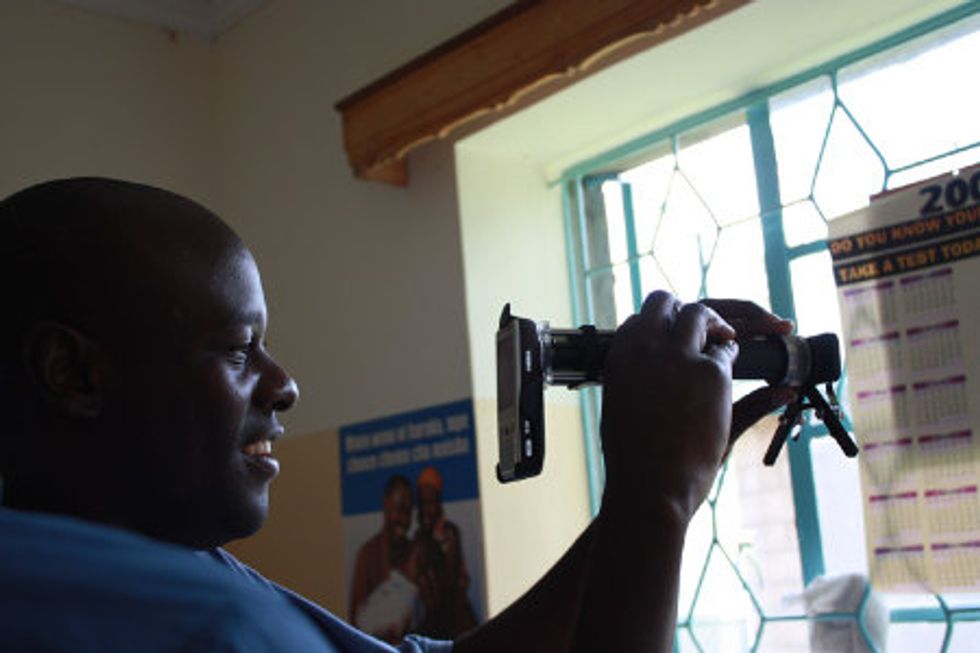 A community health worker using the CellScope in a rural clinic in western Kenya by
To make the roll-out successful "the kiosks would have to invest in the device. That's where it becomes sustainable," Fletcher says. By charging a very small amount for the health care that they provide, it means someone makes money, and has an interest in maintaining a good connection to the tele-medicine network, and the community. So it's market testing time.
"The model we're trying to put in place over the course of the year," he says, "is that images that are taken on CellScope would be fed into the patient's file, essentially an electronic medical record, that the doctor would be looking at in the big city as he is talking to the patient."
To test CellScope for a mass roll-out, Fletcher's team--part of has joined forces with the World Health Partners in India. The nonprofit a operates a network of tele-medicine clinics in rural areas. Fletcher says his device is a particularly good fit for India. "The telecommunications network is pretty good. And there are already high quality doctors in India." Just not so many in rural areas, so connecting the medical know-how of the city with the patients in the country is a big opportunity to improve health, but also to make money. Patients would gladly pay for tele-tests if it means they don't have to take a costly and time consuming trip to a distant city.
Over the next year CellScope and World Health Partners will be undertaking various pilots and tests. First they're trying in-field user testing. The UC Berkeley team wants to know how much training is really required to have community health workers use the device well, and "watching if [CellScopes] really do provide value." The very fact that Fletcher is asking that question is heartening.
Assuming an innovative object or technology can be a cure-all without rigorously testing market demand or social impact has done in a number of well intentioned initiatives.
Although the microscope works the same no matter the application, malaria test sample preparation requires different steps and supplies than a white blood cell count test for example. So Fletcher needs to figure out which tests are really demanded, which ones offer value to patients, and which aren't, so he can cater training and supplies accordingly.
If the CellScope team can sort out the demand, the profit opportunity, and the health impact then they'll start phase two: putting multiple devices in place in multiple locations and tracking their use over several months. On the health impact front, they'll be looking to see "what are the positive things we can learn about earlier access to data like blood tests," Fletcher says.
He's enjoying his education in field testing tech in the developing world where you have to "really try to minimize and optimize what is needed to make this work" he says. Adding, "In academics it's easy to think the technology is what has the most impact, but it's the implementation" that often makes the difference.
Images: David Breslauer, Michael Rosenbluth.