Articles
Cathedral of Junk Threatened with Demolition for Code Violations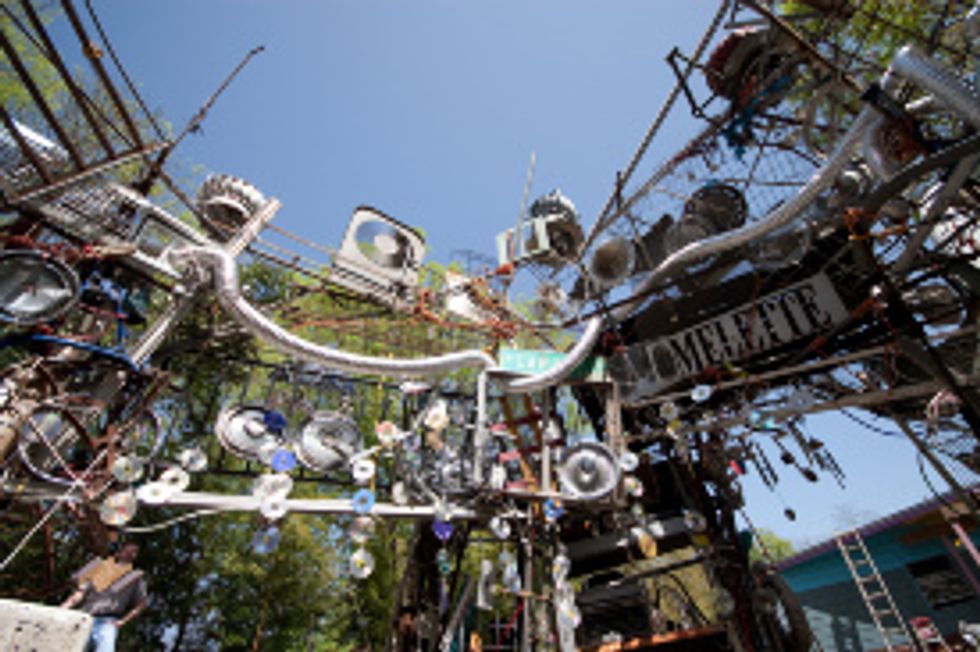 ---
To some, Austin's
Cathedral of Junk
stands as a jaw-dropping and wacky testament to the altogether subjective value of trash. To others, it's a rickety-looking mountain of one eyesore piled on top of another. But when building inspectors recently got a good look at this popular, ever-changing tourist attraction, what they saw was a serious safety hazard.

Asylum reports that the Cathedral of Junk was nearly junked

when Austin city officials gave owner Vince Hannemann mere weeks to make major changes to the 33-foot structure, which occupies his 20-by-25-foot yard. Hannemann says the cathedral is soundly held together by strong copper, aluminum, brass and cast-iron wire.
Hannemann appealed to the public for help in bringing the recycled building up to code, which involved unplugging string lights, blockading one tower, and removing about four tons of material. He was given an extension to submit the proper permits, but it's not yet clear whether the makeover will be enough to save the work of art.
The Cathedral of Junk gets 10,000 visitors annually—so if the structure itself and Hannemann's chickens don't bother neighbors, the constant parade of cars will. Most of them appreciate the structure as one of the city's most unique and attention-getting attractions.
Updates on the Save the Junk cause
are posted at SaveTheJunk.org
, and supporters are urged to write letters to Austin City Council on behalf of the cathedral. Organizers are also seeking professional advice from engineers, architects and lawyers to ensure that the attraction is brought up to code.


Stephanie Rogers, a regular contributor to the Mother Nature Network, writes from North Carolina.\n


\n
Related Articles on Mother Nature Network:


Destination of the week: Austin, TX



10 eco-friendly super heroes


'The Cove' inspires controversial dolphin broker to free his animals

Photo (cc) by Flickr user alamosbasement