Articles
Check Out the Best Energy Use Chart Ever, 2009 Edition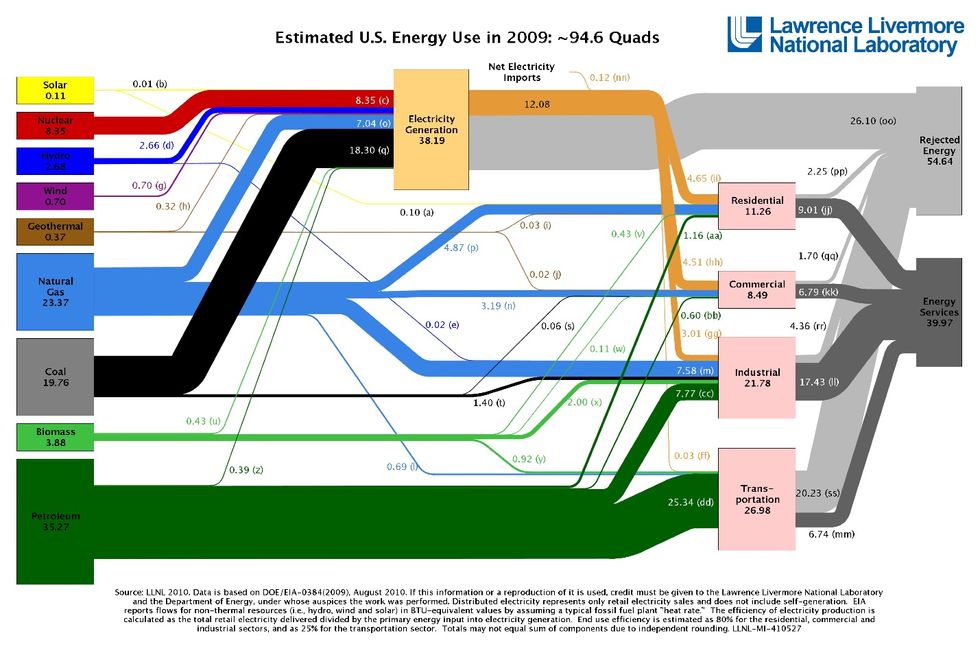 Every year, Lawrence Livermore National Laboratory produces the U.S. Energy flow chart. The designers at the other end of my desk could probably improve on the color scheme, but it is still the best single chart for understanding energy use in the United States. The 2009 edition was just released. It's above, and you can get a big, legible version
here
.
On the left you have all the primary sources for the energy we use, by percent. Flowing from left to right, the chart shows how the energy these sources create gets used. The "rejected energy," by the way, refers to energy that's lost and not used, like energy released as waste heat from a power plant.
---
It may look like we're not using very much renewable energy, but comparing this year to last year reveals some positive trends. Total energy use fell again and coal, as a percentage of energy production sources, dropped to 19.76 percent, down from 22.42 percent last year.
Energy use in the residential, commercial, industrial and transportation arenas all declined by .22, .09, 2.16 and .88 quads, respectively.

Wind power increased dramatically in 2009 to.70 quads of primary energy compared to .51 in 2008. Most of that energy is tied directly to electricity generation and thus helps decrease the use of coal for electricity production.
Another interesting thing to note here is just how much rejected energy there is. If there's room to improve the country's energy efficiency, which currently stands at an unimpressive 42.48 percent, we wouldn't have to produce nearly as much in the first place.