Articles
Chevron Ordered to Pay $8.6 Billion in Amazon Pollution Case
Chevron is being ordered to pay a massive fee for pollution in Ecuador—and the amount will be doubled if the company doesn't apologize.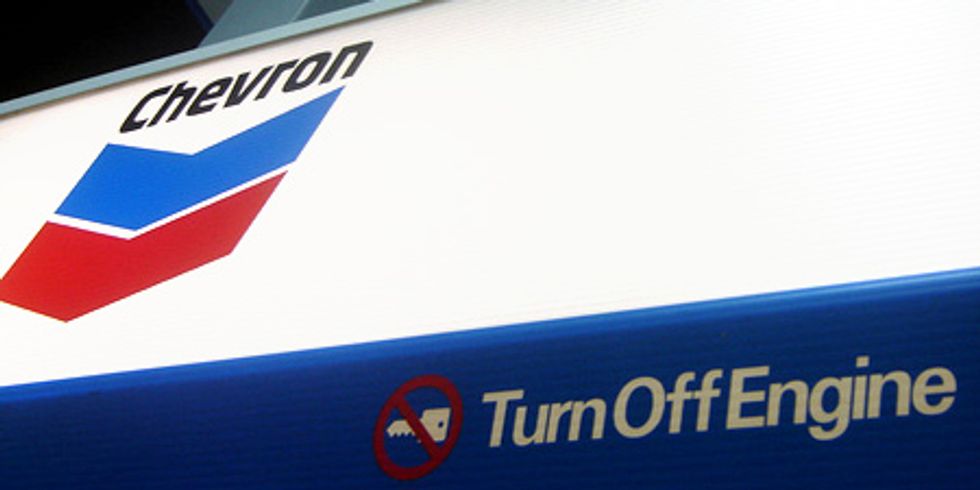 The background: Texaco struck oil in the Ecuadorian rainforest in 1967, and begin drilling and extracting in 1972. The company drilled until 1990, before leaving the region and turning the oil fields over to the state-owned Petroecuador, which has been operating in the area ever since.
In 1992, a group of citizens—mostly indigenous residents of the affected region—sued Texaco for damages. When Chevron acquired Texaco in 2001, it also inherited this case.
---
That there was widespread destruction of the region's environment isn't in question. There have been numerous accounts of the massive scale of the environmental ruin. (The most renowned was the documentary Crude, which has itself been embroiled in controversy, as Chevron took the film's director, Joe Berlinger, to court to get control of his raw footage, which they argued could help their case in Ecuador.) Many claim that the damage wasn't "merely" environmental, but that lives have been lost as a result of the pollution. The Rainforest Action Network's blog bluntly states that, "over 1,400 Ecuadoreans have already died as a result of the contamination in the Amazon, and some 30,000 more are at risk."
The local court broke down contamination for the damages like so:
\n
$5.4 billion to restore polluted soil
$1.4 billion to create a health system for the Amazon community
$800 million to treat sick people affected by the pollution
about $1 billion to restore the ecosystem
\n
On top of that, the judge ordered that if Chevron doesn't apologize publicly within 15 days for the pollution (don't hold your breathe), the amount will be doubled.
Chevron reps have called the ruling "illegitimate and unenforceable," and are planning an appeal, but also stating outright that they have no intention of paying one way or another.
The likely $17 billion (after the apology that isn't forthcoming) will represent the second-largest total ever assessed for environmental damages. The first: BP's $20 billion compensation fund for the Deepwater Horizon blowout and subsequent oil spill.
Wall Street, for what it's worth, is shrugging off the verdict. The stock rose 1.3 percent Monday after the decision was announced.
Photo (cc) by Flickr user Josh Smith