Articles
Day One Recap from the Presidential Summit on Entrepreneurship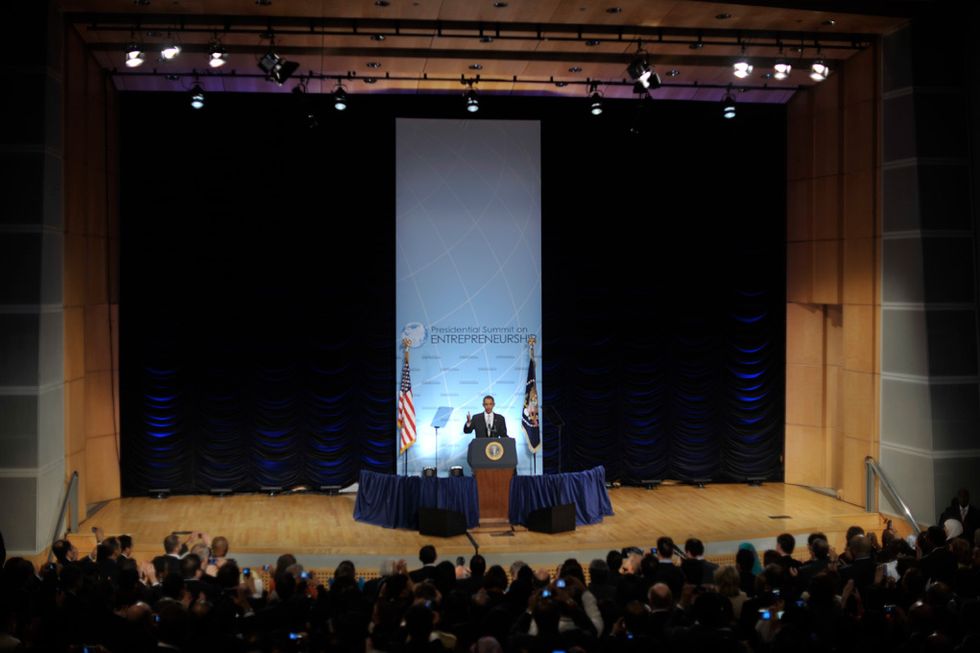 ---
Currently, trade between the United States and all Muslim-majority countries is nearly equivalent to the trade between the United States and the single state of Mexico. That's a real economic opportunity. But it may represent something even more precious—a chance to change a relationship that, over the years, "too often fell victim to mutual distrust," as President Obama put it. That was the point in his closing address at the first day of the Presidential Summit on Entrepreneurship, held yesterday in Washington, D.C.
This summit is a follow-up to President Obama's
2009 speech in Cairo
. During his keynote yesterday, President Obama outlined several new initiatives to pursue ideas and collaborations stemming from Muslim-majority countries. President Obama announced new exchange programs that will put American social and technical entrepreneurs in the Muslim world and vice versa. Two programs—one for women and one for science teachers—will bring innovators to the States for training and internships in technology fields.
Another partnership program will send Silicon Valley's best minds in "venture capital, mentorship, and technology incubators" to Muslim-majority countries to share their work with peers there. And President Obama followed up on the Global Technology and Innovation Fund, which he announced during the same 2009 Cairo address that brought about the Presidential Summit on Entrepreneurship. That fund, said Obama, will "potentially mobilize more than $2 billion in investments."
The more than 275 delegates from more than 50 Muslim-majority and -minority countries around the world who gathered for the summit recieved these new initiatives warmly, but his fresh take on a longstanding issue drew the loudest applause. "I say again tonight: despite the inevitable difficulties, so long as I am President, the United States will never waver in our pursuit of a two-state solution that ensures the rights and security of both Israelis and Palestinians," he said.
While President Barack Obama's goal in calling for a Presidential Summit on Entrepreneurship at his 2009 address in Cairo was to facilitate dialog between the United States and Muslim-majority nations, participants on panels and question-and-answer sessions said—again and again—that an economic summit focused on Muslim entrepreneurs was unique.
President Obama addressed many of the delegates and their work directly. He heaped praise on Dr. Naif al-Mutawa of Kuwait, whose superhero comic book,
The 99
—ubiquitous at the summit—features Islamic themes. The President said that Mutawa had borrowed a page from Obama's Cairo playbook by introducing Superman and Batman to their Muslim counterparts. "And I hear they're making progress, too," said President Obama. Microcredit visionaries Muhammad Yunus and Roshaneh Zafar also got a nod.
The bottom line, suggested President Obama, is the bottom line: The marketplace remains the greatest transformative engine in human history and entrepreneurship stands as an area where the United States and Muslim-majority nations can learn from another. One thing that became abundantly clear during the summit: Entrepreneurs from these countries think they have a lot to learn from one another, too. This summit is just the first: President Obama announced that next year's will be hosted by Turkey.
In the coming days, GOOD will highlight many of those brought together by this historic summit—the entrepreneurs, developers, and investors, hailing from as far as São Paulo and Norway, and their goals for developing their communities and economies.