Articles
Dealbreaker: I Was On Vacation
I needed access to people and parties I wouldn't meet on the typical tourist route. I decided to do it the easiest way I knew: I would date.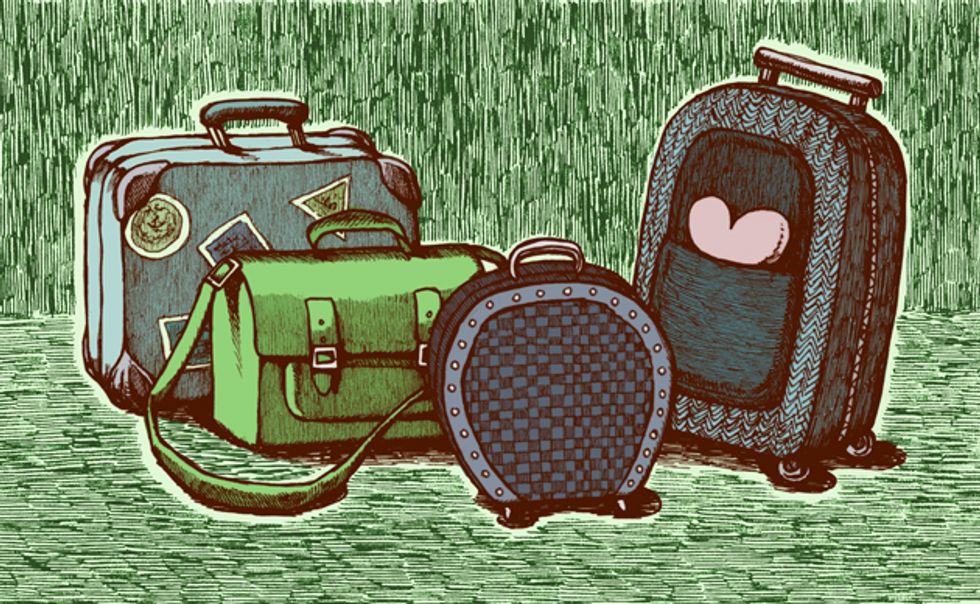 In our Dealbreakers series, exes report on the habit, belief, or boxer brief that ended the affair.
When I was young, I reveled in long layovers on transcontinental flights to visit my grandmother. I'd ride luggage carts through empty gates, try on duty-free lipstick, and see how long I could sit at the sky bar before they kicked me out. Once I saved up enough money, I began to travel by myself: A night drive to Joshua Tree, a bus to San Francisco, a week in New York, then three months in Buenos Aires because my boyfriend dumped me, I had a nowhere job, and I read too much into "Eveline" in James Joyce's Dubliners.
---
The first week in a strange city without obligation was intoxicating. I could jump from museum to museum pretending I was an exiled spy or a brooding divorcee. Every sight became a snapshot landscape, another page for that hypothetical, melodramatic memoir I'm writing in my head. But by day seven, I'd be blowing my travel budget Facebook stalking friends in some internet café or else downing a bottle of American whiskey at the base of a marble monument.
When I set off to London, I realized that in order to achieve My Epic Adventure, I needed a quick in—access to people and parties I wouldn't meet on the typical tourist route. I decided to do it the easiest way a young, single, lonely kid could. I would date.
In most cities, it's easy to assimilate into young, nomadic groups in hostel lounges and dance club floors. But London proved to be a cold place. A friend had set me up with an acquaintance for drinks, and when the talk turned to dating, I asked her how people met each other in the city. "I suppose you meet the same person three or four times at a bar through a friend, and then eventually you'll see them at a party and then maybe the next time you see them you'll hook up," she told me. "You probably won't talk to them again." Things looked bleak.
Then, one night after a walk alone on the Thames, I passed a bar called The Book Club. The place was split into a ping-pong and billiards room, a bar with candlelit tables, and a downstairs dance floor where the DJ was spinning some kind of electric swing.
Online, the place claimed to be the "younger, slightly smarter sibling" of a bar in Hoxton, a trendier neighborhood nearby. It sounded like they dealt coke and read Sartre. Not exactly my scene, but next to advertisements for Life Drawing and a DIY night, my mouse hovered over something labeled "last night a speed date changed my life." I figured the crowd ran toward nostalgic hipsters, a demographic I feel like I ought to snub, but among whom I actually feel quite comfortable. To some, speed dating is too aggressive an approach to romance, or too serious an attempt at fast friends. But Roman Holiday taught me that relationships in foreign cities are often forged with bold moves and deceit. I signed up.
As we put on our nametags (!) I began to wish I was as drunk as some other ladies giggling in the corner. Unfortunately, I was late, and sober. I was cramming some free Hershey kisses into my purse for later when my first date sat down. The five minutes dragged by in strained small talk. Then, the men shifted to their right. That's when my next date left with his first date, grabbing her ass as they moved for the door. The DJ gave me a shrug of pity.
In an effort to remain remotely into it, I decided to pretend I was a lady receiving a lineup of gentlemen callers to claim my dowry. Things looked up from there. The men, who ran from their early 20s to mid-40s, were all kind, attractive, and had real jobs. Sex and the City had taught me this was mandatory, but at 21, it felt mysterious.
I submitted my choicest speed dates to the moderator and waited for any "match" emails the next day. I was honest with my dates: That I was new to the city and not particularly interested in a relationship. Those that sought out something serious turned me down, but offered invites to dinner parties and gave me tips on local spots. Other dates took me for cocktails at a ritzy speakeasy, a hike on the heath, billiards with friends, and to smuggle bottles of wine out of a Middle Eastern press event.
My new strategy as Experience gold-digger seemed to be working. I relaxed into a yes man mentality: In a foreign, friendless world, I speak to those I wouldn't at home. I accompany them to places that have held no previous interest. I engage in activities I normally overlook on the off chance that in a new world I could learn something new about myself.
Then I found myself saying yes to a sort-of real relationship with a sort-of real person, setting off to his family's country estate two hours outside of my blank-slate city. Sam and I had gone on a few too many superficial adventure-like dates. The chemistry was lagging. I was ready to break it off when he invited me clay pigeon shooting for a long weekend. A glorious Wallace & Grommet image of me mud-deep in the great outdoors surged in my mind. I decided feeding my fantasy was more important than letting Sam down easy.
On the train down, he warned me his family was a bit conservative. I was too busy picturing myself horseback riding through a grove of trees. He spent the rest of the journey flipping though Instagram photos of his college crew jacket, telling stories about his grandmother's cat, and inquiring about my summer plans. I spent the journey muting out the details and imagining the sepia-hued image of us cuddling in the country.

When we got to the shooting range, I realized that years of classical ballet and fantasy novels do not necessarily prepare one for the drawback of a Remington rifle into a bony shoulder. Or the miles of manure-laden fields we would have to traverse. Or the best friend who slept in his Army uniform (to break it in). Or the family picnic in which we discussed that wacky theory the Poors were enraged about: global warming.

Dipping into an alien city makes it seem possible to condemn all assumptions, to label all values as limiting, declare all interests malleable. But there, in the country, I realized that I did not have feelings for Sam. That I did not like shooting. And that as open-minded as I can try to be, I do make judgments.

There's a reason movies only last two hours: After too long, the sepia hue reverts to something more transparent. When Sam offered to take me to the ruins of a nearby castle the next morning, I told him I was taking the next train back to London instead.

Maybe dating isn't so different from traveling. We walk in intrepid and alone, rosy-eyed with fantasy. Then, we realize we don't want to make out with someone just because his head can be easily superimposed onto mental stock footage of romantic films and travelogues. We return home looking for old beds and good hamburgers. Then we forget, and venture out again.