Articles
Do Green Amusement or Theme Parks Exist?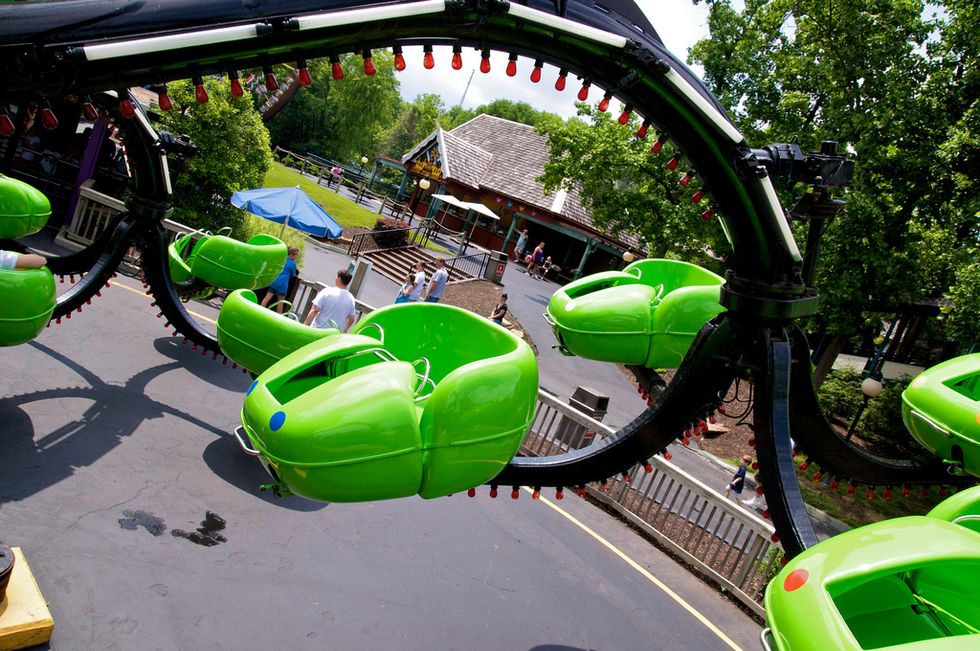 ---
Q: As the mother of 8- and 11-year-old sons, I find that when planning a family vacation choosing a theme park is usually a no-brainer. Last year, my husband and I attempted Maui with the kids in tow and we quickly found out that lazing on the beach and waterfall trail hikes cannot compete with vomit-inducing rides and $4 churros. As I begin to plan this year's trip, I'm hoping to find a park that steps it up a green notch beyond public recycling bins; a non-intimidating destination that the kids can enjoy (and maybe even learn something from!) while also lowering our family travel footprint. Do sustainable theme and amusement parks-destinations that are a touch Disney but also a touch wilderness preserve-even exist? In search of eco-amusements,Mary, Santa Fe, NM
Hey Mary,As far as I know, the Haunted Mansion buggies haven't gone hybrid and Knott's Berry Farm hasn't gone organic. However, there are a few options out there … but if you want to visit the granddaddy of eco-amusement parks, you'll have to take a European vacation.One of the oldest amusement parks in the world, founded in 1843, is also one of the greenest:
Tivoli Gardens
in
Copenhagen
, Denmark (shocking, I know). Although the Disneyland-inspiring park itself is not focused on sustainability - it's a rather old-fashioned amusement park with thrill rides, an aquarium, concert hall and cultural attractions - Tivoli has long been keen on minding Mother Nature while entertaining and enchanting guests. Some of the
green practices
at Tivoli include a tram that runs on biofuel; an innovative, deposit-based recycling program that saves 1.2 million plastic cups from being landfilled annually; the use of eco-friendly cleaning products and the minimal use of chemical-based landscaping products; the widespread installation of LED light bulbs; in-park eateries that use focus on the use of local, seasonal and vegetarian ingredients; and special Climate and Energy DaysMost recently, in an ongoing attempt to go carbon neutral, Tivoli announced that it hopes to completely power the park via an offshore
wind turbine
that will be installed this year.Stateside, major theme parks are starting to give their inherently unsustainable operations a fresh, green sheen. Last year (along with bankruptcy),
Six Flags
announced a major
greening campaign
that includes partnering with Coca-Cola to add 3,000 more recycling bins to parks; partnering with Perf Green to replace plastic trash bags with biodegradable ones; doing away with diesel and reusing vegetable oil generated in park kitchens to power vehicles and trains; beefing up paper recycling efforts; and installing water-saving fixtures throughout the parks. The company is also considering installing "solar farms" that would provide clean power to adjacent parks. Now if only Six Flags corporate brass would reconsider that nightmarish mascot.On the topic of mascots, Mickey Mouse and Co. are becoming more and more earth-friendly as
Disney Parks
continue to
address
ways to handle the not-so-magical environmental repercussions that come along with operating massive theme parks/resorts. Key focus areas include water and energy conservation, greenhouse gas emission reduction, waste minimization, ecosystem conservation and eco-inspirational branding. Disney is also taking Tivoli's lead and looking at the possibility of wind power.In the works is
Earthpark
, a proposed $155 million green theme park/resort modeled after the UK's
Eden Project
. Among other things, Earthpark features a massive indoor tropical rainforest and aquarium ... in the middle of
Iowa
. Sadly, I wouldn't hold my breath for Earthpark to open anytime soon. Might be something for the grandkids, though.On a smaller scale and perhaps not as fun for kids is
Environmentaland
, dubbed as "the world's first environmental theme park." Just opened in a soft launch phase, Environmentaland is located smack dab on a major intersection in Hollywood, a stone's throw from the Frederick's of Hollywood and Mann's Chinese Theatre. Given its location, I'm guessing Environmentaland is more of a small, interactive museum than an actual theme park so I'd certainly not plan an entire trip around a visit … maybe a good stop after the Hollywood Wax Museum next door.My advice, Mary? For now, I suggest sticking with what makes your kids happy - traditional theme parks of the roller coaster variety - but perform a bit of reconnaissance work to see how solid each park's environmental commitment is before you commit. And, as you probably know, there are many other ways that you can tread more lightly while on your vacation than just visiting a theme park with strong sustainability initiatives. When your kids do eventually graduate from Splash Mountain, take 'em to a tried and true eco-resort (I hear Costa Rica's Gaia Hotel & Reserve is quite stunning) where Mother Nature, not Mickey Mouse, is the main attraction.-Matt
Matt Hickman, who blogs daily at the Mother Nature Network, writes from Brooklyn.
Related Articles on Mother Nature Network:
Photo (cc) by Flickr user ianmunroe.