Fall In Love with Organic Jonagold Apples
Apples are best for baking because they are tart, crispy, juicy and blend extremely well with your favorite autumn spices.
10.26.16
Jonagold apples are a cross between the Jonathan and the Golden Delicious apple varieties. They are best for baking because they are tart, crisp, and juicy. They blend extremely well with your favorite autumn spices: cinnamon, nutmeg, allspice, and cloves--and they're great for weekend salads or Halloween desserts.
This Brussels Sprout and Apple Salad should be a mainstay in your fall menu. It makes a great side to a pot roast but also a healthy lunch option during the week.
---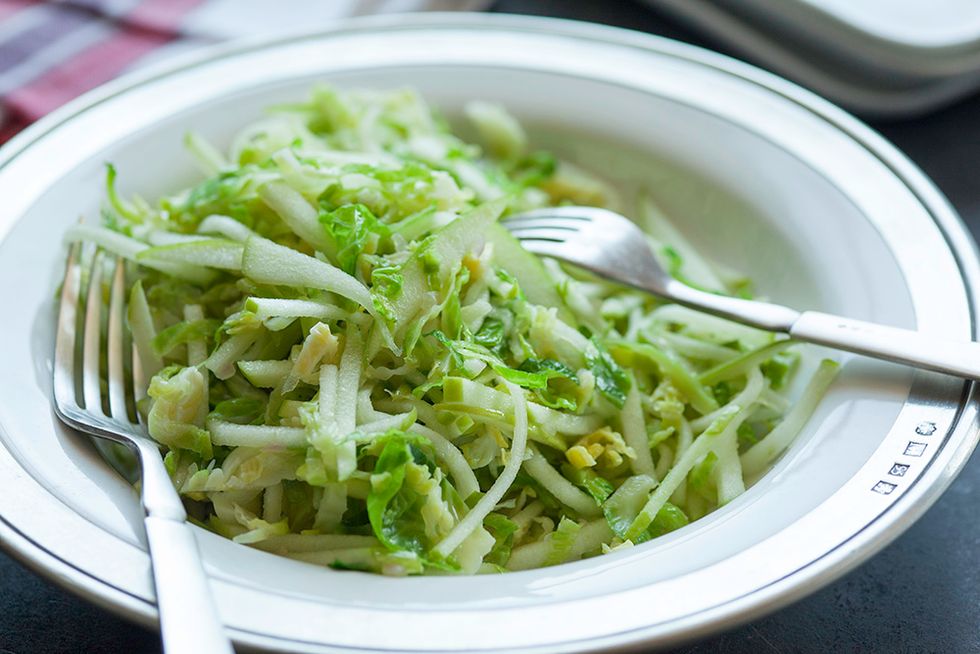 Ingredients:

1 pound Brussels sprouts, trimmed, halved and thinly sliced
1 shallot, finely minced
2 tablespoons cider vinegar
1 teaspoon sugar
1/2 teaspoon fine sea salt
1 jalapeño pepper, seeded, deveined and finely chopped
2 tablespoons extra-virgin olive oil
2 apples, cored and cut into matchsticks

Method:

1. Fill a large bowl with ice water and set aside. Bring a large pot of salted water to a boil over high heat. Add Brussels sprouts and cook until bright green, about 30 seconds. Drain and place in ice water until cool. Drain well and spread on a large towel-lined baking sheet to dry completely, about 30 minutes.
2. In a small bowl, whisk together shallot, vinegar, sugar, salt and jalapeño. Slowly whisk in oil until dressing is emulsified.
3. Place sprouts and apples in a large bowl. Add dressing and toss to coat. Serve immediately for a fresh crunchy salad, or refrigerate overnight for a slaw-like consistency.
These Sesame-Apple Shortcakes look like they're a lot of work but they don't take too much time at all. Wrap them individually in parchment paper and give them out to the adults during Halloween trick-or-treating.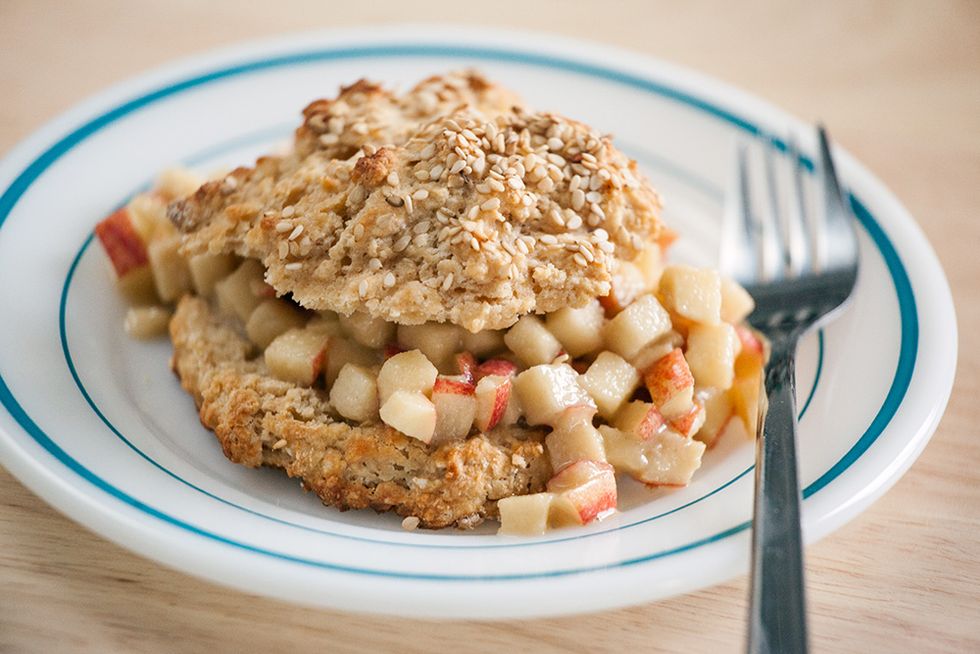 Ingredients:

2 cups whole wheat pastry flour
1 tablespoon baking powder
1 tablespoon turbinado or cane sugar
1/4 teaspoon fine sea salt
4 tablespoons cold unsalted butter, diced
1 1/4 cups low-fat buttermilk
1 tablespoon milk
1 tablespoon sesame seeds
3 apples, cubed
1/4 cup tahini
3 tablespoons honey

Method:

1. Preheat the oven to 400°F. Line a large baking sheet with parchment paper. In a large bowl, whisk together flour, baking powder, sugar and salt. Using a pastry cutter or your fingers, work butter into flour mixture until no bits larger than peas remain. With a fork, stir in buttermilk just until flour mixture is evenly moistened. Using a large spoon or a 1/4-cup measure, drop batter in 8 mounds on the prepared baking sheet, leaving at least 2 inches between each. Brush tops with milk and sprinkle with sesame seeds. Bake until browned on top and bottom, 18 to 20 minutes. Transfer to a wire rack.
2. Meanwhile, in a medium bowl, combine apples, tahini and honey, and toss well. Split warm or cooled biscuits, fill with apple mixture and serve.
Practice making this Honey Butter-Apple Cake now just in time for any holiday potluck parties and it will get more attention than the usual pumpkin pie.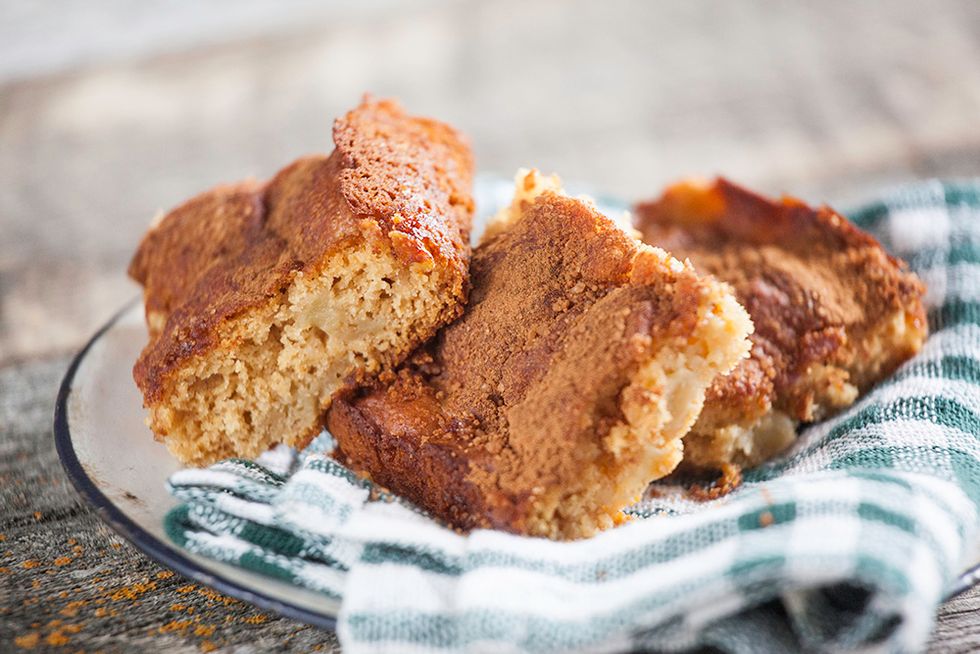 Ingredients:

4 tablespoons unsalted butter, melted, plus more for the pan
1 cup whole wheat pastry flour
1 1/2 teaspoons baking powder
1/2 teaspoon fine sea salt
3/4 cup honey
1 egg
2 teaspoons pure vanilla extract
2 apples (about 3/4 pound total), peeled, cored and cut into 1/2-inch cubes
2 tablespoons raw or turbinado sugar
1 teaspoon ground cinnamon

Method:

1. Preheat the oven to 350°F. Butter a 9-inch round or square cake pan.
2. In a medium bowl, whisk together flour, baking powder and salt. Set aside.
3. In a large bowl, whisk together honey and butter until completely smooth. Whisk in egg and vanilla until combined. Stir in flour mixture until just combined and then gently fold in apples.
4. Spoon batter into the prepared pan, smoothing the top. In a small bowl, stir together sugar and cinnamon and sprinkle over batter. Bake until cake is golden brown and the center springs back when touched, about 35 minutes. Serve warm or at room temperature.
Go to wholefoodsmarket.com/recipes to find more delicious recipes. And don't forget to visit wholefoodsmarket.com/sales or download the app to enjoy great savings on organic Jonagold apples and other high-quality ingredients!
[Top apple photo: Flickr user Connie Ma]
Articles