Articles
Portland, Oregon, is working to increase the percentage of trips taken by bike from 7 percent to 25 percent by 2030.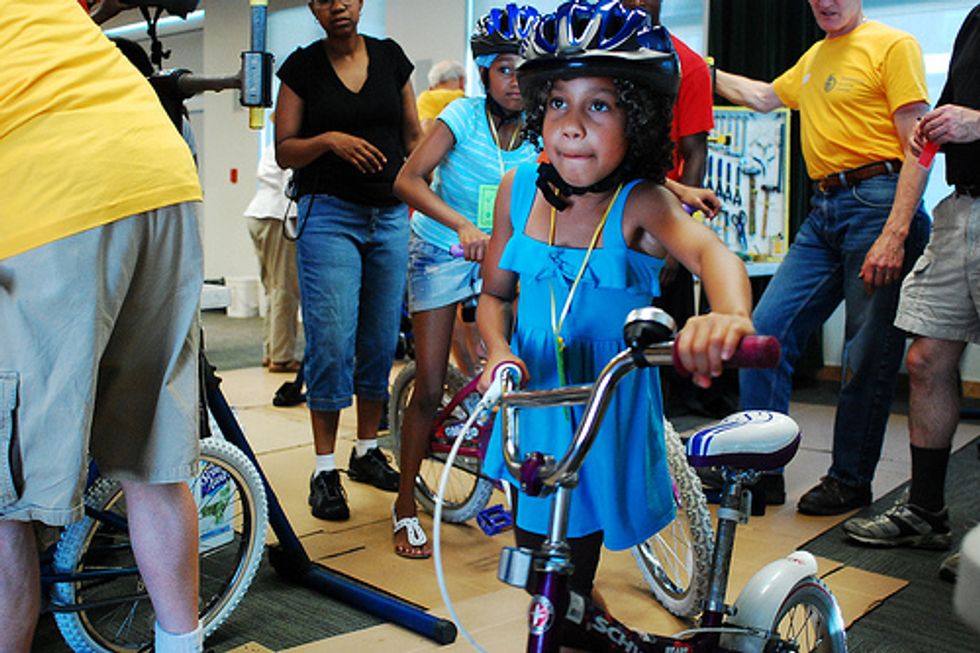 Can Portland, Oregon realize its ambitious goal of increasing the percentage of trips taken by bike from 7% to 25% by 2030? Only if it gets a lot more women and people of color into its bike lanes. Greg Raisman, traffic safety coordinator for Portland's Bureau of Transportation (PBOT), acknowledges that the issue of bike-lane equity is high on his radar, and is also local biking's Catch-22.
---
To reach those numbers in less than twenty years, part of Portland's process included a gap analysis of actual bike infrastructure, which revealed that the network of bike lanes was weakest where the largest communities of color in the city reside. Portland isn't a highly diverse city (in fact, it's approximately 75% white), and though it already has the highest percentage of women biking of any American city (around 32%) more people of color and women must be convinced of cycling's many benefits to make the goal.
Raisman explains that Portland's plan to build 600 miles of new bike paths over two decades, turning slower residential streets into bike-friendly "neighborhood greenways," can provide built-in equity. "The actual projects we have going serve equity needs better than any other time I've been in transportation." On the other hand, Raisman can't ignore that bike paths are considered by some Portlanders to be "the white stripes of gentrification." (as first reported in the local alternative weekly The Mercury.)
Carla Danley, a year-round African-American cyclist in Portland, offers her take. "There's a hard conversation that needs to take place about the perception that bike infrastructure in communities of color equals gentrification. And that's not really considered a polite conversation."
But people and organizations including Portland Community Cycling Center (CCC) are having that conversation now. The CCC has had a bike shop in an historically African-American neighborhood in the city, and has been sponsoring biking programs for lower-income neighborhoods for over 15 years. As many programs do nationwide, CCC gives away hundreds of kids' bikes annually. But after the 2009 gap analysis uncovered the paucity of bike lanes in low-income neighborhoods, CCC got a local grant to study other barriers to biking in Portland.
Hundreds of interviews demonstrated the many reasons Portland's swiftly-growing ethnic community has yet to become a significant part of the expanding bicycle community. Cost was cited as a major barrier. Respondents, especially from the Hispanic community, said there was a lack of access to secure bike parking. African-Americans reported feeling that drivers are hostile to cyclists. The issue of safety, always of high importance to women in other biking studies, was also mentioned frequently.
Appraising the barriers began to shift the focus of the organization explains Alison Graves, executive director of the CCC. "We used to be more of a service organization, now we are moving into community organizing, into advocacy." CCC realized its own "cultural competency" needed improvement, and instead of focusing so firmly on fixing the problem, in the usual way of non-profits, the organization needed to actually listen to community needs. "The processes within non-profits generally have white bias built into them," says Graves. "We had to rethink the process."
So instead of steering committees and top-down program design, CCC had to become a dedicated long-term partner with two of Portland's lower-income housing developments, Hacienda and New Columbia. For example, after research revealed it was logistically difficult for families to take advantage of CCC's most popular initiative, Bikes for Kids, the program was revamped. Now, a BikeMobile van brings the bikes into neighborhoods and directly to kids.
Other successful CCC programs such as Earn-a-bike, which lets kids learn basic maintenance and get a bike at the end of the apprenticeship, and Create-a-Commuter, which offers bikes for jobs seekers, have found new outlets at Hacienda and New Columbia. Eventually, Hill Graves says, 'seedling' satellite CCC offices will morph into mini-cycling hubs, staffed from within. These locations will help those new to cycling to get information on different ways to obtain a bike, instruction on how to ride, as well as offer bike repair and bike sales.
These programs don't erase the problem of bike lanes as a possible precursor to unwanted gentrification, but they're a step in the right direction. Says Graves, "We're considering inviting neighbors to talk about it. We're naming it. That's an important step, getting out of our comfort zone."