Articles
Food for Thinkers: Dancing at the Dinner Table and Fighting in the Streets
Architecture and urbanism blog Deconcrete examines how our place settings turn dining into free jazz or classical ballet.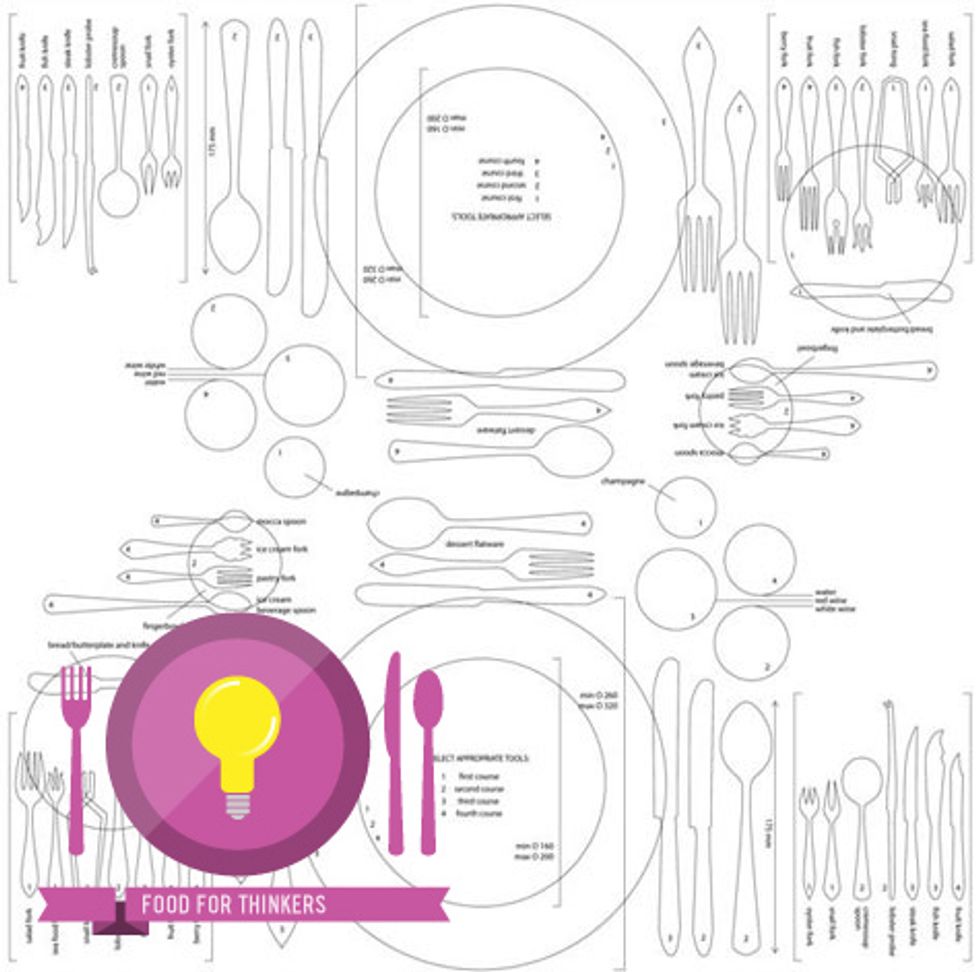 In two back-to-back
Food for Thinkers
posts, architecture and urbanism blog
Deconcrete
explores how food shapes the way we act in space. In
"Food as Eating Choreography"
blogger Daniel Fernández Pascual imagines the dining table as a stage or playing field, upon which the diners' relationships with each other and their food are predefined by a culturally particular arrangement of dishes and utensils into place settings:
It is mostly remarkable between Western and Asian cultures; if the former pleads for a hierarchical untouchable order, the latter prefers a higher degree of spontaneity and unplannedness. The fact of using generic chopsticks instead of specific tools for each meal is directly translated into how guests relate themselves to space through their eating choreography. One dish surrounded by dozens of additional cutlery pieces vs. dozens of dishes surrounding a pair of chopsticks.

In Korea, a meal consists of dozens of atomized courses scattered all along the table, letting each guest choose the actual order, rhythm, and combinations of the meal. Sweet, cold, calm, sour, Kimchi, warm, roasting, Kimchi, cold, chilling, faster, tea, sweet… Every item—and every rest—plays the main character on stage. In the same line, Chinese table setting introduces a new component. Courses are decomposed in fewer dishes and are laid on a revolving surface, which guests decide when—and how fast—to turn around to pick the desired piece for their following bite.



---

\n
Meanwhile, explains Fernández Pascual, the Western dining experience is constrained by its cutlery, which allows no deviation from a prescribed course order and serving size. In the rest of the post (which you should read in full at Deconcrete), he looks at a few different artistic, speculative, and fictional attempts to break those rules and reinvent the choreography of eating. How could we design an eating site that allows, and even encourages, diners to understand and reinvent their spatio-temporal relationships with food and each other: a sort of free jazz meal as opposed to the classical ballet of a Western place setting?
This space should rather be exclusively composed of relations between viewers and objects, participants and events. If not, this space is not even invisible; it almost does not exist.

\n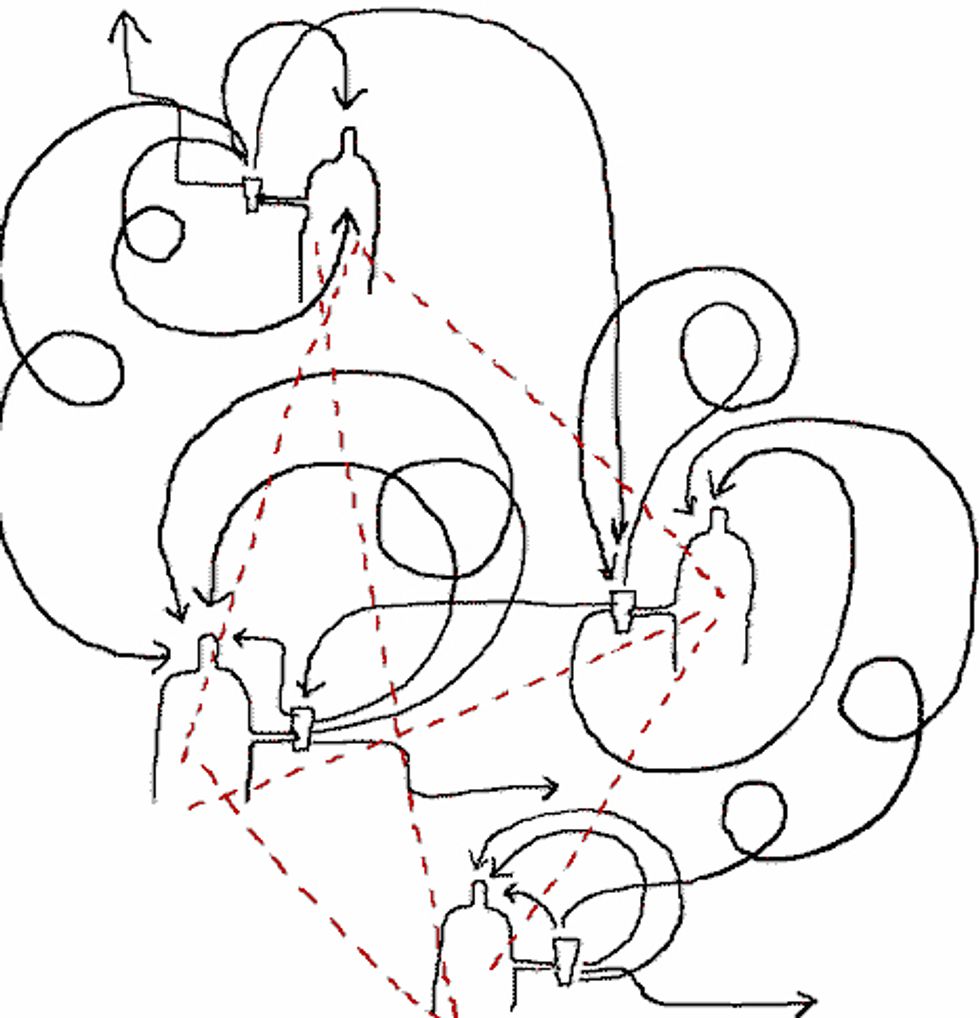 In his second Food for Thinkers post, "Food As Public Space Editor," Fernández Pascual expands the scale of his investigation to the urban sphere—specifically, how can food fights, food vandalism, and even street dining act as a public space catalyst?
Through a collection of incredible images of half-naked Germans pelting each other with rotten vegetables, industrial diggers stirring a giant paella pan, and British schoolchildren sitting straight-backed at a linen-covered tea table in the middle of the street, Fernández Pascual shows that food is a powerful tool in the fight against urban monotony:
The edible may even turn into a landmark: insipid public space, which is converted both into a meeting point and a mental reference all of a sudden. Countless visitors go on pilgrimage to the bizarre Bubblegum Alley in San Luis Obispo, California.

The absurd spontaneous fact of sticking chewing gum to a random wall is far more powerful than any over-designed commemorative obelisk.


Visit Deconcrete to read the rest of Fernández Pascual's call for a new architecture of "Kitchen monuments"—an urban design that allows "everyday celebrations to just happen"—as well as check out the remarkable photos he has put together to show how public space can be transformed by food.
Food for Thinkers is a week-long, distributed, online conversation looking at food writing from as wide and unusual a variety of perspectives as possible. Between January 18 and January 23, 2011, more than 40 food and non-food writers will respond to a question posed by GOOD's newly-launched Food hub: What does—or could, or even should—it mean to write about food today?
Follow the conversation all week here at GOOD, join in the comments, and use the Twitter hashtag #foodforthinkers to keep up to date.
Images: European table setting via dw-studio; Martí Guixé's relational Mealing for Performa09 viaeat me daily