Articles
Food for Thinkers: In Tibet, An Edible Rebellion
High Peaks Pure Earth explains how tsampa and sweet tea are used as a tool of national identity and political resistance by Tibetans.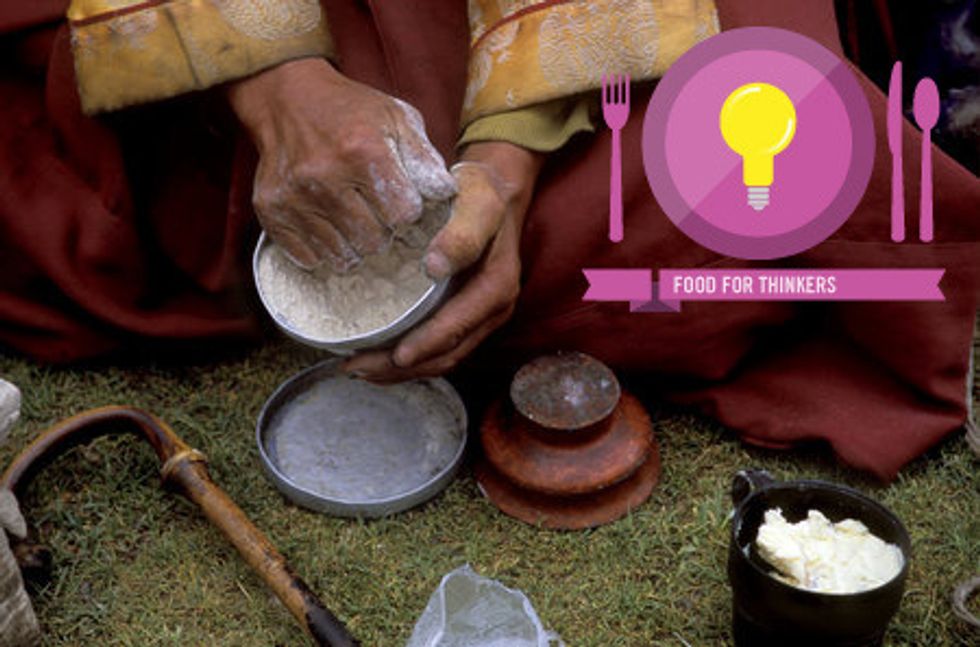 With Chinese President Hu Jintao in town
today, and the
State Department dancing in circles
so as not to offend a country that owns nearly half our national debt, it seems like a good time to put up this
Food for Thinkers
post from High Peaks Pure Earth
, which is pretty much the only place on the internet where you can read what Tibetans and Chinese people within the People's Republic of China are saying about Tibet, in translation.
For High Peaks Pure Earth (which operates anonymously, for obvious reasons), food is a tool of national identity and political resistance:
---
Tibet may not exactly be renowned as a home for exotic cuisine but food makes an interesting lens through which to examine Tibetan identity, particularly after the protests of 2008 and the subsequent political and military crackdown.

\n
High Peaks collects several examples of Tibetans referring to themselves as " tsampa -eaters," in reference to the roasted barley flour that is a staple food on the Himalayan plateau. Tsampa not only transcends "dialect, sect, gender, and regionalism" as a marker of unity, it also, according to at least one popular blogger, makes "a good hiding place for stashing away photos of the Dalai Lama when the military police carry out their raids."
Sweet tea provides a slightly different example, in that it is a less iconic beverage that has nonetheless become a political gesture in Tibet:
Even though Tibetans traditionally drink their tea with butter and salt, sweet tea has become a popular drink especially in Lhasa, representing an entire social phenomenon as well as a firm political statement. Sweet tea is an Indian style of drinking tea with plenty of milk and sugar and explicitly links Tibet with India.

\n
India, of course, is the home of the Tibetan Government-in-Exile. High Peaks goes on to note that Sweet Tea Houses in Lhasa and beyond have become synonymous with political debate and the formation of a specifically Tibetan culture, attracting a lively crowd of students, teachers, artists, and intellectuals.
The rest of the post, which you can read in full at High Peaks Pure Earth , is packed with more fascinating examples of the way food can be used as a small, daily act of resistance, gleaned from translated tweets, text messages, blog posts, and chat forum conversations that in themselves offer a unique insight into the way people who actually live in Tibet think about the issue. Given the evidence, I think it's a safe bet that tsampa won't be on the menu at the White House tonight.
Food for Thinkers is a week-long, distributed, online conversation looking at food writing from as wide and unusual a variety of perspectives as possible. Between January 18 and January 23, 2011, more than 40 food and non-food writers will respond to a question posed by GOOD's newly-launched Food hub : What does—or could, or even should—it mean to write about food today?
Follow the conversation all week here at GOOD , join in the comments, and use the Twitter hashtag #foodforthinkers to keep up to date.