Articles
Food for Thinkers: Food Writing Gets Hot and Heavy
The fiction writer Scott Geiger explores how words take on the texture and sensory richness of food in Thomas Wolfe's novel Look Homeward, Angel.
For writer Scott Geiger , whose short story "The Frank Orison" earned him a prestigious Pushcart Prize , the most exciting kind of food is entirely fictional. For Food for Thinkers week, he dug out the truly "hot and heavy passages about food and the senses" from Thomas Wolfe's Look Homeward, Angel , a novel that Geiger admits is "unwieldy, but I love it dearly." Dive in and enjoy "the smell of heavy bread-sandwiches of cold fried meat and butter" and the tingle of "foaming ice-cream soda, which returned in sharp delicious belches down his tender nostrils," while marveling at the way that words can take on the texture and sensory richness of food itself.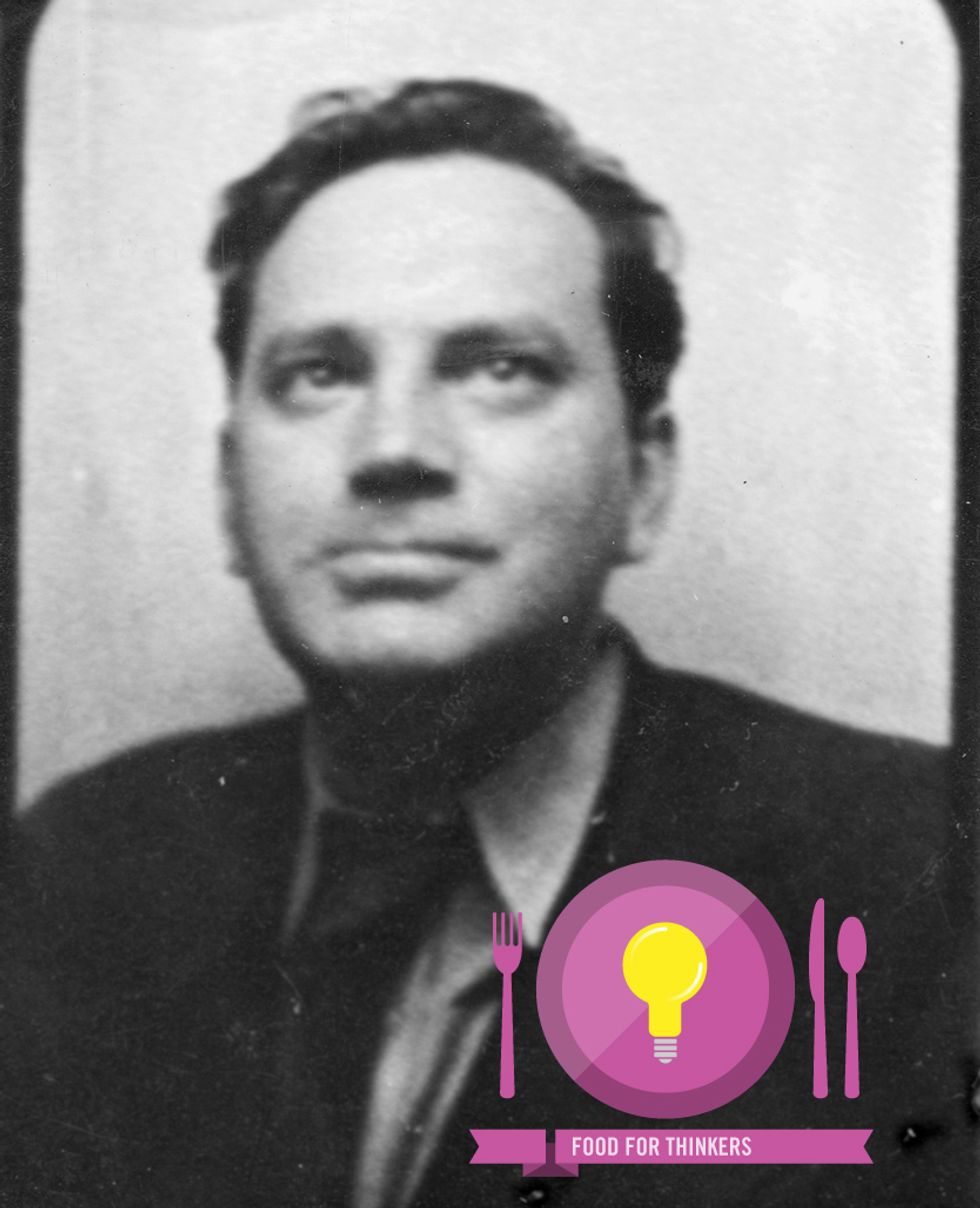 ---
"No End to Hunger": the Gastronomy of Look Homeward, Angel
by Scott Geiger
The technology of the American novel evolved so much during the decade in which Thomas Wolfe wrote Look Homeward, Angel. To envision modernity, writers restructured the novel around consciousness, they reinvented the sentence, and examined their characters simultaneously through modern psychology and ancient myth. Wolfe's 1929 first novel is equal in ambition to any of its more famous peers, but it is wholly unique in its lyric intensity. A few years ago Steve Coates at The New York Times' s Paper Cuts blog gave this forensic assessment —while calling out the strangest of all Wolfe's adjectives, " phthisic "—as to what might have animated the novel's voice.
Look Homeward, Angel follows the Gant family's origins to the birth of their last son, Eugene, in 1900, and on into his young adulthood. Through Eugene we see the arrival of the 20th century to the North Carolina mountain town of Altamont (Asheville).
As Eugene awakens to life, the novel serves us many banquet-like passages:
Yes, and the exciting smell of chalk and varnished desks; the smell of heavy bread-sandwiches of cold fried meat and butter; the smell of new leather in a saddler's shop, or of a warm leather chair; of honey and of unground coffee; of barreled sweet-pickles and cheese and all the fragrant compost of the grocer's; the smell of stored apples in the cellar, and of orchard-apple smells, of pressed-cider pulp; of pears ripening on a sunny shelf, and of ripe cherries stewing with sugar on hot stoves before preserving; the smell of whittled wood, of all young lumber, of sawdust and shavings; of peaches stuck with cloves and pickled in brandy; of pine-sap, and green pine-needles; of a horse's pared hoof; of chestnuts roasting, of bowls of nuts and raisins; of hot cracklin, and of young roast pork; of butter and cinnamon melting on hot candied yams.

\n
One great story associated with the Wolfe's career is about how Scribner editor Maxwell Perkins sculpted his 300,000-word manuscript into Look Homeward, Angel . (The unabridged manuscript is also available from The University of South Carolina Press under its original title, O Lost! ). But vastness was likely the point.
The novel expands outwardly through plot: The reader meets more of life and Altamont as Eugene ages and emerges as the center of the book. But wrinkling throughout its pages is a private iconography, too: "…a stone, a leaf, an unfound door. And the forgotten faces." An inward religion broadcasts out of the novel, out of Eugene and the Gants. It defines the lyricism of the prose and frames meaning to the gallery passages. An intersection of these dimensions is reached through the senses, especially in Wolfe's descriptions of eating:
And they would go across the Square to the cool depth of the drugstore, stand before the onyx splendor of the fountain, under the revolving wooden fans, and drink chill gaseous beverages, limeade so cold it made the head ache, or foaming ice-cream soda, which returned in sharp delicious belches down his tender nostrils.

\n
Eschatology is so ubiquitous in the novel even carbonated beverages give Wolfe a chance to speculate about the afterlife. It's possible to read the novel with Coates as a kind of Pharaonic tomb, a whole bunch of life stored up against death. But it is not a deathly book, it is not as lugubrious as you might imagine. Look Homeward, Angel is also a novel of an emerging United States. Embedded in Wolfe's charismatic novel is a fundamental enthusiasm about his mysterious and far-flung America.
In the fresh sweet mornings of Spring now, Eugene was howled out of bed at six-thirty by his father, descended to the cool garden, and there assisted by Gant filled small strawberry baskets with great crinkled lettuces, radishes, plums, and green apples—somewhat later, with cherries. With these packed in a great hamper, he would peddle his wares through the neighborhood, selling them easily and delightfully, in a world of fragrant morning cookery, at five or ten cents a basket. He would return home gleefully with empty hamper in time for breakfast: he liked the work, the smell of gardens, of fresh wet vegetables; he loved the romantic structure of the earth which filled his pockets with chinking coins.

\n
The gastronomy of Thomas Wolfe portrays the rich, edible world through which we are all merely passing. We eat—and we write the literature of eating—to know the world and to make ourselves known to it. But will this be enough? In the spectral last pages of the novel, Eugene encounters his favorite brother, Ben Gant, who has just died. It is a strange interview that seems to take place across the two dimensions. Ben bears a warning for his brother: "There is no happy land," he says. "There is no end to hunger."
Food for Thinkers is a week-long, distributed, online conversation looking at food writing from as wide and unusual a variety of perspectives as possible. Between January 18 and January 23, 2011, more than 40 food and non-food writers will respond to a question posed by GOOD's newly-launched Food hub : What does—or could, or even should—it mean to write about food today?
Follow the conversation all week here at GOOD , join in the comments, and use the Twitter hashtag #foodforthinkers to keep up to date.