Articles
For 10 weeks, high school students learn the basics of money management and venture-building through creative lessons.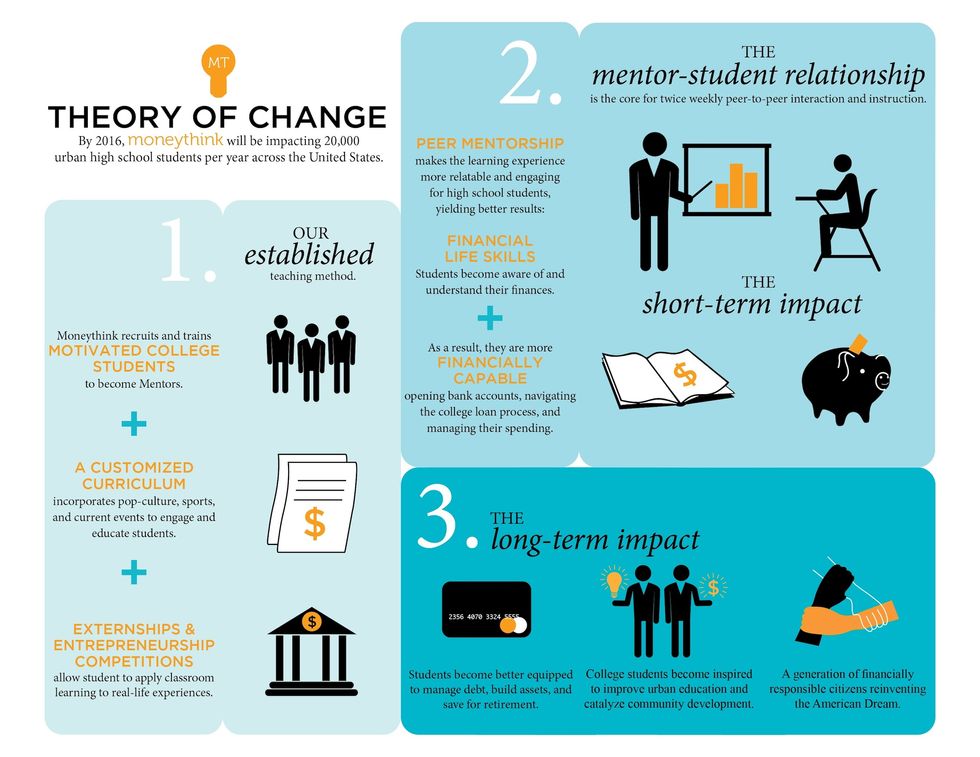 It is disheartening, but perhaps unsurprising, that few American public schools in the are able to spare the funds to offer courses in financial literacy. Only 13 states require high school students to take a class in personal finance management before graduation, which does little to curb the staggering bankruptcy statistics among young adults. But Moneythink, winner of the Get Financially Fit Challenge on GOOD Maker, is looking to change that.
---
The nascent co-curricular program, founded in 2009 by University of Chicago student Ted Gonder, embeds college students in local urban high school classrooms as peer mentors. For 10 weeks, high school students learn the basics of money management and venture-building through creative lessons that draw heavily from pop culture. Class discussions frequently center on Hollywood celebrities and NBA stars who have achieved success by setting goals and avoiding financial missteps. Gonder beams when he shares stories of former students who have gained new confidence and invaluable skills thanks to their mentors. "One of our students used the budgeting skills he learned during our program to help his mom keep the heat on in the cold Chicago winter," he says, "And another, who had never given college a single thought, is now in his second year at university."
Moneythink has also significantly impacted the mentors themselves. Says Gonder, "One part of our theory of change is that urban high school students will go on to be financially capable leaders and entrepreneurs; the second part is that our college mentors will go on to be socially responsible leaders in business and education." This empowerment has improved mentors' aptitude for service, he adds, and attracted a record number of new volunteers to MoneyThink. It's no wonder that in only two years the organization has expanded to include 17 university chapters nationwide.

Leveraging its GOOD Maker success, Moneythink was recently chosen as one of 15 finalists out of 1,400 applicants for the White House Champion of Change Challenge (cast a vote for Moneythink herebefore the deadline tomorrow night). The organization will use its $500 grant from GOOD for an upcoming leadership summit where local chapter advisers will convene for the first time. The event will be a critical gathering for the Moneythink community, an opportunity to unite around a future vision for the program and discuss the financial welfare and opportunities for the next generation. "We're super excited," Gonder says.


To learn more about getting involved with Moneythink as a donor, mentor, or chapter leader, visit moneythink.org.

Interested in checking out the current pipeline of past and upcoming GOOD Maker challenges? Stop by maker.good.is. To get updates about new challenges via email, subscribe here.