Articles
"Guerrilla Drive-In" at Lincoln Center Shames Koch Brother
The battle against the Koch brothers now include: Justin Bieber inhalers, free movies, giant stickers, popcorn, comedy, and jail time.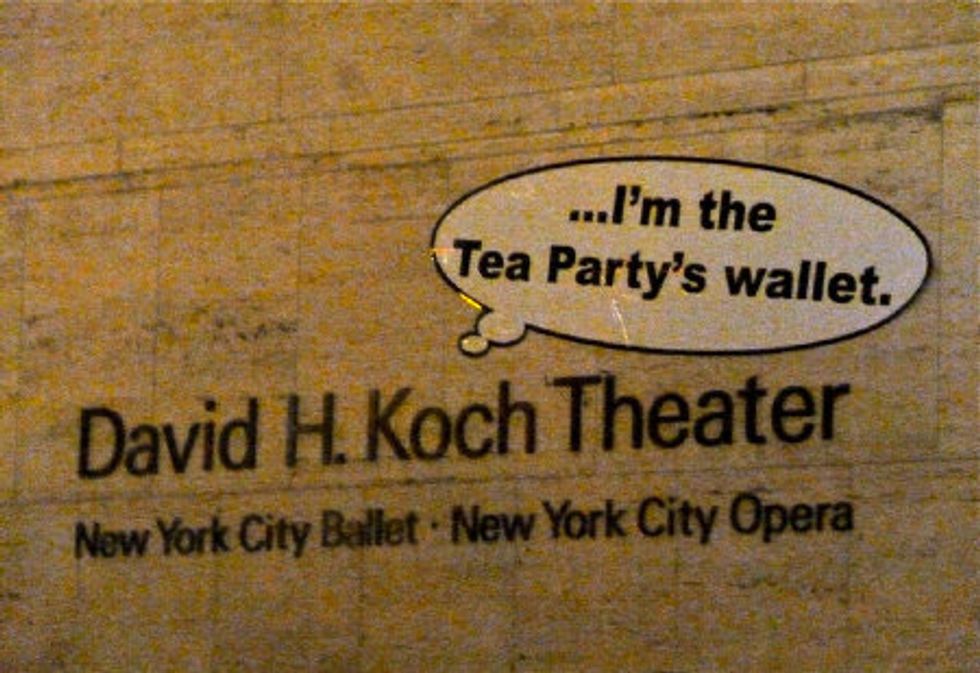 ---
\n
After this week, the weapons against the Koch brothers now include, Justin Bieber inhalers, free movies, giant stickers, popcorn, comedy, and all manner of media stunts.
On Monday, a Utah judge threw out a lawsuit from the Koch brothers against the Yes Men. But within days, the relentless anti-corporate pranksters were back at it their game with Coal Cares, a parody website offering free inhalers for kids suffering from asthma as a result of Peabody Coal, a Koch-owned energy company.
But the angry left isn't letting up after that either, so incensed are they at the Tea Party funding the brothers have become known for. Wednesday in Manhattan, Brave New Films, along with Reverend Billy, the Rude Mechanical Orchestra and The Other 98%, held a "Guerrilla Drive-In," showing an excerpt of the film Koch Brothers Exposed at a secret location.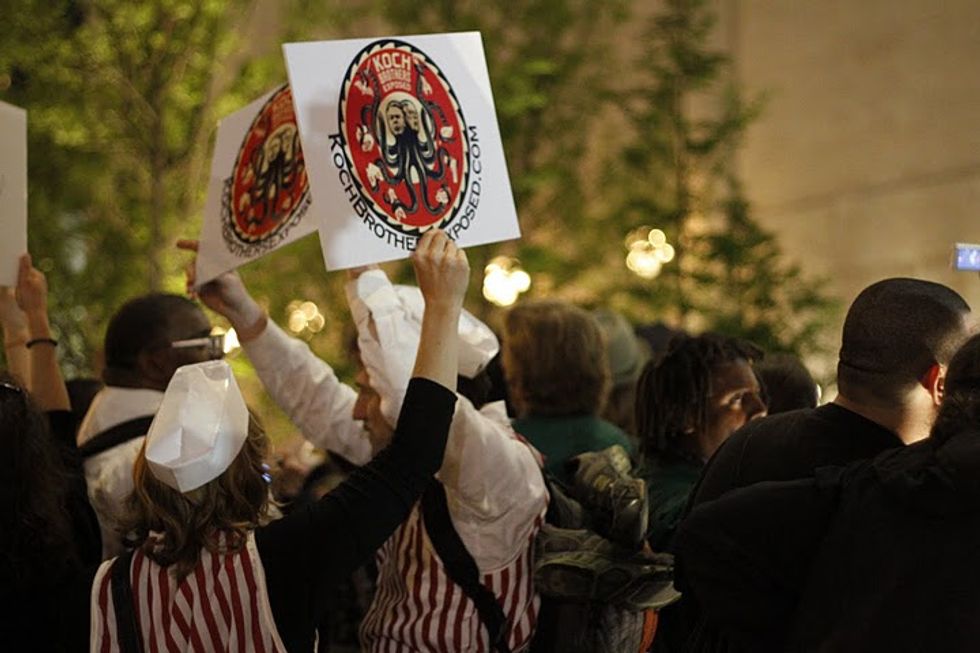 Chanting "tax, tax, tax the rich / that will fix the deficit," most of the protesters didn't know their destination was the Lincoln Center for the Performing Arts. Why Lincoln Center? The theater formerly known as the New York State Theater—the home of the New York Ballet—was recently re-branded as the David H. Koch Theater.
"The Koch brothers put their names on a lot of high profile, well-respected buildings around America," said Tanene Allison, 29, the Political Director for the D.C.-based Brave New Foundation. "They don't equally want to put their names on other things they fund—like the Tea Party, defunding Social Security, and busting unions. We wanted to take over a space and show what they should be known for."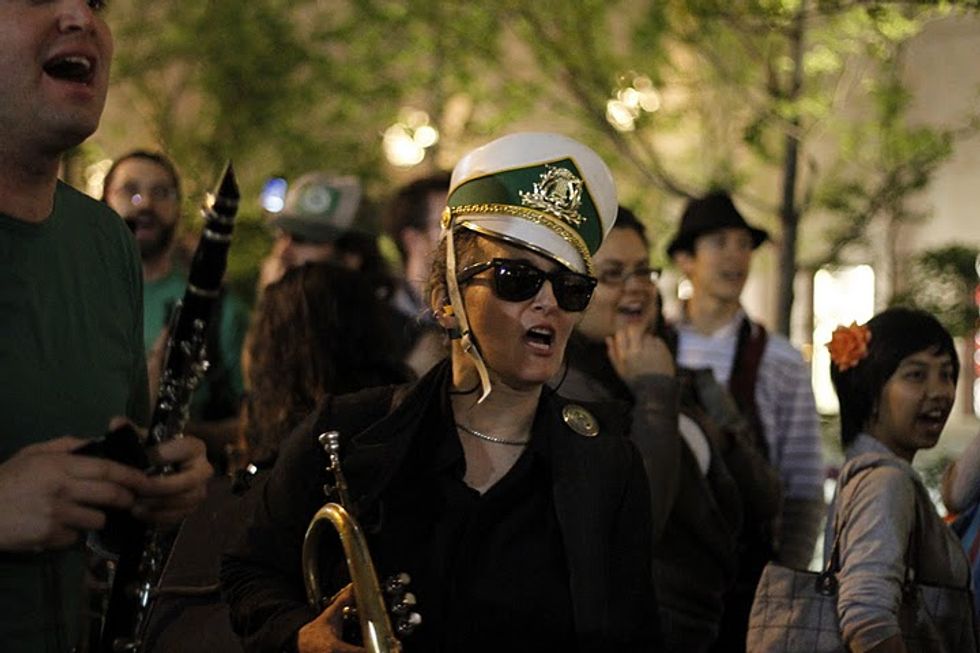 "A key component in America is a safety net," she continued. "The Koch brothers think if you're not born wealthy the government shouldn't do anything to make sure you survive."
Koch Industries, after Cargill, was the second-largest U.S. private company in 2008 largely from profits on oil, coal, and chemicals. According to Greenpeace, Koch Industries spent nearly $100 million in the last decade funding climate-change opposition and lobbying for oil-interests. They directly funded Wisconsin Governor Scott Walker's anti-union efforts. You might even be buying their products.
"David Koch is on notice," said John Sellers of other98.com. "He can't lurk in the shadows and buy our democracy. We're watching and will stand against it."
"Of the top ten political donors, seven are corporations which donate to Republicans, and three are unions which donate to Democrats," said Lee, of Brooklyn. "If the Koch brothers take out the unions, they win."
Wednesday's protest was just a precursor for On May 12th, where hundreds of protesters marched on Wall Street for various events and causes.
Two undercover NYPD cops arrested just one person at the permitless public action. Reverend Billy was reportedly held over night on charges of standing on a private flower box.
For another take on the evening, read a "confession" from one of the pranksters who scaled the building to "rebrand" the Koch theater with a giant thought bubble sticker.
Images: Allison Burtch and Zach Schubert.