Articles
Help TreePeople Replant the Fire-Damaged Angeles National Forest
Over a year later, Angeles National Forest has still not recovered from the worst fires in L.A. history. TreePeople is leading tree-planting efforts.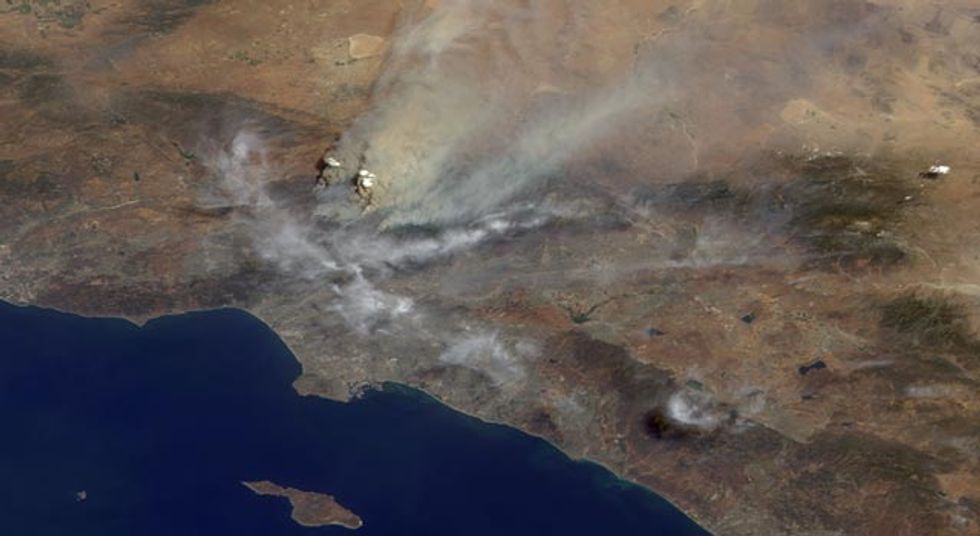 Winter in Los Angeles might not bring true wintry weather (unless you count last weekend's "
graupel
" in Burbank), but we do face a far more frightening threat, thanks to the massive forest fire that swept through Angeles National Forest in 2009. The mountains in Los Angeles County have still not recovered from the Station Fire, which burned 160,577 acres over the course of two months. And in the winter, when rains saturate the ground, entire hillsides slide towards people's homes like wet chocolate cake.
Even though I know the loss of vegetation can be dangerous, when I saw a call from TreePeople, a local environmental nonprofit, to help replant those hillsides with new trees, I was a little confused. Haven't we been told that these kinds of fires are a natural part of the Southern California ecosystem, and that some parched hillsides even need the fires to properly replenish their nutrients?
---
"Even though fires are an annual event and a part of Southern California life, the Station Fire was not typical. It was the worst in L.A. County history," says TreePeople executive director Andy Lipkis. While nature normally tends to heal itself, he says, some of the most precious parts of the forest were burned beyond what nature can recover from on its own. "Because of the extreme temperatures experienced in this fire, the soil became hydrophobic—seeds were destroyed and washed away," he says. "What will come back, unless we plant trees, will be weeds."
TreePeople is focusing its efforts on the 11,000 acres that were most severely burned, planting new seedlings and providing care for the trees year-round. And they need your help.
Right now they're looking for volunteers, school groups, and funders who can help plant trees which give L.A. some of its most vital elements: fresh air, clean water, and a much-needed mental health refuge. "The Angeles is the most used forest in the nation," says Lipkis. "We are inviting humans to step into this healing role to return the energy to the forest so the forest can continue to promote the health we need."
If you head over to TreePeople's calendar, you'll see Angeles Mountain Restoration volunteer days almost every weekend day through the spring, like this one on March 12. Be sure to register if you want to attend.
Top photo of the Station Fire from space by JPL