Articles
How's Your State on Public Education?
Education Week released, "Quality Counts 2010," its annual report card on the state of public education in the U.S. today,...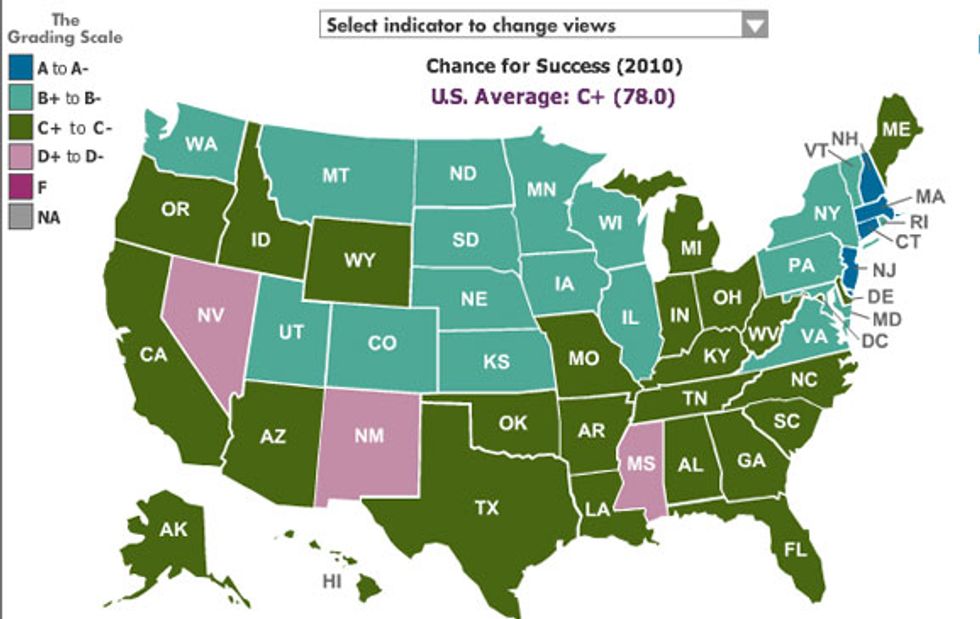 ---
\nEducation Week
released, "
Quality Counts 2010
," its annual report card on the state of p
ublic education
in the U.S. today,
praising some states and taking others to task
on their stewardship of molding the next generation.What I find most interesting about the report is that states that score high marks on the metrics bundled under the heading "
The Teaching Profession
" (pdf) aren't the states that are topping the list titled "
Chance for Success
" (pdf).For the group of measures that include teacher quality and compensation, the top five states are: South Carolina (which earned the survey's only A grade), Arkansas, Louisiana, Florida, and Maryland. However, that translates into success grades of C, C-, C-, C, and B+. respectively. (The U.S. average for "Chance of Success" was a C+.)Maryland is the only one of those five states whose teachers are apparently responsible for its students' success; the others just seem to have "qualified," but ineffective instructors. (In case you were wondering, the five states that offer students the best chances for future success are: Massachusetts, New Jersey, New Hampshire, Connecticut, and Minnesota.)This disconnect adds further fuel to the fiery conundrum of what makes for a good teacher. It's a question we've
discussed on this blog
and that is covered in the
latest issue of
The Atlantic
. Clearly, the debate rages on.