Articles
How Speedy Buses Totally Changed China's Third Largest City
What can American transportation experts learn from China's cities? A heck of a lot, actually.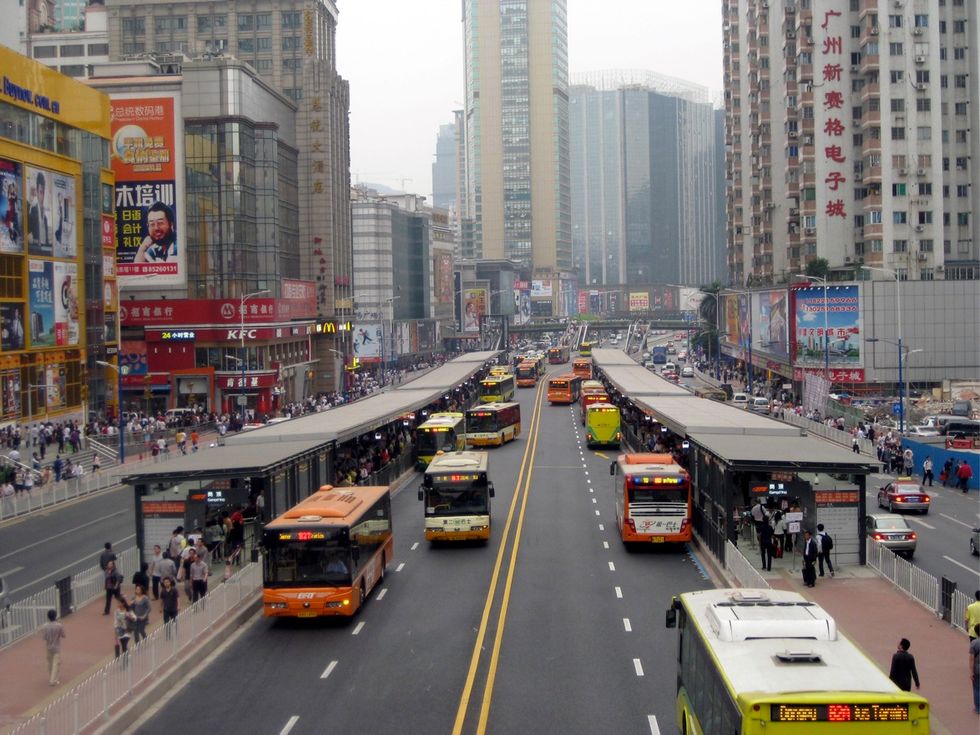 This is a guest post from Dani Simons, Director of Communications for the Institute for Transportation & Development Policy. Before joining ITDP, Simons worked for the New York City Department of Transportation and Transportation Alternatives, NYC's best advocate for bicycling, walking, and public transit.
---
Seventeen American transit executives get on a bus... Sounds like the start of a joke, right? But that's what happened recently in Guangzhou, the third largest city in China.
Like all Chinese cities, Guangzhou has seen an explosion in automobile ownership over the past decade. This combined with rapid growth in demand for the bus system lead to terrible congestion and safety issues on Zhongshan Avenue, a major street through the Central Business District. Zhongshan Avenue is no longer a nightmare of traffic and pollution, but rather a vibrant commercial avenue.
The transit execs were there as part of an International Transit Studies Program, sponsored by the Transportation Research Board, to see how Guangzhou managed to turn things around so dramatically, quickly, and inexpensively by using buses instead of metro or light rail.
Starting in 2005, the Institute for Transportation and Development Policy, where I work, worked side by side with GMEDRI (an engineering institute owned by the city government) to develop a conceptual plan for a simple, yet innovative, bus rapid transit system on Zhongshan Avenue. When done right, BRT systems have speeds and carrying capacity close to those of subway lines, but can be built at a fraction of the cost and much more quickly.
Guangzhou's first BRT line opened in 2010 with 14 miles of segregated bus lanes, 26 stations, and 40 routes that enter and leave the BRT corridor, resulting in a system that covers a total of 170 miles. All of the stations include bike parking, most include bike share systems, and a brand new greenway runs alongside the bus route. The bike sharing system has 5,000 bikes at 113 bike sharing stations along the BRT corridor, and now averages three trips per bike per day. And more than three-quarters of bike sharing system users previously made the same trip by a mode other than bicycle.
Three of the stations have direct connections via tunnels or walkways to the City's metro system.
Zhongshan Avenue, before BRT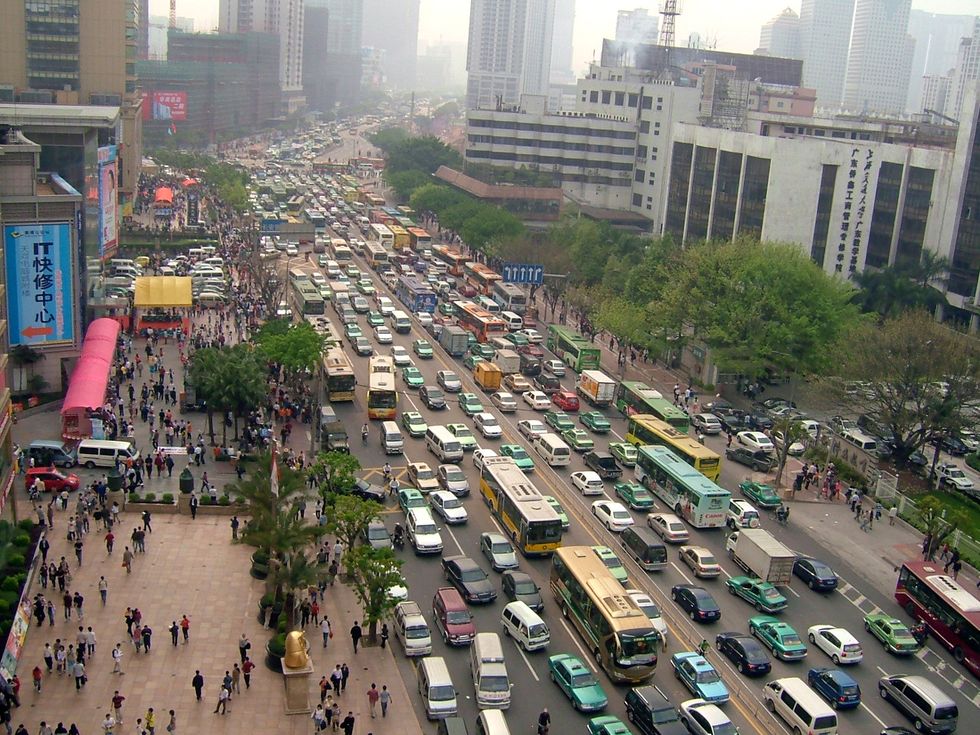 Zhongshan Avenue, after BRT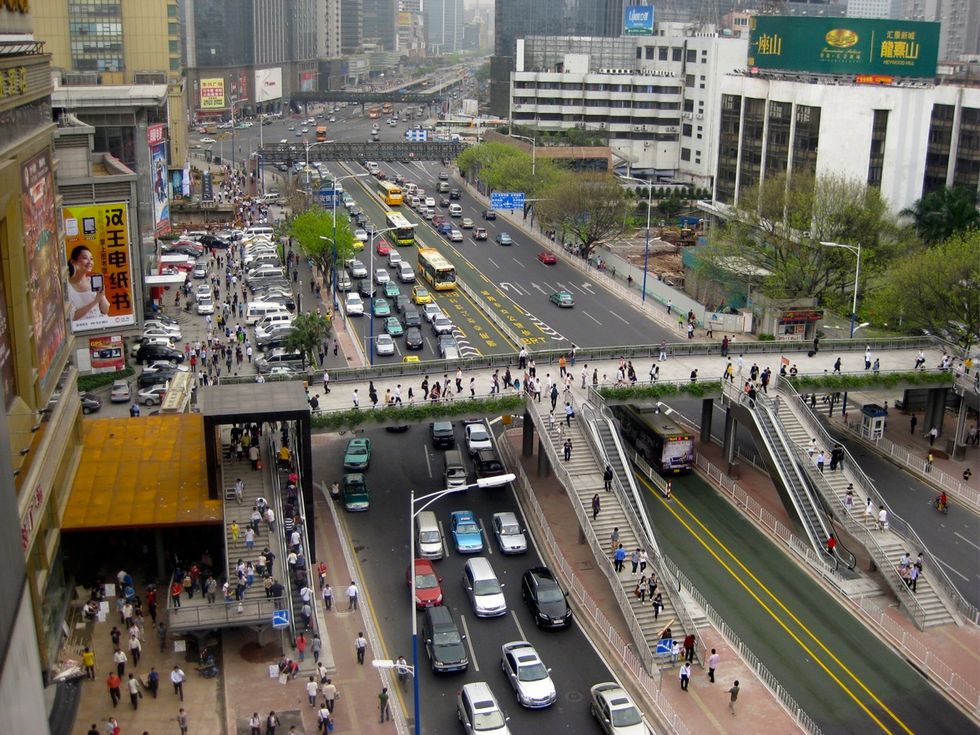 Today the Guangzhou BRT services over 800,000 riders daily and was built for about one-tenth the cost of the metro. With an average of one bus passing every 10 seconds in peak hours, it carries more passengers in a single direction than just about every metro lines in all of China, and more than triple any other BRT system in Asia. The system has resulted in 30 percent higher bus speeds, and reduced congestion along the corridor at the same time as vehicle volumes have increased, primarily due to the solving of severe problems of congestion at bus stops, and intersection signal improvements.
The BRT has helped eliminate more than 50,000 tons of carbon dioxide emissions in the first year alone, thanks mostly to less congestion, improved traffic flow, and residents choosing the BRT over cars or taxis.
The system seriously impressed the visitors from the TRB who had learned of the project in January when Guangzhou won the 2011 Sustainable Transport Award. Some of the visitors expressed frustration at the short shrift given to buses in the United States, where they're often seen as less efficient and less desirable than metro or light rail.
Projects like the Guangzhou BRT show that another way is possible for bus-based transportation, and that BRT can be an affordable, efficient and high-quality solution for cities at home and abroad.
For data, maps and photos off the Guangzhou BRT: see the ChinaBRT.org site.