Articles
Arizona's hard-line isolationism runs deeper than a few elderly racists. Welcome to Joe Arpaio country.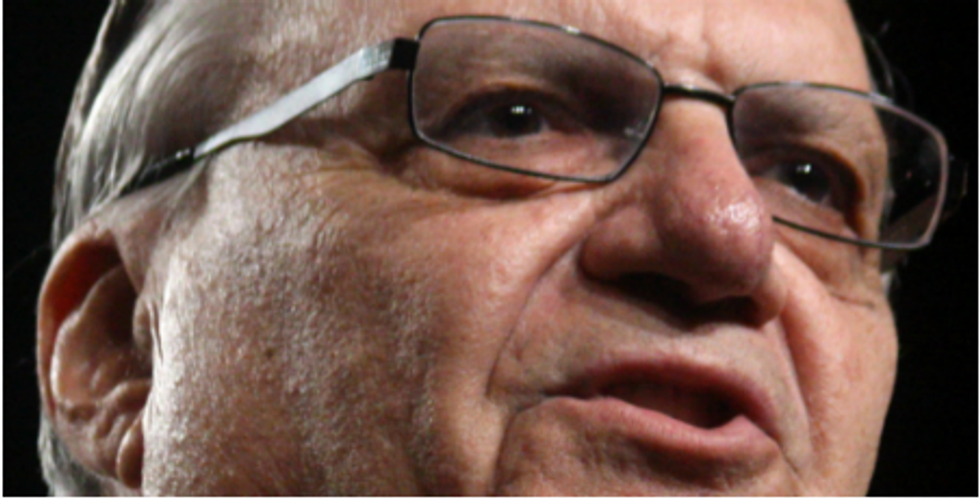 This holiday season, I spent 10 days in Maricopa County, a Republican stronghold in the center of Arizona that stretches across 9,000 square miles of urban and desert sprawl. I hadn't spent more than a few days in my home state since I graduated from high school in 2003 and moved away forever. Over the years, I grew more and more distant from the people who stayed there. Then, late one night during vacation, I ended up in the Phoenix apartment of three nice, engaging 20-somethings who suspect that the U.S. government engineered the September 11 attacks and insist that Osama bin Laden has been dead for years. They believe that Americans should overthrow the federal government and regulate ourselves "as adults." Then, we'll all agree to secure our borders, deport all undocumented immigrants, and put an end to birthright citizenship.
---
Welcome to Joe Arpaio country. Over the past decade, Maricopa County's "Sheriff Joe" has cultivated a national reputation for this place with his, um, unique approach to illegal immigration. He houses inmates in "Tent City," a makeshift desert jail he opened in 1993 (he boasted that the temperature the first day reached 110 degrees). There, he dresses inmates in pink boxer shorts and feeds them twice a day with food the ACLU has described as "moldy" and "rotten." He has compared his own jail to a "concentration camp." Many of the inmates housed there have not stood trial or been convicted of any crime.
Since taking office in 1992, Arpaio has deflected national criticism that he has fostered unconstitutional jail conditions, violated election laws, misspent $100 million in county funds, and failed to investigate 432 cases of sexual assault in predominantly Latino communities. In 2010, Arizona passed the strictest anti-immigration law in recent memory, empowering Arpaio further. 2011 was a banner year for Arpaio: He allowed actor Steven Seagal to commandeer a tank and light explosives in a raid of a suspected cockfighting ring, launched a Hot-or-Not style mugshot rating website, saw his corrections officials accused of Tasering a Latino military veteran to death, and was the subject of a Department of Justice report that claims he systematically racially profiled, arrested, and abused Latinos. Arpaio is currently serving his fifth term as sheriff. This year, he plans to run for a sixth.
In a development that may be perplexing to anyone but Arizonans, Sheriff Joe might not lose. Arpaio has more campaign funds and name recognition than any sheriff in the United States. He is so popular that Republican politicians around the country continue to solicit his support for their own campaigns. Arpaio is an extremely divisive figure even inside Maricopa county—the city of Phoenix skews Democratic, and the county is 30 percent Latino—but sheriff is one of the most conservative offices, and Arpaio's likeliest 2012 rival has already switched affiliations from Republican to independent to avoid challenging Arpaio in a party primary. As I talked with friends and family in Arizona last week, I found the general sentiment was that Arpaio, 80, will have to die before he is ejected from office. The Phoenix New Times, a longtime Arpaio critic, attributed the Arpaio problem to a county full of "blue-haired, Mexican-fearing supporters."
I, too, would like to believe that solving the Arpaio problem is as easy as letting the clock run out on elderly racists. But Arizona's hard-line isolationism runs deeper than that, and it is thriving. Maricopa County is actually home to fewer "blue hairs" than the U.S. population is general—12 percent of county residents are over age 65, compared to 13 percent in the U.S. total. Plenty of politically engaged youth in Arizona are poised to take up their sheriff's cause. Last year, I met three young white women who had traveled from the University of Arizona to attend the Conservative Political Action Conference in Washington, D.C. These women supported gay marriage, abortion rights, and Ron Paul—they identified as Republicans mostly to address the central concern of "securing the border." Living miles from Mexico, they claimed personal experiences with undocumented immigrants stealing jobs, fighting their family members, and trespassing on their property, a problem they described as "illegals in our yard." I had dismissed that sentiment as an elderly cliché—until I heard it from the mouth of a 19-year-old.
Young Arizonans have reason to be angry. Their employment prospects are grim and their public education system has been deemed the nation's "stupidest." The Daily Showdropped in to ridicule recreation tourism management majors who use hot tubs and declare ASU "The Harvard of date rape." In one episode of TheSimpsons, Christian Ned Flanders complained that "heaven's easier to get into than Arizona State." I got out of Arizona early, and I've watched from afar as some of the state's residents have deflected both cheap jokes and serious criticisms by turning increasingly inward, taking their anger out on the federal government (which they cannot control) and illegal immigrants (who they can). Calls to boycott the state over its illegal immigration laws have only increased this commitment to isolationism.
Arpaio has made a career out of executing that dance, turning all criticisms of his work into an indictment of the feds or the Mexicans. Arpaio responded to the DOJ racial profiling report by claiming that the federal government had violated his own civil rights by calling him names. After being accused of bungling hundreds of rape and molestation investigations, he gave an "I'm sorry if you were offended"-style apology and accused other law enforcement agencies of having even worse records on sex crimes. It's us against the world, Arpaio assures Arizonans. I have your back. And they have his.
Photo via Wikimedia Commons user Gage Skidmore.