Articles
Inconvenient Youth Is the New One-stop Shop for Teens Fighting Climate Change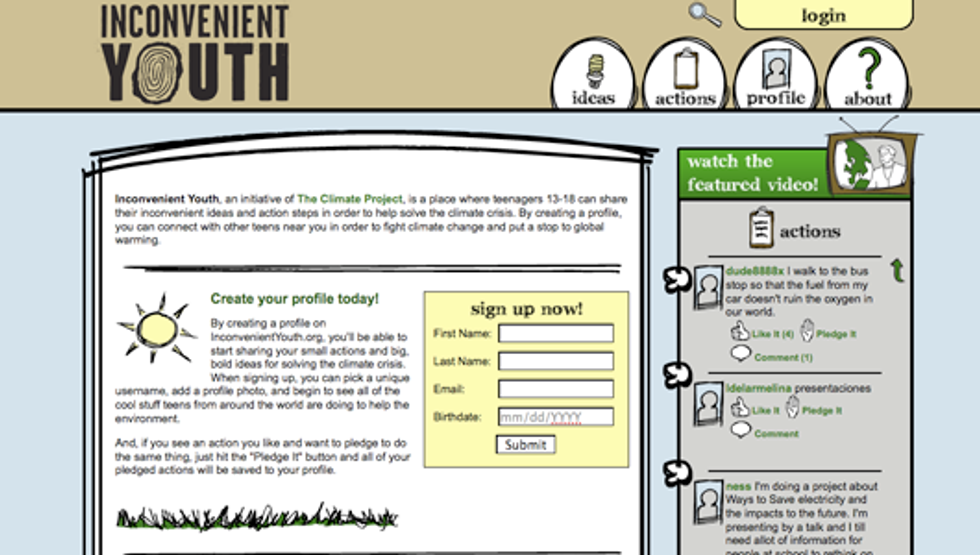 What do you do if you want to live green but have no influence on household consumption or legislation? That's the problem that faces teenagers across the world. That is, until now.
The Climate Project
's new
Inconvenient Youth
website is the new one-stop shop for eco-minded teens.
Al Gore founded the Climate Project in 2006. Its purpose is to educate the public about the harmful effects of climate change and work toward solutions at a grassroots level worldwide. Inconvenient Youth is an initiative of the bigger project, which launched in 2006 as an effort to train 1,000 people to give Gore's talk from
An Inconvenient Truth
. The Climate Project now has eight international branches with more than 3,000 presenters worldwide. Their new Inconvenient Youth initiative is the first to put teens front and center instead of throwing them a bone as an afterthought.
Inconvenient Youth program manager Sam Davidson says the new site is not a website at all. He says, "It's not a website; it's a community. We're trying to build a community—a place where people create dialog and encourage and empower one another to take action. We're not broadcasting 'green tips' from on high; we're creating a space where teens can share what they're already doing."
On the ground floor, Inconvenient Youth is a community where teens can share their "actions" (little things) and their "ideas" (big dreams for tackling climate change) with each other. Ultimately, Inconvenient Youth will serve as a place where teens share what they're doing to live greener and a space to connect teens with resources that will help them accomplish their bigger ideas.
Inconvenient Youth began as an effort by Mary Doerr, a 16-year-old presenter for The Climate Project who wanted to connect her own age group with the means to do something about climate change. Mary's work centered on adapting The Climate Project slideshow for a youth audience and touring the country to deliver a customized youth talk to students.
To join the Inconvenient Youth community, users must be between the ages of 13 and 18 — but there are special sections "
for adults
" and "
for educators
." Davidson told me, "Inconvenient Youth isn't about telling teens what to do to fight climate change, but about encouraging them to think of things on their own."

Photo courtesy of Inconvenient Youth, via Mother Nature Network

---