Articles
Interactive Map Compares "Affordable" Housing in NYC Neighborhoods
Envisioning Development pairs design with data to give New York City's tenants a lesson in affordable housing.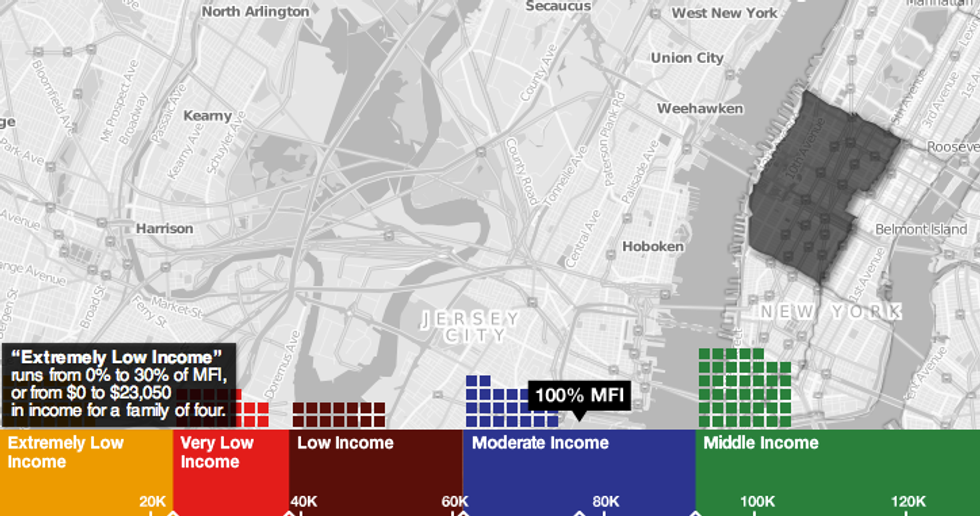 In New York's 2010 gubernatorial race, Jimmy McMillan of the Rent Is Too Damn High Party made a lot of headlines. Despite being a total outsider and having nearly no platform other than the need for lower rents, McMillan still earned more than 40,000 votes, coming in fifth out of seven.
---
It's not surprising that McMillan's campaign resonated with New Yorkers. For years Manhattan and its outer boroughs have boasted some of the most expensive real estate in the world, and in June of this year New York's Rent Guidelines Board raised the limit on rent increases, much to many tenants' dismay.
Envisioning Development is here to help. A partnership between the Center for Urban Pedagogy, the Pratt Center for Community Development, and other policy and community groups, it seeks to connect affordable housing experts with citizens in order to make New York an easier place to live, especially for those with little to no income. Envisioning Development's toolkit has a variety of resources, including a free book about affordable housing (in English and Spanish) and workshops that teach people about how zoning laws impact their neighborhoods. Most eye-catching, however, is the toolkit's income map.
Coupling elegant design with census data, the map allows you to digitally visit every neighborhood in every borough of New York to see the income demographics. You can also click around to see what "affordable housing" means for each neighborhood. For instance, in Brownsville, Brooklyn, 43 percent of the residents cannot afford an apartment whose rent is $600 per month. On the Upper East Side in Manhattan, that number drops down to 2 percent. Toggling between the Upper West Side and Central Harlem, two adjacent neighborhoods, it's clear that their proximity belies a vast gap between their income demographics.
It's fun to look at regardless of where you live. But if you're a New Yorker struggling with rising rents, it's also important.
photo (cc) via Flickr user david_shankbone