Articles
Is Lady Gaga's Meat Couture an Anti-Vegan Statement?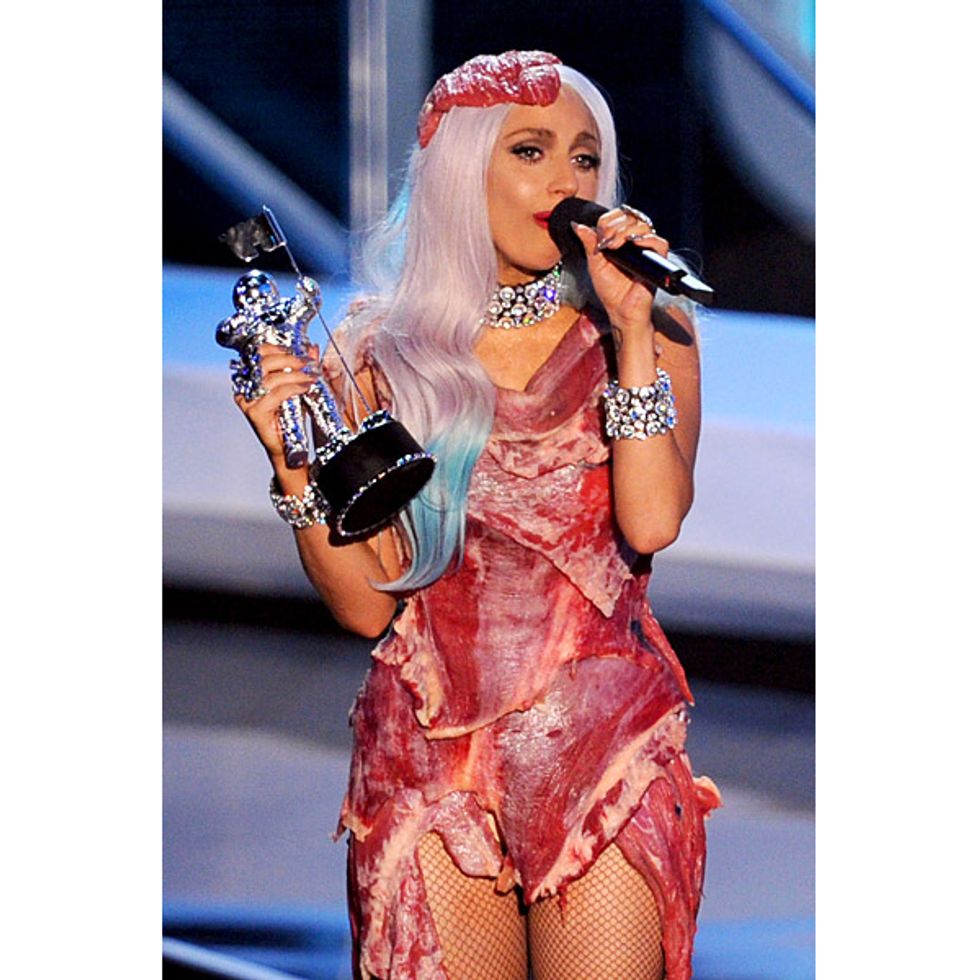 Among the many outfits that draped over Lady Gaga's frame at last night's MTV's Video Music Awards, none caused more clamor than the meat dress. Yes, it was a gown made of slinky strips of sirloin, complete with a meat purse which she handed to Cher, the only other person I could think of who would show up to an event wearing prime rib.
---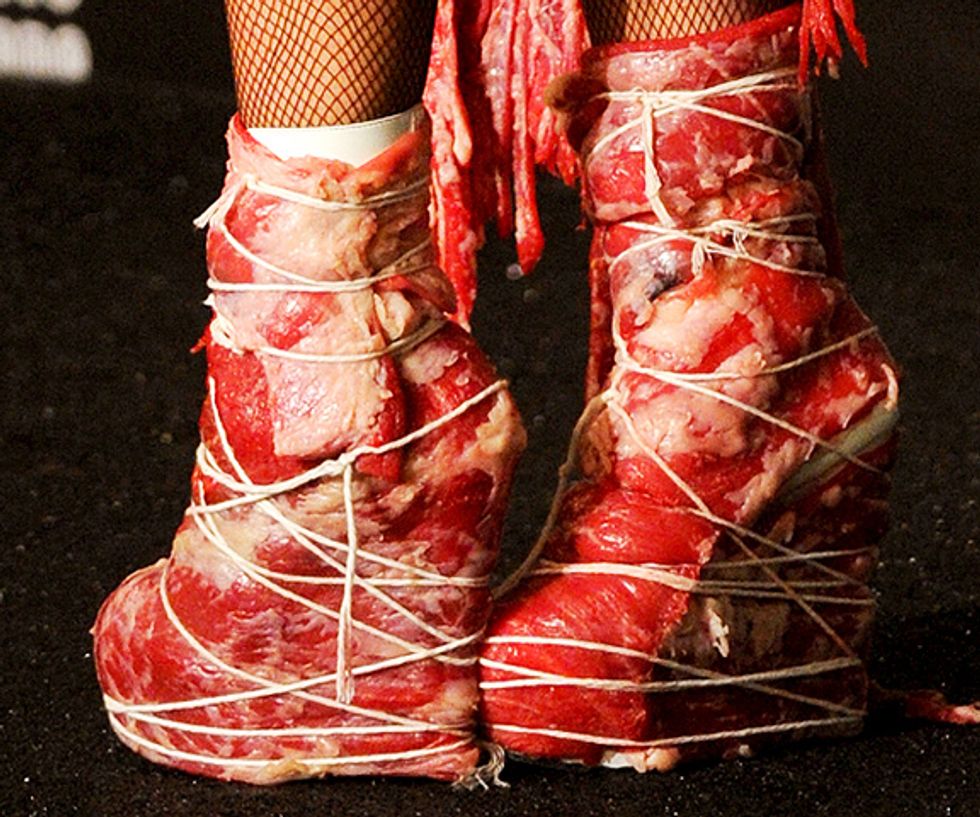 Most impressive conceptually were the shoes, which were knotted tight with butcher-string and made me want to wrap Gaga in white paper and toss her on a scale. The outfit was designed by
Franc Fernandez
, who has some
equally-provocative pieces
on his site, including the shredded shorts
Beyoncé wore
in the Gaga video for "Telephone."
Update
: An earlier story on MTV.com said it was not real meat, but the designer
confirms
that it was: "The dress is indeed real meat from my family butcher."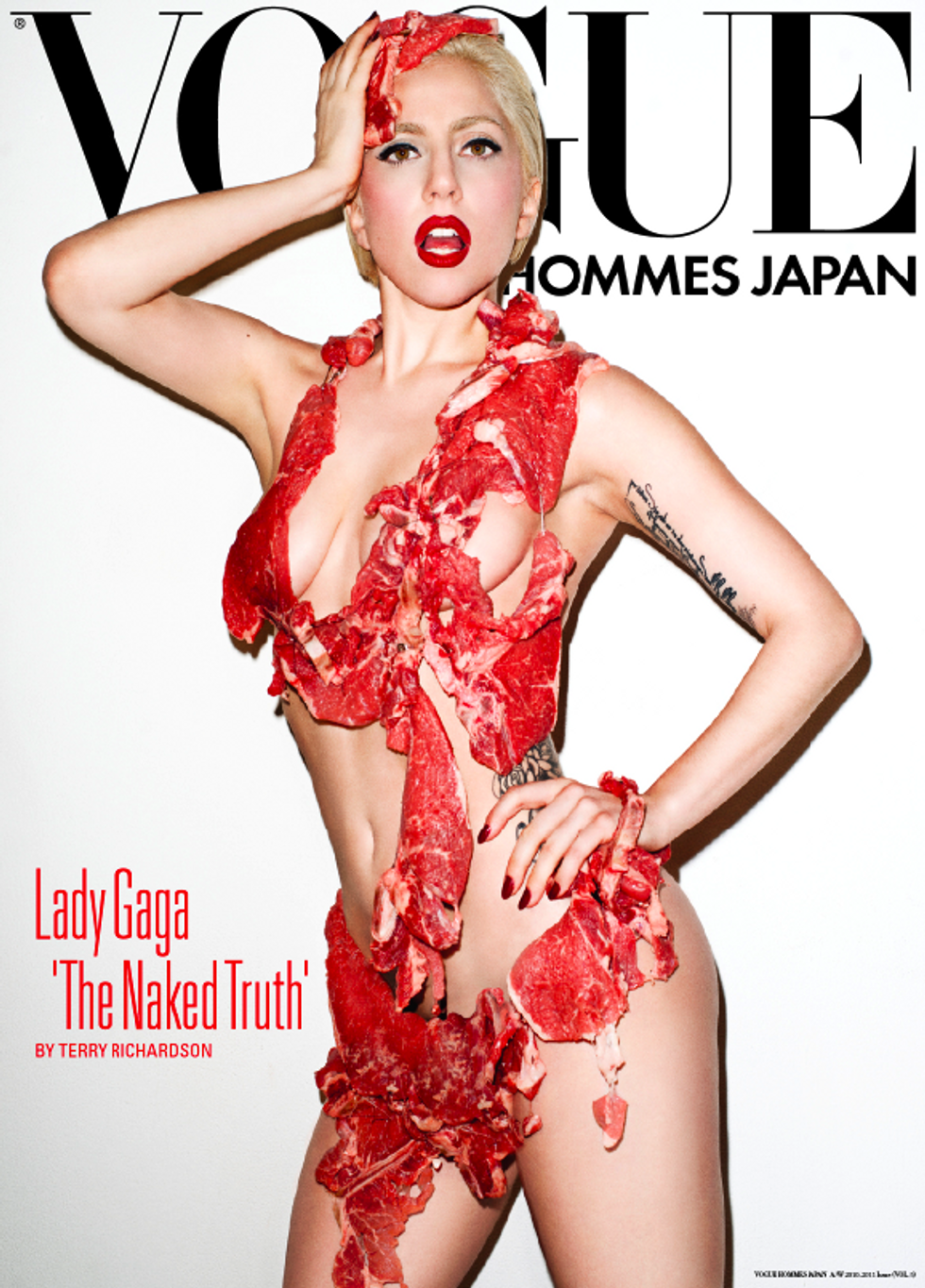 If you are familiar with the fashion choices of Stefani Joanne Angelina Germanotta, it will probably not surprise you that wearing meat is actually old hat for Gaga, who posed on the cover of Japanese
Vogue
in a real beef-kini, shot by Terry Richardson. But what gives? Is Gaga trying to make her own kind of pro-meat statement?
After PETA briskly offered a statement condemning last night's charcuterie couture, Gaga was given the chance to explain on Ellen DeGeneres's show. "Well, it's certainly no disrespect to anyone that's vegan or vegetarian….I, as you know, am the most judgment-free human being on Earth," said La Gaga. "However, it has many interpretations — but for me this evening it's that if we don't stand up for what we believe in, if we don't fight for our rights, pretty soon we're gonna have as much rights as the meat on our bones."
I'm not sure I understood all the meaty symbolism in that statement, but I think Gaga might be making some kind of push for carnivorous rights? To be fair, though, Gaga presented vegan DeGeneres with the equivalent of an olive branch: a kale bikini.
What do you think? Is Gaga's penchant for wearing meat-inspired clothes anti-vegan? Is this disgusting? Delicious?