Articles
It's Time to Bust the Myth That Girls Don't Like Science
Research shows that girls are interested in STEM fields, but aren't given information about the opportunities.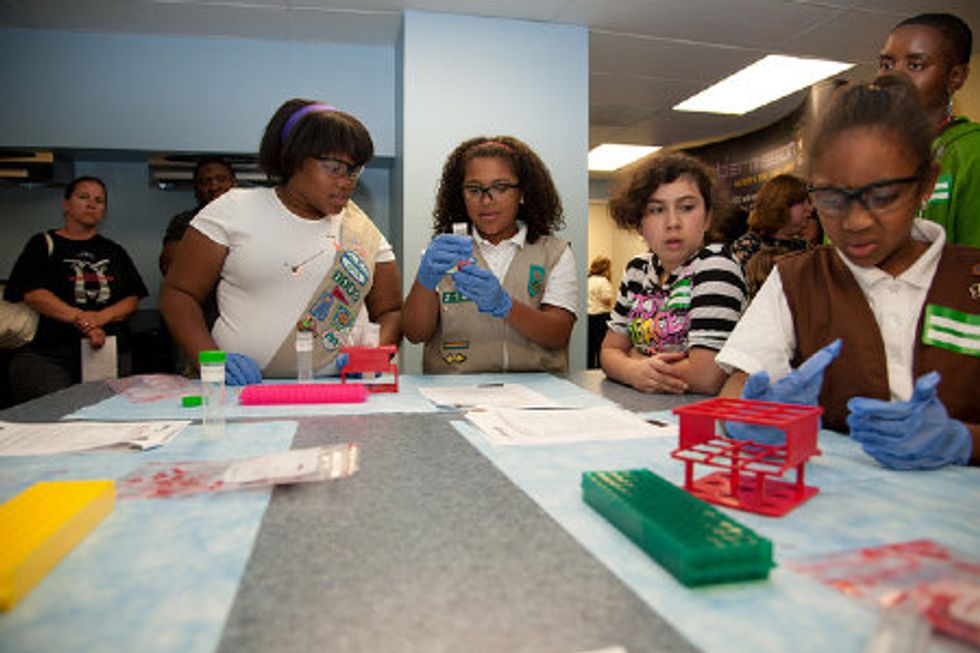 With women holding just 25 percent of jobs in science, technology, engineering, and math, it's tempting to believe we need to focus on getting more girls interested in those fields. But according to a
nationwide survey
of 1,000 teen girls from the Girl Scout Research Institute, a lack of interest isn't the problem.
According to the institute's data, nearly three-quarters of teen girls are already interested in STEM subjects, and a full 82 percent believe they're "smart enough to have a career in STEM." Yet only 13 percent list STEM jobs as their top career choice.
---
So what's the problem? A significant number of teen girls—60 percent of those who say they're interested in STEM—say they don't know what kinds of careers are available in those fields. And, despite role models like the three teen girls who swept last year's Google Science Fair, girls are also aware of the impact of sexism in STEM fields. Fifty-seven percent of girls say that if they decided on a science or technology career, they'd "have to work harder than a man to be taken seriously." One told the researchers that her teacher told her outright that engineering is only for boys.
The workforce of the future will require many more people entering STEM fields, and since women make up the majority of college graduates, encouraging girls to pursue science and technology jobs is crucial for America's competitiveness in the global economy. If schools focus their efforts on ensuring that girls are informed about STEM opportunities, the number of women becoming computer scientists, engineers, and mathematicians is sure to soar.
Photo via (cc) Flickr user RDECOM